A fantastic flooring experience
We take a look around Kentish Flooring's brand new showroom and talk to owners Ian and Gary about how they have built their business into one of the county's leading suppliers and fitters of quality flooring.
Mention 'Kentish' to a Kent local and there's a good chance they'll know you're talking about flooring! The Kentish Flooring has become so synonymous with the county that it barely needs an introduction, but you may not be aware of just how the business has been expanding over the past year.
From their beginnings in Rainham in 1997, Kentish has grown into one of the county's leading suppliers and fitters of quality flooring. Co-owners Ian and Gary have decades of collective experience in the field and have made flooring a family business, bringing both their sons on board to join their small but dedicated team of experts.
Of course the events of 2020 couldn't have been predicted by anyone, but Kentish immediately resolved to make the most of a bad situation by actioning their plans to extend into West Kent. The team worked tirelessly throughout lockdown: first from home and then, as restrictions lifted, on site -and the results speak for themselves.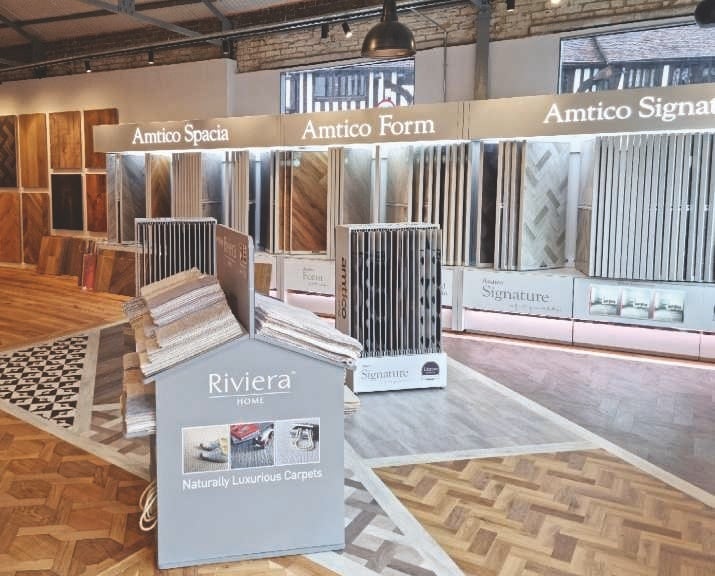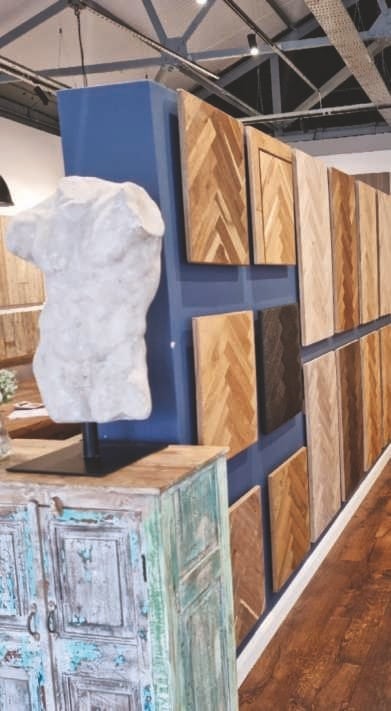 A brand new showroom
The spectacular new Kentish Flooring Centre opened this summer in Seal in Sevenoaks, and showcases the very best in carpet, Amtico, parquet and more. With 160 square metres at their disposal, Kentish were determined to make this not just a showroom, but an experience.
As you enter the brightly lit, spacious interior, your first thought is 'quality'. Various hard woods have been used to floor the showroom itself, showing the grains and patterns to their best advantage. Kentish specialise in bespoke and reclaimed flooring, so the way the centre is decorated speaks volumes.
Directly ahead, myriad examples of wooden flooring hang from the walls, with carefully placed objet d'art making this more than 'just' a showroom. To the left: a showcase of Ted Todd designer woods and capacious carpet room that bends round behind the main showroom. To the right: stands of high quality names such as Amtico and Riviera. Add to this a hardwood dining table and comfortable seating for customers to peruse their options and a large flat screen showing more of what can be achieved, and this becomes less of a shopping trip and more of an outing!
Something for all tastes
This isn't an 'off the peg' type of place: as well as custom-made hardwood and reclaim, Kentish offer bespoke rugs and all manner of design help.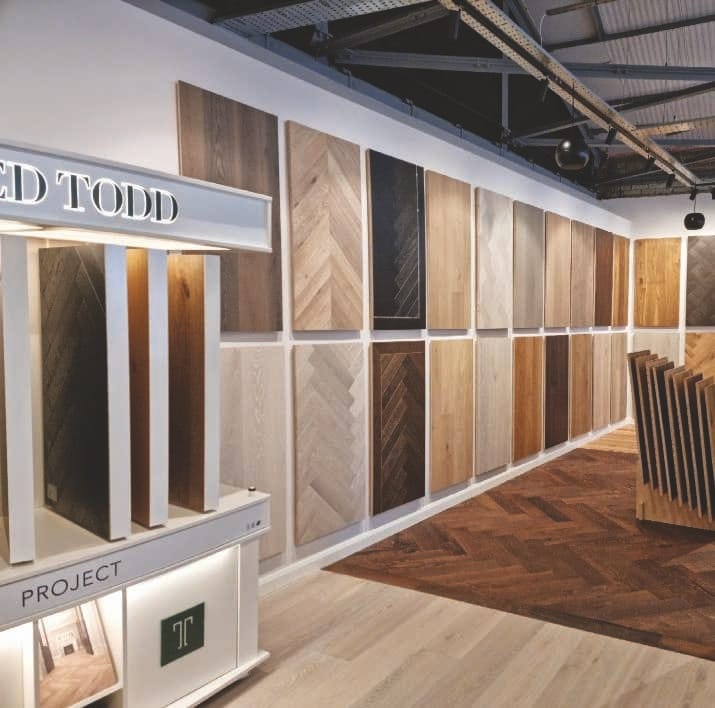 They're also highly aware of customer needs, as Ian notes:
"We knew we needed to have good parking and easy access for our customers of course but, coming off the back of the pandemic, we were also acutely aware that some people still feel uncomfortable in social situations. Initially when lockdown started to lift we were offering private appointments at the showrooms so that people could be sure they wouldn't need to mix. Now we have the showrooms fully open, but we've made sure that the area is spacious and uncluttered so that people can still social distance if required.
The size and scope of our showroom is unique to the area, so we wanted to make sure that the way it was presented was similarly exclusive. So far we've had fantastic feedback from customers and it's an absolute delight to be able to provide tailor made solutions to such a wide variety of homes.
We're always happy to chat to visitors and advise them on their flooring, whether they want supply only or supply and installation. Hopefully, as word of the new showroom spreads we'll be able to bring the Kentish experience to more and more people throughout the county".
To find out more visit www.kentishflooringcentre.com or call the showroom on 01732 762074.