Create a Cosy Living Room
A comfy, inviting living room is the perfect haven for chilly winter nights. Create your own seasonal retreat with cosy materials, tactile accessories and rich, warm colours.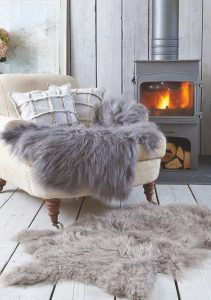 As the nights draw in and the weather turns cold, there's nowhere in the house that can bring quite as much pleasure as a warm, comfortable living room. In order to create a cosy atmosphere you need to conjure up a sense of warmth.
A warm colour palette, woolly blankets, thick pile rugs, fluffy throws and soft lighting are the staples of a cosy living room and the perfect accessories to create a space to escape to from the cold and frosty weather this winter.
The colour scheme is the key; darker, warmer tones and sumptuous fabrics will bring the room in, making it appear cosier. Traditional patterns made from heavier-weight fabrics such as tartan and check feature heavily in winter décor styling guides year after year.
Incorporating tactile textures imparts a sense of warmth; cushions, rugs, and throws will all make a room feel instantly cosy. Soft blankets and fluffy throws are wonderful to snuggle up in during the colder months.
Furniture Arrangements
There's nothing less cosy than a room that feels too formal. The best living rooms are defined by the activities you do in them – so start considering how you can make your living room personalised. First, establish a focal point, then divide the room into sections – creating areas with different functions to make that room feel cosier. Once you've decided on a space, think about where to put the rest of your furniture. Aim for flowing lines with circular layouts – pull pieces of furniture forward around your focal point.
Comfort Under Foot
Hardwood and tiled floors have become increasingly popular in recent years and, whilst attractive and practical they can make your home feel cold during the winter months. Introducing rugs provides a barrier, reducing draughts, adding warmth and if placed by armchairs and sofas they will ensure you never have to put your feet onto a cold floor. Rich deep colours and thick pile will accentuate your winter look.
The beauty of rugs is that they're available in so many different colours, textures, shapes and designs that you can always find the perfect one for your living room. Rugs often look great in the shop, but sizing, colour and lighting can affect just how it looks once it's put down in your living room.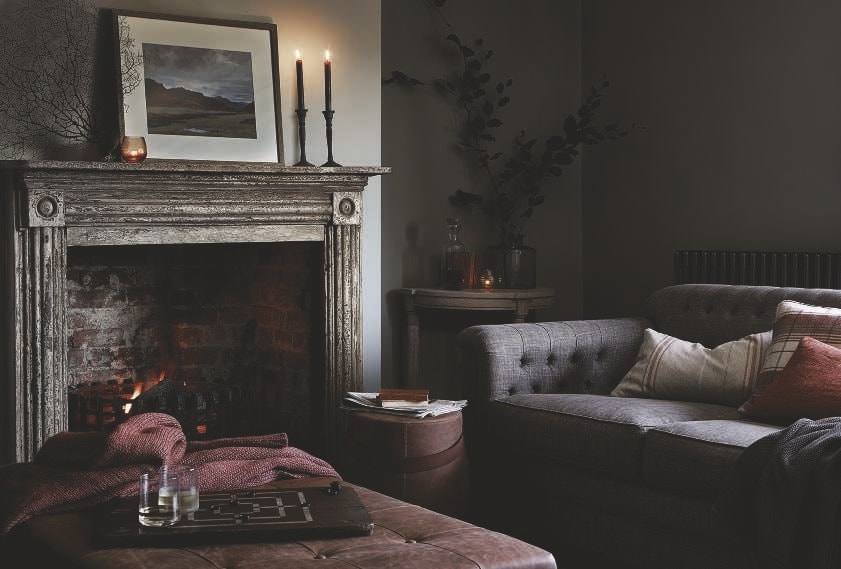 Reflect On The Room's Character
The best cosy spaces have a level of comfort, informality and warmth – in both a decorative and a literal sense. But a crackling fire and a comfortable sofa are only part of the story.
The cosiest of sitting rooms must also have character, much of which is derived from the objects that fill the surfaces and cover the walls. An abundance of empty wall space can make a room feel cold – avoid this by giving your walls a lick of paint – consider dark warm colours. You could even fill up the wall space with some sort of storage that holds your favourite collections, or maybe hang some old antique paintings that you'd love to show off.
A Warming Accessory
Radiators are an absolute necessity for warmth and comfort within the home. Designer radiators allow you to have a functional item which provides warmth whilst improving the appearance of your living room. If your home has more of a period feel, choose a traditional or reclaimed radiator rather than having the unattractive, conventional white radiator hindering the appearance of your living room.
A Burning Centrepiece
Fireplaces are essential for living rooms, from contemporary designs to traditional woodburning fires; they're the ultimate centrepiece. A fire or log burner will create a low-level glow and instantly add warmth. This can be added to or replicated with decorative lanterns and candles clustered together and arranged in an assortment of heights, adding an intimate and homely touch. Place tea lights around the bottom of the fireplace when entertaining to create a romantic and calming atmosphere. Making your living room cosy for the winter can really help you to appreciate it more. Once you've decorated for the winter, you can relax and put your feet up in the cosiest room of the house.