One of the latest and biggest design trends, a boot room is an extremely practical space, created to house muddy boots and wet coats as well as to hose down mucky pups, both those with fur and those without!
Similar to utility rooms, boot rooms tend to be less about laundry and more about stopping muddy foot and paw prints entering the house – but really can be any space you can dedicate to connecting your home to the outdoors.
The boot room ideas we've collected below should help you maximise your storage, curb the clutter and keep your home clean and pristine.
What exactly is a boot room?
A boot room is a space that connects the outside to the inside, and should ideally be accessed directly from the front, side or back of your home. It is a dedicated space to take off boots, shoes and coats before entering the house, as well as a place to store them all. Often a boot room doubles as utility space, too, or it could be an extended porch.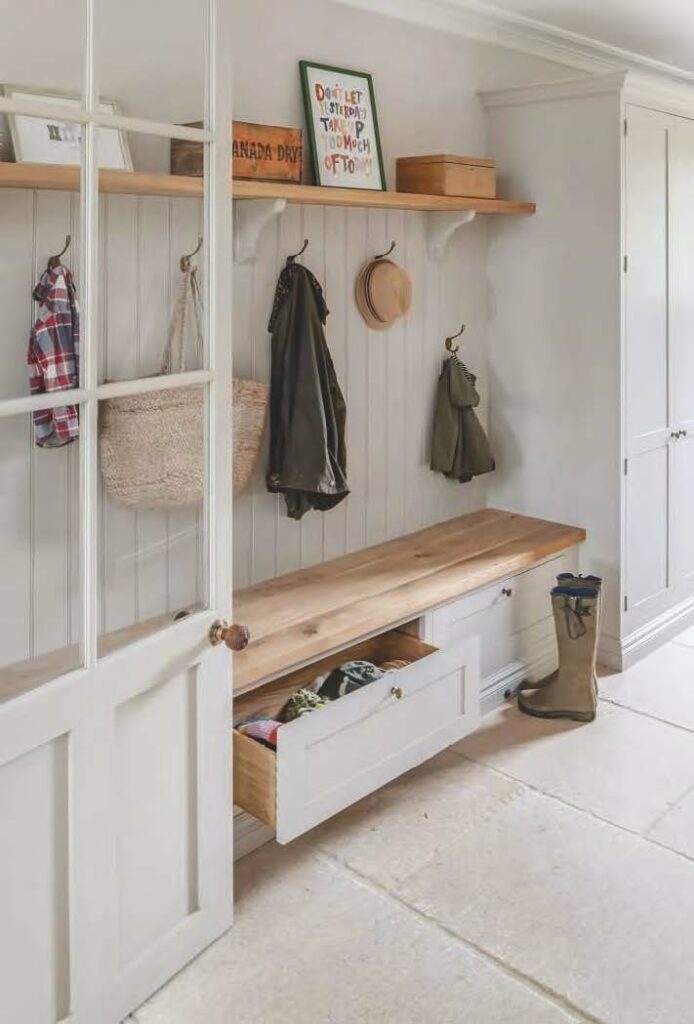 What if you don't have a usable porch or other dedicated room?
If you've no space for an entire room for coats and boots, how about turning a corner of your hallway or utility room into a mini boot room? A peg rail hung on the wall will provide ample space for coats and jackets, while boots can be neatly lined up besides free-standing storage. If you have dogs that regularly need walking, create a little 'station' with all the things you'll need such as leads, treats and balls, all stored in easy-to-access baskets.
An alcove in a kitchen, hallway or utility room can be quickly turned into the perfect place to store boots and coats by building a floor-to-ceiling cupboard. While open shelves are often the most popular choice for alcoves, a cupboard with doors means you can hide muddy boots and old coats from sight. Fix a rail inside your cupboard to hang coats on hangers and keep boots on a rack so they can be stored upside down. This will prevent muddy puddles forming.
Making the most of the space
Boot rooms don't tend to be particularly spacious, so storage is essential. To maximise space, consider made-to-measure units. Going for made-to-measure cupboards and seating means you'll have a space for everything – plus the kitchen sink (a sink is a really handy thing to have in a boot room!) and you won't be trying to shoe-horn your things into off-the-peg units. This ensures you maximise space and don't waste money on storage that doesn't work for your home.
If your boot room is blessed with high ceilings, maximise the full storage potential by taking a vertical approach to cabinetry. Fitting overhead cupboards above a seating area is an efficient solution for items that aren't used daily. As you'll potentially be putting on walking gear, or towelling-off pets, it's a really good idea to have some seating in your boot room. Not only can you add storage above it, but you can also opt for a seat with built-in storage for yet more space-saving.
Select statement boot room flooring
A stone floor might be the default option for a country-style room but luxury vinyl tiles in an on-trend pattern are ideal for giving a hall or kitchen with an adjacent boot room a contemporary feel.

Keep it simple
Don't overcrowd a small space: just have the essentials and maybe a few houseplants. Pack away anything you don't use often and keep shoes, boots and coats that you wear most days easily accessible. Stop your boot room becoming a dumping ground for all sorts of sporting attire, footwear and seasonal clothing by meticulously plotting storage provisions using the tips above. Think carefully about what you are storing and ensure every item has a home. Don't forget smaller items like gloves and torches, which are easier to locate in dedicated drawers.
Factor in a small heater or radiator. If you're constantly drying things in the boot room, you'll need a little heat in winter, plus adequate ventilation to prevent condensation.
Consider your décor
Boot rooms are most often positioned next to a kitchen, so it makes sense to replicate the same colours and designs for a seamless transition.
However, if you are wanting to have some fun, these rooms make great spaces in which to experiment with colour. Perhaps you have a favourite colour or shade, or feel like trying something bold but don't want to do it in your main kitchen area? Well, this is the room to try it in.
If your boot room is part of another room, then you can either blend the décor to make it as unobtrusive as possible or make a feature of it with contrasting colours and even faux dividers.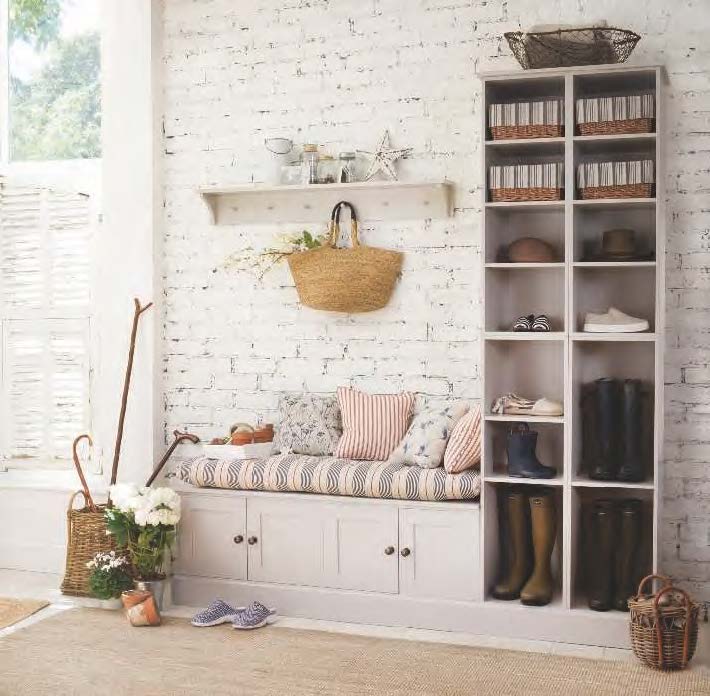 Create a puppy parlour
It might seem a bit extreme, but a dog shower can make a lot of sense. If you're fed up with your pooch traipsing mud through the house after their walk, or are done with having to wrestle them upstairs to the bath, then a dog shower could be the answer.
Failing that, a sink is a welcome addition to a boot room and can help with muddy paws. Make sure you have lots of storage space for towels and use your boot room for brushing coats and clipping claws, as well to take all the mess away from the main house. If your boot room is sizable you can even make it a cosy haven for dogs, with food bowls, beds and toys to encourage your pet to stay in there until he's fully dry.