Land + Sea is a foodie's heaven, offering great food, using quality local ingredients.
Set on the north Kent coast just minutes away from the main town of Whitstable and seven miles from the beautiful city of Canterbury, Tankerton is Kent's best kept secret to explore and enjoy. Tankerton Road is a vibrant retail and hospitality destination just a few minutes' walk away from the main seafront area with an array of independent shops, restaurants, cafés and bars. It's here you will find Land + Sea; a foodie's heaven, offering great food, using quality local ingredients.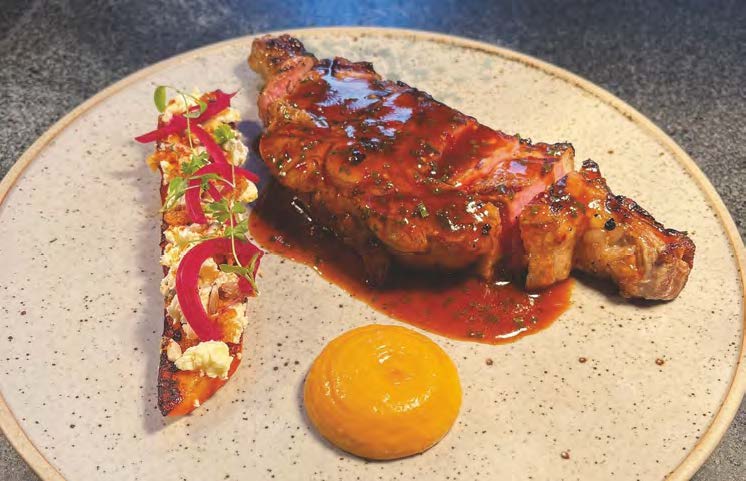 From brunch, to lunch, to dinner, the restaurant is open for you to try some of the freshest made food whatever the occasion. There is also the choice of the deli counter, so you can enjoy some of these delights from the comfort of your own home. The restaurant is currently open three evenings a week, but from Wednesday 29th March they will be open for four evenings. Land + Sea offer some unique dishes for you to try in a sharing style or your classical multi-course dinner. We decided to give it a try on a busy Saturday night and were not disappointed.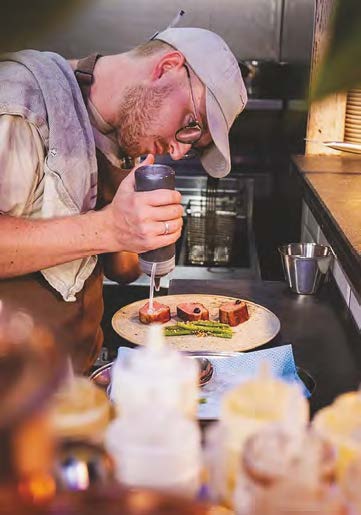 On arrival my dining partner and I were shown to our table by our waitress, Jessica who remained attentive, friendly and informative throughout the evening.
Head Chef Ben Stead proved to be chatty and knowledgeable, keen to share his enthusiasm for the fine details of the food and drink on offer. This is someone who clearly cares deeply about what he's doing, and wants to do it well. The arrival of our shared starter, Baked Scallops with Nduja butter and lime elicited murmers of approval. The presentation – as proved to be the case with everything we ordered – was immaculate. Stylish crockery and precision plating made for eminently Instagrammable photos.
On to the first of the mains, Chargrilled Local Lamb with Harissa, Carrot and Graceburn. The lamb was a quality piece of meat, intelligently cooked – pleasantly caramelised on the outside and pink, but overly so, on the inside – a tender, flavoursome delight.
The second main was the Megrim sole (a flatfish that's plentiful around the UK with very pale white, sweet and flavourful flesh) served with mussels, caviar and almonds. I chose an accompaniment of crushed fried potatoes and anchovies. The whole dish was absolutely bang on. The fish was meltingly soft and the accompanying sauce was perfect. The whole lot disappeared, so a definite thumbs up there.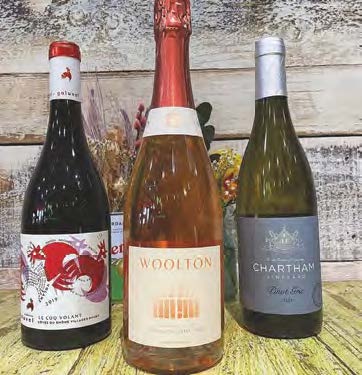 The desserts were also absolutely fabulous. The fried bread and butter pudding which incorporated left over pastries was genius. I have to commend the whole zero waste ethos that Ben is trying to achieve with this dish. The second dessert was a Dark Chocolate Mousse with Rhubarb, Hazelnut and Brownie. Anything with chocolate in is always a winner for me, and this was just sublime. The accompanying rhubarb was tart enough to cut through the sweetness of the cholcolate and made for a delightful combination.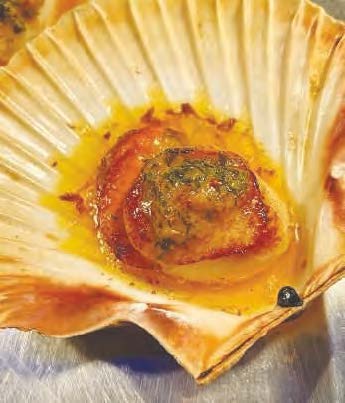 It's true to say that plenty of restaurants pay lip service to the notion of a warm welcome, but this is a place where everyone seems genuinely relaxed and friendly.
There was a delicacy and finesse about all the dishes that suggested that Chef Ben possesses a winning combination of culinary cleverness and unyielding perfectionism.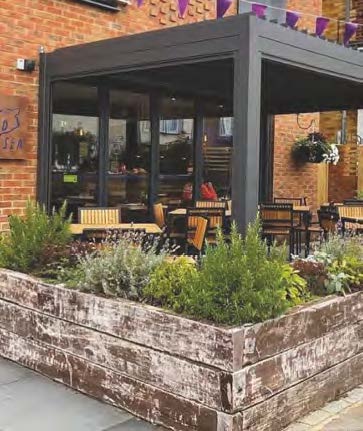 Handsome good looks and terrific taste combos – job done! If you're planning an evening at this little gem of an eatery (particularly on a Saturday) you would be advised to book as it's getting more and more popular by the day.
Opening Hours
Brunch: Mon – Sun: 9:30am – 11:30am
Restaurant: Mon – Sat: 12pm – 3pm
Wed – Sat: 6pm – 9pm
Sun: 12pm – 4pm
landandseatankerton@outlook.com
landandseatankerton.com