Discover antiques that will add flair and charm to your home for many years to come at Bagham Barn in Chilham.
Bagham Barn in Chilham stocks many and varied pieces, from a few pounds to hundreds of pounds, to enhance what you already have or to give you inspiration to change your style. They love to share their knowledge and expertise, and their twenty traders search out heritage and quirky pieces including, furniture, ceramics, beautiful jewellery, silver, militaria, books, bronzes – it's all part of the fun to find something rarely seen; to research its past and the part it may have played in our social history. They also have one of the largest collections of Shelley china to be found; some rare, with exquisite designs and colours.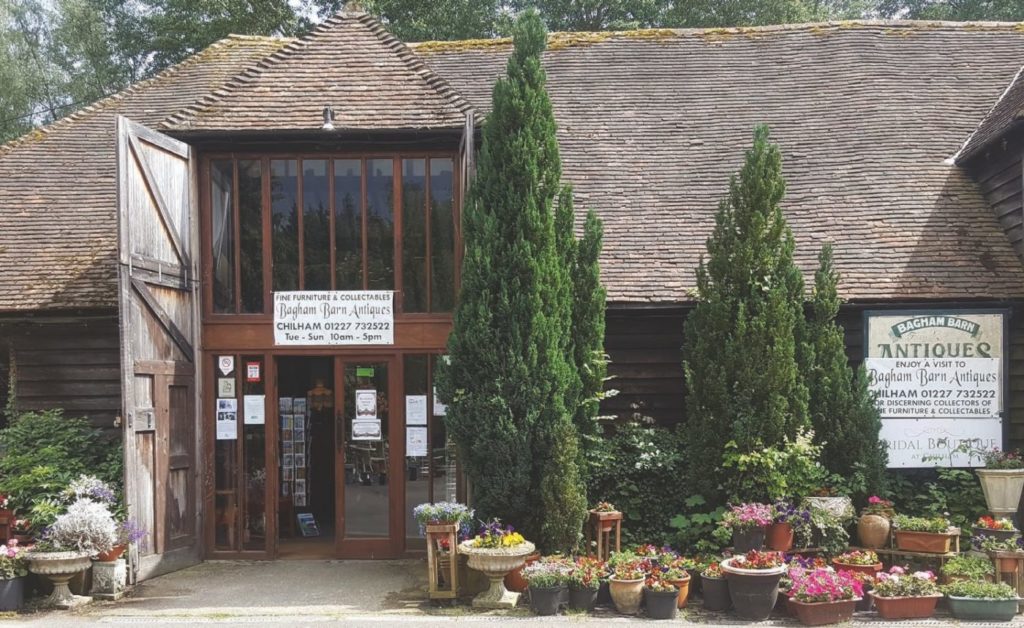 Another large collection is the vintage telephones. All beautifully refurbished, fully functional and guaranteed.
Six miles from Canterbury on the outskirts of Chilham village, the 17th-century barn was part of Bagham Farm until being sympathetically restored between 2000 and 2003.
The Barn may look familiar to some readers as it has entertained the Antiques Road Trip many times over the years. Their experts always find items of interest, and on one occasion within minutes of an episode being shown, a person phoned as they had spotted something in the background, and wondered was it still for sale.
As well as the Antiques Centre, the Bagham complex includes services such as restoration and repair of furniture, clocks, ceramics and jewellery; and the Wedding Boutique with their exclusive prize-winning vintage dresses.
New to the Antiques Centre is the rocking horse restoration service. Your heritage horse can be brought back to its charming former self, and the high-quality work can be seen in the selection of restored rocking horses currently available.
Favourite teddy bears and dolls can also be given a new lease of life, and if you love bears they have all shapes and sizes living in the Barn just waiting for a new family to take them home.
A stroll through the Antiques Centre leads to Tearoom@BaghamBarn, serving freshly-made breakfasts, lunches and teas, either in the tearoom itself or (weather permitting) in the heated gazebo in the garden. You can also preorder a take-away Afternoon Tea Box, which makes a super treat for yourself or a delightful surprise gift.
Never a dull moment at Bagham Barn sums it up – there's always something different coming in and treasures going out (hopefully fitting in the back of the car) and at the heart of it all is the beautiful historic barn.
BAGHAM BARN ANTIQUES & INTERIORS
Canterbury Road (A28), Chilham CT4 8DU
Tel: 01227 732522
www.baghambarnantiques.com