Nigel Slater on how to fashion a fantastic festive wreath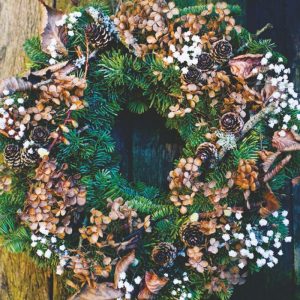 The wreath is a symbol of welcome.
America and Scandinavia have a long tradition of tying a ring of evergreens to the door, but the habit has only recently become popular here. Indeed, I walk down streets in London where there is barely a front door unadorned. Wreaths of holly and red ribbons; wreaths of mistletoe, wreaths of Douglas fir and rosemary. Some are clearly the handiwork of professionals, others rely on the charm of amateurism. I spot one finished with beech leaves and copper and green pheasant feathers in a way that lets everyone know the owners have a second home.
I am uncomfortable with the idea of buying a ready-made wreath, but have been less than happy with my own attempts. Even bending that wire coat hanger, the sort that comes with the dry cleaning, into a perfect circle was beyond me. I have come to a deal with myself. I buy a simple ring of holly, Douglas fir or fir cones, then put my own signature on it. A cop-out, but the sort I can live with. The ring stays solid on its woven willow base, and it is a delight, rather than a chore, to personalise it.
My base came from the greengrocer. A plain ring of Nordham fir. I pick browning hydrangea heads from the garden (leaving plenty in place for the birds, who like swinging on them) and tuck them into the thicket of woven willow. Then in go bay leaves and sprigs of rosemary, dried beech leaves and some lichen-covered twigs and florist's moss. My fir cones came attached to their own twiggy branches, but had they not, I might have resorted to a spot of garden wire to secure them. I'm not sure I would trust myself let loose with a glue gun. Black berries – rather than blackberries – the sort you find on laurel bushes and viburnums, usually work well here, but I can't always find them. We can get extravagant. Dried oranges spiked with cloves; cinnamon sticks and curls of cassia bark. Sprigs of dried hers and poppy heads look splendidly archaic. The garland could include rosehips, deep-red hawthorn berries and white snowberries. Avoid shiny laurels.
The most charming wreath, the one that I was happiest with, was the one I bought from Fern Verrow, when they had their now much-missed Bermondsey market stall. It gave the impression of having beenmade by elves. Jane Scotter's tangle of twigs, honesty, old man's beard, moss and berries was everything I wanted my wreath to be. It was admired by many. Others, whose taste probably ran to purple baubles, seemed less than impressed by its elfin magic.
I have a simpler version on the kitchen door. A circle of woven hazel twigs, with cobnuts in their shell. I insist it has pagan charm.
The early examples of wreaths were for the most part made up of evergreens, ivy and laurel but often wheat too. They were worn by Etruscan rulers as a symbol of strength, the green leaves surviving through the bitter cold of winter. They symbolise the harvest, and winners are often seen to wear them, but they are best known as a sign of welcome to Christmas visitors. Traditionalists will nail their wreath to the door on the first Sunday in Advent. Most of us would declare that too early. They might look a bit moth-eaten by Christmas Eve.
In domestic terms, we can thank the Lutheran church for the Advent wreath, from its first appearance in Germany, in the sixteenth century.
True Advent wreaths contain four candles, with another, the Christ Candle, at the centre. This last one being lit on Christmas Day. The Christian meaning is to celebrate the coming of Christ, and the idea of using evergreens is to represent everlasting life.
My personal rule is to imagine the wreath as a hat. If it would look fine on the head of a Morris dancer, a mummer or a Druid, then I'm happy. More suited to the head of a racegoer at Ascot or a reveller at an office party, it's a definite no.
Favourite ingredients of mine for a wreath include: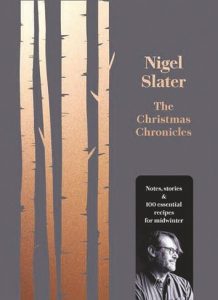 For the base: Nordmann or Douglas fir, moss, holly, lichen and heather.
To decorate: fir cones, beech leaves, bay leaves, honesty, rosemary, feathers.
To finish: cassia bark, dried poppy heads, stars of anise, birch, bark, moss, old man's beard, white or blue-black berries, hawthorn berries, crab apples, holly berries. The occasional slice of dried orange can look good, as can whole dried fruits, but they do bring a rather commercial look to the occasion. One of the most charming ideas of recent years was that of Petersham Nurseries, who used tiny red apples against a ring of glaucous leaves.
By the way, I am not sure what sort of person nicks a Christmas wreath from someone's door, but in my experience they do. I like to leave a very sharp piece of wire well hidden, so at least I have the comfort of knowing there is a chance of the thief drawing blood as they yank my handmade treasure from its hook. This is not, of course, a recommendation.
The Christmas Chronicles by Nigel Slater is published by 4th Estate, £26.