A New Roof Over Their Heads
We revisit the Chestfield Barn pub and restaurant now that its crowning glory, a brand-new thatched roof, has been completed
Lockdown didn't stop master thatcher Glen Charter from completing a massive re-roofing job on the Chestfield Barn pub and restaurant near Whitstable.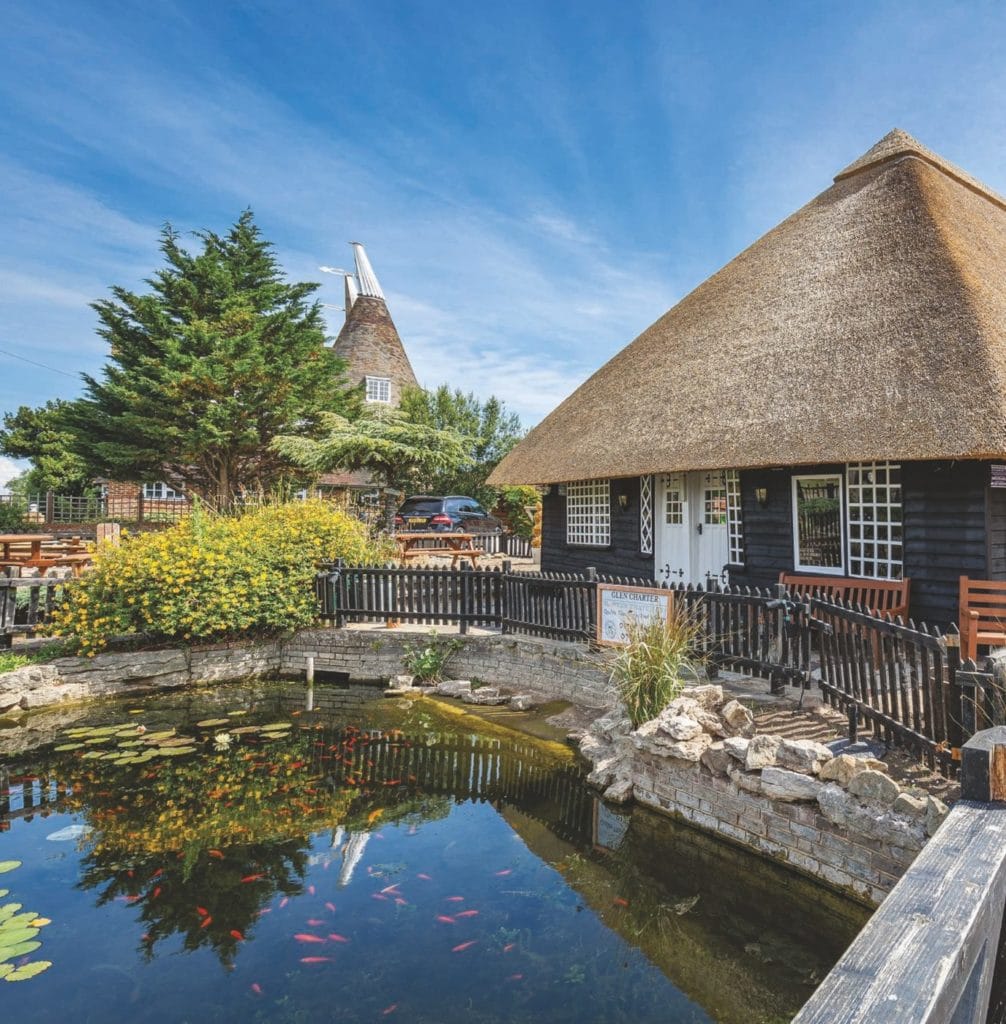 Glen had already stripped off the worn-out thatch when the coronavirus pandemic temporarily closed the Grade 2 listed pub, but he and his team were able to carry on fitting new wooden battens and covering them with water reeds. The roof area was big enough for his team of three, plus occasional extra help, to observe social distancing.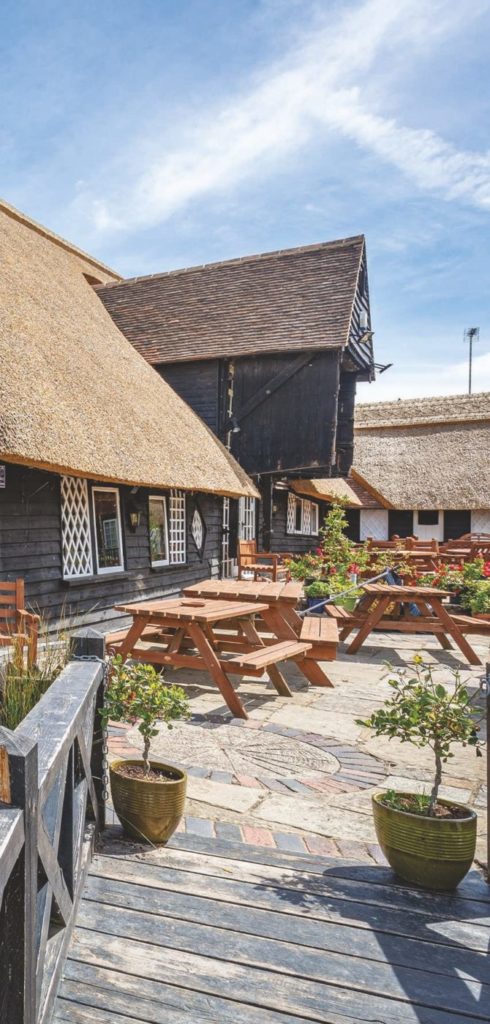 "It was a fairly standard job, but quite a big one," said Glen. "We fitted a waterproof membrane and new large-gauge battening to strengthen the structure. The old thatch was about 30 years old and the fixings were showing, which is a sign the roof had come to the end of its life. If we'd just repaired it, that would not have lasted beyond 10 years."
Working with owners Shepherd Neame, Glen looked at old photographs which showed that in the past the roof valleys had been tiled. It was decided to replicate this, to be true to the original and to make the roof more maintenance-friendly on these heavy-wear areas.
Shepherd Neame have two other thatched properties, Manor Farm Barn in Southfleet and The Boathouse at Yalding. "We tend to rely on Glen, as he is very skilled and has a wealth of experience," said the brewery.
A regular maintenance programme involves re-netting and replacing the ridges around every 10 years. A complete re-thatch, as at Chestfield, is fairly unusual and can be prompted by a variety of factors; for example, a north-facing thatch seems to degrade more quickly, and sometimes birds cause problems by pulling out thatch for nest-making, the brewery estates department said.
It took 4-5 weeks to strip off the old materials from the Barn, then about seven weeks to carefully install the new roofing, finishing in mid-April.
The popular roadside pub has stood for hundreds of years on the site of the Chestfield Manor complex mentioned in the Domesday Book and at one time belonging to Bishop Odo, half-brother of William the Conqueror.
Originally a tithe barn, it was converted into a golf clubhouse about 100 years ago, then became a tea-room before Faversham-based brewery Shepherd Neame acquired it.
Managers Alan and Michelle Clark have been in charge for two years and arrange many regular events such as specialist food nights, quizzes and music.
Glen, who formerly worked in electronics, made the switch to thatching in 1988 when he trained in Reading. He had fancied working outdoors in a hands-on, niche trade and has never looked back, always busy even during the pandemic this year. "I have just been careful to pick jobs away from people," he said.
Having grown up in Faversham, he returned to the area to set up his own business in the village of Eastling 25 years ago. He covers the whole of Kent from just over the county border at Rye up to the M25 and picks up business through his website and recommendations from happy customers.
He loves the achievement of completing something to be proud of. His final task on the Chestfield Barn was to add a pair of straw doves to the ridge. "That's my marker, so in 30 years' time people can see that and know that I did the job," he said. "I like that."
glencharterthatchingkent.co.uk
01795 890 822 or 07710 141 377