Architectural Heritage – Coade Stone
First marketed in the 1700s as a remarkable new building material, Coade stone is tough, hard-wearing and extraordinary, as was Eleanor Coade, the businesswoman who brought it to the world.
Coade stone was first developed by Eleanor Coade, a highly successful businesswoman of her time. It was manufactured in Lambeth from 1769 until 1821. The recipe and the production process were both closely-guarded secrets, something which only added to the appeal of her product. Coade's commitment to employing high-skilled craftsmen and artists guaranteed consistent quality.
The stone was used for an extensive range of external embellishments: keystones, plaques, friezes, bas-reliefs, statues, vases and even garden seats. The success of Coade stone stemmed from its ability to provide fashionable ornaments in quantity. This was extremely useful for the builders and architects of the fast-expanding terraces and squares of London and other cities.
Because Coade stone is remarkably resistant to the harshest weather, most pieces are in as good condition now as when they were first made over two hundred years ago. Its incredible resistance to weathering, often faring better than most types of stone in London's harsh environment.
Mrs Coade's death in 1821 left the firm without its energetic, entrepreneurial leader. Changing tastes also meant that artificial stone fell out of fashion. The company was wound up by 1840 and the secret of Coade stone was lost. In the last decade, the rediscovery of the recipe has meant that new Coade stone objects have begun to be produced again, allowing the replacement of sculptures like the Gothic Cross at Stowe which once seemed lost for good.
Probably the Most Famous Example of Coade Stone.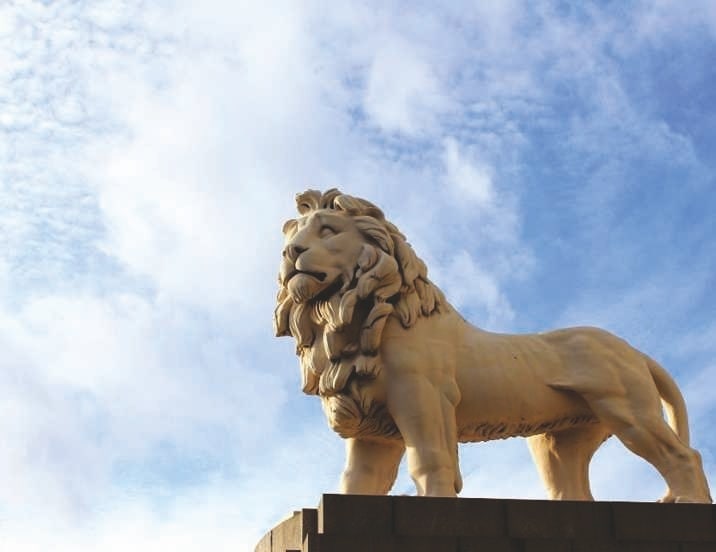 The Lion at the south end of Westminster Bridge in London originally stood atop the old Red Lion Brewery, on the Lambeth bank of the River Thames. When the brewery was demolished in 1950, to make way for the South Bank Site of the 1951 Festival of Britain, the Lion was taken down and put on display at street level.
The fine details remain clear after 170 years of London's corrosive atmosphere, caused by heavy use of coal throughout the 19th and first half of the 20th centuries. The red paint was removed to reveal the fine Coade stone surface.
Nelson's Pediment, Old Royal Naval Palace, Greenwich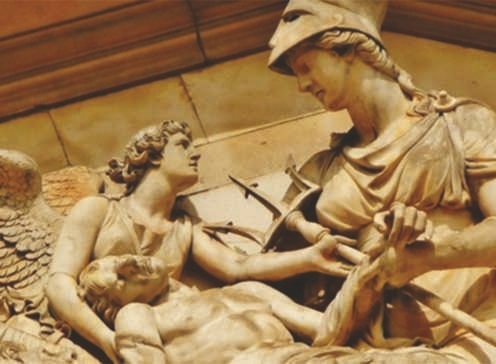 Modelled for the Coade manufactory by sculptor Jospeh Panzetta in 1813, the pediment in the King William Courtyard of the Old Royal Naval College was a public memorial to Admiral Lord Nelson, who died at the Battle of Trafalgar in 1805. The sculpture was based on a painting by Benjamin West and depicts the dead Nelson being offered to Britannia by a winged Victory. The stonework was cleaned by specialist conservators, DBR Limited in 2016.