Beautiful, beguiling & bewitching – Welcome to Boys Hall
We're delighted to be given the chance to feature the restoration and renaissance of a lovely and significant gem of a Jacobean manor house, nestling in the outskirts of Ashford.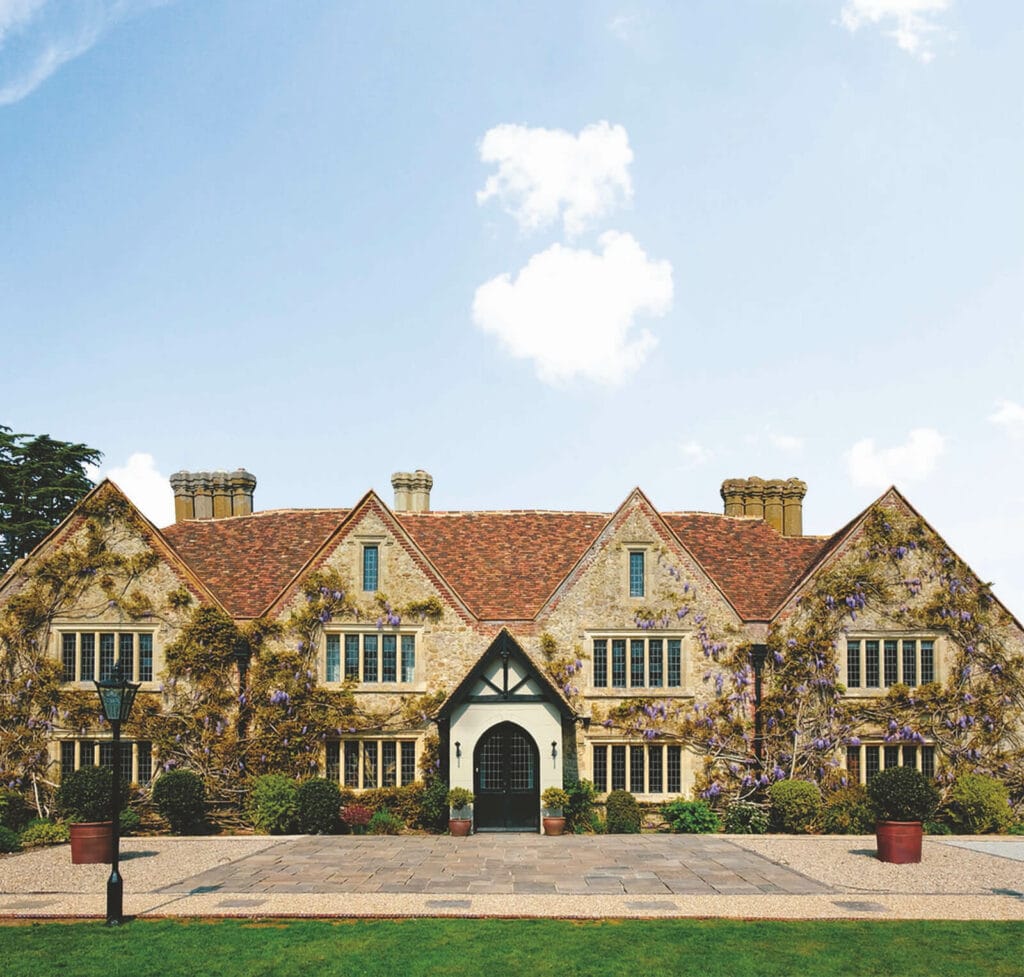 In this first part we meet the people who took on the task and we take a peek behind the scenes at the on-going extensive repairs and the journey to rebuild it that started over two years ago, and which will culminate in the 17th Century period property opening its doors as a restaurant with rooms this autumn.
This family house is truly a family concern, courageous couple Kristie and Brad Lomas purchased the property along with her parents Richard and Rita. Kristie and her family are from Mersham in Kent. She studied photography at university and finding she had an interest in the world of hospitality, she moved to London. After a spell of working for various establishments, she started her own Café Bar in Kings Cross with a friend, which turned out to be a great success. Brad was the Operations Director for a chain of Pubs in London, which was how the couple met. Their relationship flourished, marriage and parenthood ensued, followed by the desire to find a project they could work on together outside of London.
It's here that an interesting twist of fate occurred, they had looked at many prospective business opportunities all over the country, including north Wales, but none suited them. Then, an alert for this one popped into Kristie's inbox. Boys Hall, a gorgeous house with three acres of gardens presented quite a challenge and immediately got her attention. It was just what she was looking for and when she realised it was so close to her family home, she knew it was an opportunity not to be missed.
The Grade II Listed Manor House was in need of a great deal of TLC, she was amazed that this beautiful house was just over three miles from where she had grown up and she never knew it existed until then. It offered everything she was looking for; a period property in dire need of restoration, a project to make a future business for her and Brad, and something that had been missing from others they had looked at, the all important location, as new parents of two little ones the proximity to her parents, clinched it.
Brad, Kristie and her parents purchased Boys Hall and took possession in November 2019. Of course, that date we now know coincided with the beginning of the Coronavirus pandemic with a nationwide lockdown following in March. It was uncharted territory for everyone, and any immediate plans that included building or renovation works had to be put on hold, and no one really knew how long for. However, as Kristie explained to me it was a case of trying to turn a set back into an opportunity, if they couldn't begin work on the building, as builders couldn't come in and supplies couldn't be delivered, then they started work on the grounds around the house.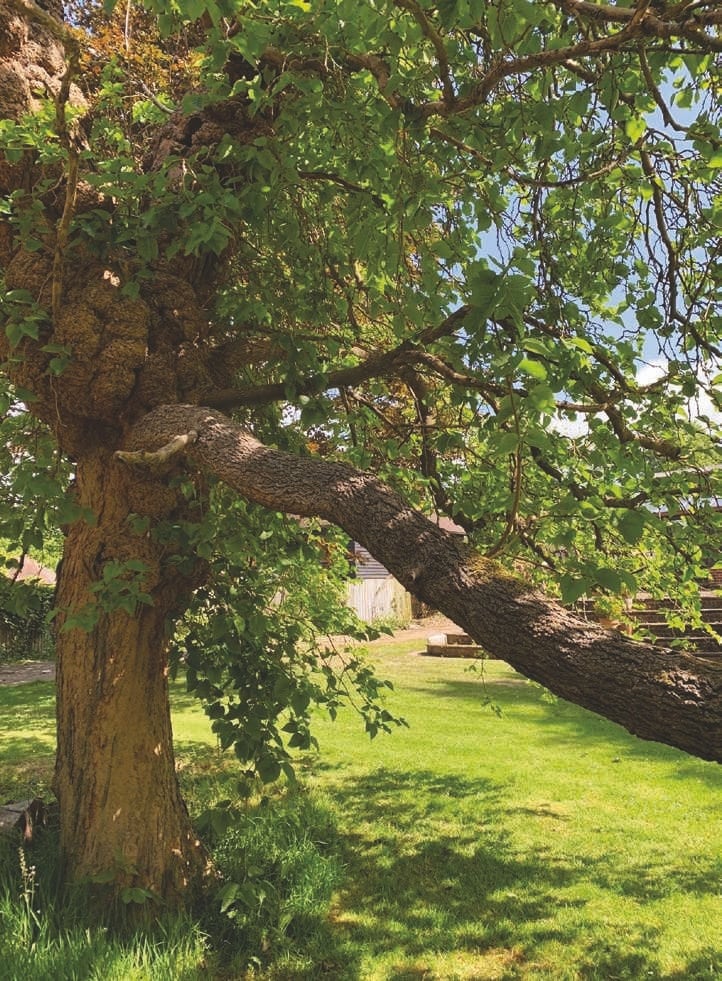 What was a completely overgrown thicket of brambles and weeds was gradually tamed after many backbreaking hours of hacking away, and what began to be revealed were areas of lawns, terraces and formal gardens. She says it was a time of delightful discoveries, as the tangled growth was cleared plants started to grow back, it seems some of the original occupants of the garden appreciated the opportunity too and emerged. Foxgloves and many other plants had self-seeded and an unusual original hydrangea called Libelle was discovered. There were also splendid specimen trees; gingkos and laburnums, not to mention an ancient mulberry tree, thought to be over 400 years old has survived. It's difficult to believe it when you see the gardens now what a state they were in. They have been transformed by masses of hard work, particularly by Kristie and her mum. Over the past two years they have pruned, weeded, mowed, created herbaceous borders and a formal rose garden, and restocked by taking many cuttings. It has been a labour of love that has been well worthwhile and has become a passion.
Another opportunity grasped by Kristie during lockdown, was the chance to research the old house and look into the fascinating history of the previous occupants. There are many tales to tell. Thomas Boys began construction of the house in 1616 using materials from a nearby property, Moat House that had been demolished. It was completed in 1632 in its current location. The style of the original house is thought to be typical of a medieval timber framed Wealden hall house, which over the years has unsurprisingly been adapted by its many inhabitants. Kristie's research has identified eleven families as owners of the property, however there may be many more residents that were tenants throughout the period between, 1616 to 2001. Coats of Arms for some of these families have been carved as decorations above one of the main fireplaces, some very well known names in the local area such as Boys, Bonnington, Barry and Knatchbull. Also this role of honour is the Invicta Horse, symbol for the county of Kent.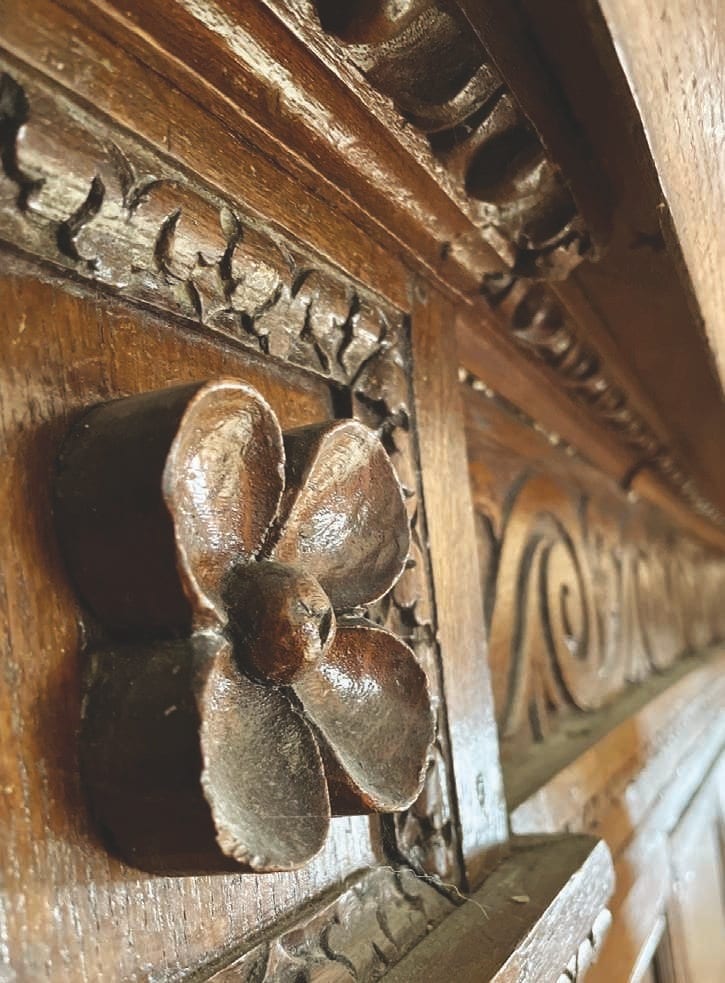 There are tunnels underneath the house that are rumoured to have been used by smugglers, no one knows now where the tunnels linked to, possibly the church at Sevington, and the local inn. Sadly this can't be substantiated as they have collapsed in on themselves, but they are intriguing and can be accessed from the cellar. In 1970 a hoard of 17 gold coins in a pot were uncovered in the earth below the main kingpost in the hall of the house, the oldest dates to the reign of Henry VIII, these are now at the British Museum.
There is also a fascinating account in Mrs. Henry Wood's book Argosy dated 1880, these were books released twice a year, full of short stories curated by her. Included is a story of a Christmas party that took place at Boys Hall in 1760. The descriptions of the house, with its large, low rooms, its great well staircase, the square low room where four massive beams meet overhead and features like the decoration on the fireplace, "…where birds of wonderful plumage wrought in stone are sitting on golden boughs" so accurately describe key elements of the house that remain to this day.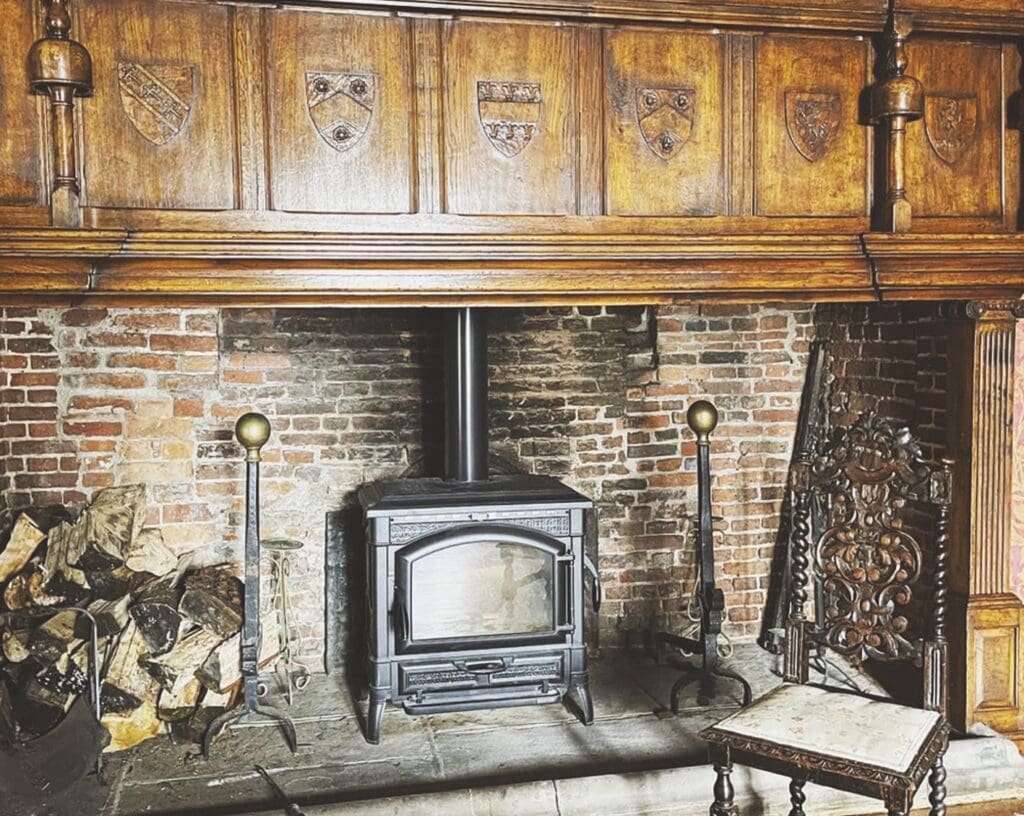 As the lockdown eased the long awaited work on the house itself could begin in earnest, but like many building projects over the past couple of years there have been the inevitable delays mainly due to supply chain issues, which has meant the opening has had to be rescheduled for the autumn. Brad, Kristie and her parents, along with a small team of local carpenters, tradespeople and labourers have tackled all the main renovation jobs, including the demolition of the old swimming pool area to construct the new restaurant and kitchen. Timber for the project has been sourced locally and milled on site. It's been a gradual process of reinstating and restoring each part of the wonderful old house. And at last things are really coming together, so much so that many of the bedrooms and other areas are finally being dressed with their finishing touches and furniture moved in to position.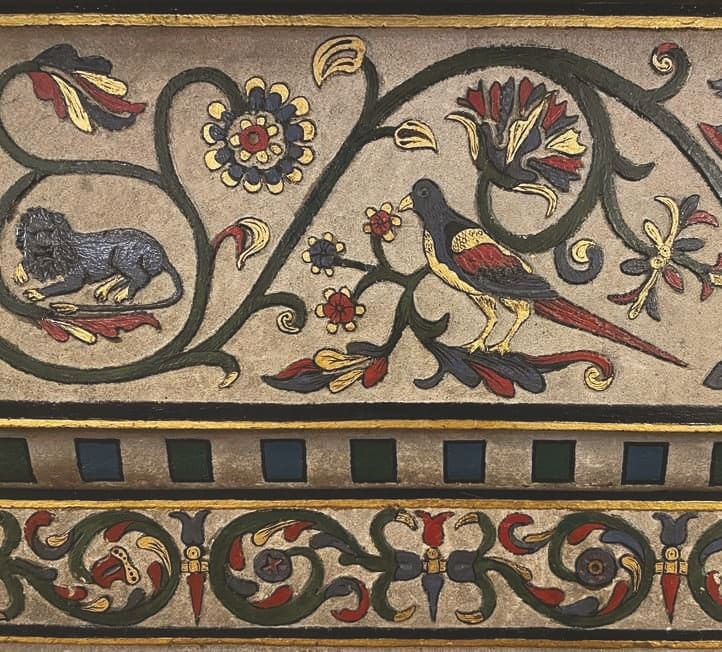 Now is a time to revel in sumptuous fabrics, signature wallpapers and glorious colour pallets, something Kristie definitely has a flair for. She is artfully combining these materials with treasured items sourced from auctions and antique fairs, to complement the existing wonderful wood panelled rooms with magnificent feature fireplaces that greet you at every turn of the historic interior of this precious place. Worthy of a mention, it is thought that the particularly fine ornately carved panelling in the main bedroom is in fact from Windsor Castle.
In the next part of the story in our autumn issue, we will see the results of all the hard work when Boys Hall is revealed in all its glory. For more info: boys-hall.com.