Choosing the right doors for your period property
Original period doors give homes character and architectural integrity. we guide you through renovating original doors, or sourcing something similar
Breathing new life into an old period property can be many things – a labour of love, a test of endurance, and a seemingly never-ending to-do list… and hopefully, eventually, a joy. One detail that doesn't tend to get too much attention is how to pick period-appropriate doors for your home.
Houses built in each era will have been designed with a specific style of door, and replacing like-with-like can really help you keep – or reinstate – an authentic period feel. However, the choice can be baffling. Here is our guide to which type of house matches which style of doors to help you resolve at least one design dilemma on your list.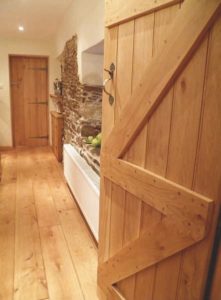 Historic Cottages
A cosy country cottage built before the Georgian era would have had the simplest of doors. Constructed from vertical timbers – stiles – and horizontal framing timbers – rails – these doors are just as charming today in their humble but effective design. Perfect for homes with a fuss-free, country feel, or for installing a rustic feel in a barn conversion, cottage-style doors look wonderful in natural wood or a white-painted finish.
Georgian Homes
The house-building skills and artistic flair of the Georgians is undisputed, and one of the reasons why Georgian homes are still so in-demand today. This is the point at which panelled doors were introduced, and a typical Georgian-style door has six panels rather than the more standard four. Doors were often made a feature of, with detailed, elegant architraving framing each doorway.
Victorian Homes
This period saw the rise of automatic cutting techniques and the mass production of wood doors. The classic Victorian door has four panels, with unbeaded panels the humbler option and beaded panels on display in the best rooms. Glass inserted in the upper two panels also became popular, and double doors also came into vogue for ordinary domestic homes, often used to link the living and dining spaces and add a sense of grandeur.
Arts & Crafts Homes
The Arts & Crafts movement emerged in the 1860s, as the Industrial Revolution bloomed, and was in part a reaction to an increasingly mass-produced, mechanised age in design.
Driven by the desire for quality hand-crafted homeware, the Arts & Crafts movement also drew inspiration from Oriental design and Medieval craft and shapes. A classic Arts & Crafts-style door has three vertical panels at the bottom, with a smaller panel on the top third of the door. As the Arts & Crafts pioneers were passionate about both traditional skills and the beauty of nature, floral stained glass can often be found in this upper section.
Art Deco Homes
As the century turned so too did design tastes, and fuss and frills were out. During the 1920 flush doors with a hardwood veneered smooth face replaced the old panel doors. These doors could be painted but more often the natural grain of the wood was used as a decorative element in itself, with inlay details of a second wood adding extra interest.
1930s Homes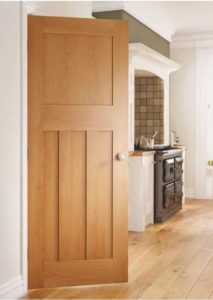 During the 1930s the suburbs began to expand with homes built to accommodate the desire to move out of the city and into a village semi. The clean lines of Deco are still in evidence, but a nostalgia for the grandeur of earlier decades also held sway, and many 30s homes would have had doors influenced by the Arts & Crafts style.
Sourcing Originals
It will be possible to find doors of the same period, but they are unlikely to match any that may survive in the house. Secondhand doors can be used for houses and rooms that can tolerate a mixed, eclectic style, but for listed buildings, it's far better to get replacement doors made that are of the right size, appearance and detail. If you don't need an exact match to existing originals, architectural reclamation yards are a good place to start.
Renovating Originals
Use a gentle approach when restoring original doors yourself or employ an expert. Use a water-based stripper, then lightly sand and refinish. Some people have old pine doors dipped, but this can cause joints to open and doors to warp. Do not use a heat gun – the paint may be toxic. Most period doors are meant to be painted, although hardwood doors may well be French polished, stained or lacquered.
Lookalike Doors
There are lots of options when it comes to new period-style doors. If you can't find one to match, it's straightforward to have one made to your specifications. The cheapest option would be to search around for reclaimed originals on second-hand selling sites. Alternatively, contact a local joiner who specialises in bespoke internal doors. They offer a range of finishes including painted, lacquered and stained, and use hardwood and softwoods including beech, pine and oak.