We meet Oliver Manning Press whose unique talent and flair for furniture design is fundamental to creating individual pieces of bespoke furniture of the highest quality, be they fitted or freestanding, he creates items that are functional, elegant and very beautifully made.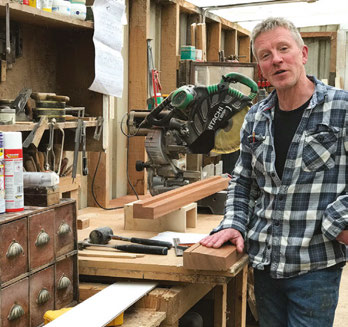 Studying for a degree in the History of Art at the University of East Anglia was Oliver's introduction to an aesthetic world, it allowed him to build up his awareness, knowledge and appreciation for fine art, paintings and objet d'art from previous centuries. This could have seen him destined for a career in one of the large and prestigious London auction houses like Sotheby's, however he gradually began to feel unfulfilled, realising the lack of practical experience was not satisfying him. This insight led to him feeling that the best way to understand more about the items and how they were made was to be involved with them 'hands on' and so he enrolled on a conservation and restoration course. This was a whole new ball game and he was at last in a more satisfying place having found his forte.
Following on from this he was offered an apprenticeship with the London Antiques collective based in Chilham in Kent, where he gained extensive knowledge of furniture, restoring antiques for museums, with a company that supplied many top antiques dealers in the capital.
Oliver then took another leap and broadened his horizons even further, he added more valuable experience in furniture construction and design by working at the European Centre of Conservation in Venice, with a subsequent spell working for a family business in Milan, that specialised in antiques. He returned to Kent and started his business in 1990, and after 30 years has built up a successful business working for trade and private individuals, in London and Kent.
He believes that all this experience has been an invaluable resource when designing pieces of furniture for clients, along with an in depth consultation process to fully understand exactly what a client wants. This diligent and collaborative approach to consultation can sometimes involve revisiting a client with a template to ensure both parties fully understand how the finished item functions in the space it will inhabit, which is a vital part of the process and one he has found can avoid very costly errors.
Whilst he is aware that he has a broad knowledge of restoration, Oliver is conscious the trend has moved away from antique renovation, it seems that 'brown furniture' is less fashionable nowadays and there seems to be a shrinking demand for this type of work. He is however always happy to discuss the viability and options of restoring antiques, whilst recognising the growing trend towards contemporary, clean cut design to fit in the modern home.
He has made and installed bespoke kitchens, bookcases, wardrobes, vanity units and window seats all designed to make the most of the space available, however irregular it may be. He makes use of contemporary materials like birch ply and modern construction techniques that he finds incredibly liberating. A typical example is this under-stairs storage, which maximises the space available. The drawers on the right operated on soft-close runners are to store wine bottles, the cupboards act as a useful space to house all the necessary but essential everyday items like, boots, shoes, brushes etc. that we'd all rather not have on show. It's a stylish solution to that awkward triangular space that was previously unused.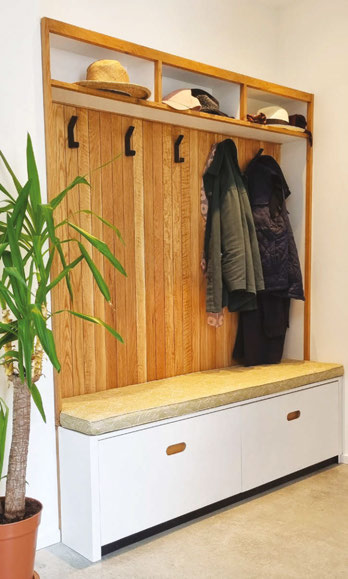 Similarly, the banquette seating with storage drawers underneath was custom made for a very modern house interior, so the design had to be strong but minimal. Its back is clad with oak staves that echo the larch cladding on the exterior of the property.
The bookcase (not shown here) was designed to tidy up an uneven wall that had projecting boxing in it. Oliver made the most of storage potential by building shelving and cupboards using birch ply and tulipwood with a painted finish and bespoke hardwood handles, that made the whole room more organised.
Oliver's work isn't all about storage though, he is able to make exquisite pieces of bespoke furniture and joinery too like solid timber dining tables or large office desks, all of which are unique, individual commissions. The unusual oak bench was designed for Winston Churchill's studio at Chartwell. The complicated brief included mention of there being a lot of Heal's furniture in the house, so the turned legs of the bench reflect that. It was necessary for the bench to be strong enough for members of the public to sit on, but not to look too heavy. It also had to incorporate interactive viewing screens at both ends so visitors could browse the great mans' paintings, altogether a rather unusual commission.
The beautiful curved sideboard was Oliver's response to a request for a cabinet to house media tech in a very modern space with curved walls. The style of the house it was designed for was light and minimal, the sideboard's curves had to follow the shape of the wall in order to look part of the building. Also the cabinet had to float off the floor, so the unit had to be strong enough structurally to be self-supporting hanging from the wall. It was built from birch ply, with laminated birch ply for the doors. The construction was complicated and Oliver used his trusted template method to ensure the finished piece would work. Once painted and in situ the finished sideboard is a masterpiece of effortless elegance and is testament to Oliver's design genius, it belies the complicated design process undertaken to create it. They say there is beauty in simplicity, that's the secret of good design.
To see more of Oliver's work or make contact visit: www.olivermanningpress-bespoke.com