Offering a relaxed environment to view and purchase a high standard of original contemporary art.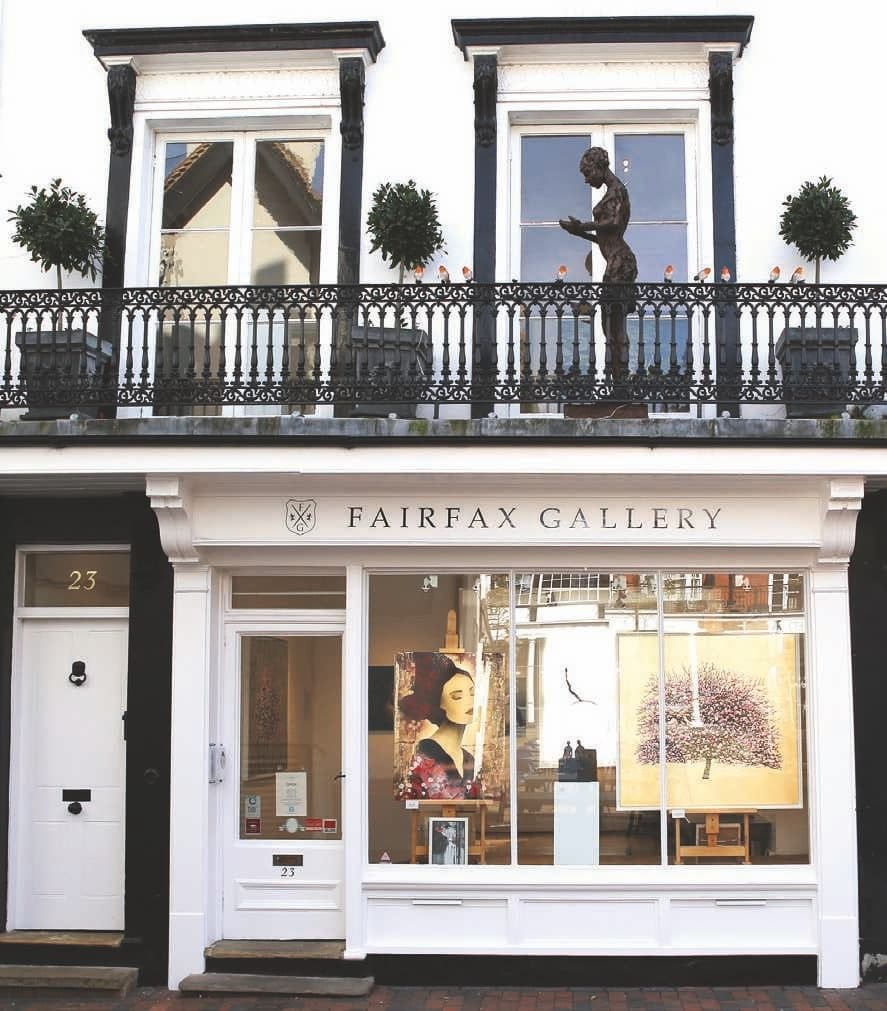 The Fairfax Gallery was established in 1995 on the Lower Walks of the Pantiles, Tunbridge Wells, to exhibit contemporary art of a standard rarely seen out of London. The gallery holds over 100 original paintings and sculpture in stock by established, award-winning and emerging artists. Whilst the style and subject matter of the artworks vary, the gallery has a distinctive style which has gained it a loyal following.
Since its inception 27 years ago, the Fairfax Gallery has maintained a high standard of artists across its successful portfolio. Over one thousand prospective artists approach the gallery each year, meaning only a select handful make it onto the walls. The longevity and continued success of the gallery are attributable to these talented artists and our wonderful clients who enable the gallery to flourish to this day.
The Fairfax Gallery was a previous winner of 'Best Gallery' in Kent in the Muddy Stiletto Awards batting away stiff competition from other galleries, such as the Turner Gallery.
Though the Pantiles is home to the original Fairfax Gallery, some may recall the name also hung above a spacious gallery in Park Walk, Chelsea for seven years, before the decision was made to focus on overseas art fairs in Hong Kong, Singapore and New York. In 2001 the gallery acquired a permanent space in Burnham Market, Norfolk, complete with a stunning sculpture garden.
The Fairfax Gallery has also been fortunate to represent artists at key moments of recognition in their careers. These comprise winners and fi nalists of the BP Portrait Award, including Mary Jane Ansell and Shaun Ferguson, also a former winner of the Discerning Eye New Discovery Prize, in addition to Barry Wilson winning a Saatchi Award.
The Fairfax Gallery showcases art, in its spacious period building on the Lower Walks of The Pantiles, offering clients a relaxed setting with a personable service built on many years of experience. The Fairfax also provides a special service to clients whereby artworks can be taken to their homes before purchase, so they can see paintings in situ, ensuring the art is a perfect fit for their home or office.
From 11th June to 8th September, the Fairfax Gallery will be holding its Summer Exhibition featuring new paintings and sculpture from its most popular exhibitors, alongside some exciting emerging talents. Paintings will range from colourful abstracts, painterly landscapes, and contemporary figurative work alongside sculpture for the home and garden. The gallery will be delighted to help you find the perfect artwork whether you are a first-time buyer or an avid collector. All work is available to purchase, and new pieces will constantly be added throughout the show to ensure there is always something tempting to view.
Fairfax Gallery
Open 7 days a week
23 The Pantiles (Lower Walks)
Tunbridge Wells TN2 5TD
www.fairfaxgallery.com 01892 52 525