We meet the talented designer Julia Brendel and delve into what drives her passion for fabrics, the influences behind her creative vision and discover how this has led to her success.
Julia was born into what was undoubtedly an artistic family. Her Father was Hungarian and her Mother Polish. Both parents were Historians of Art, which duly sparked Julia's appreciation for all things Art.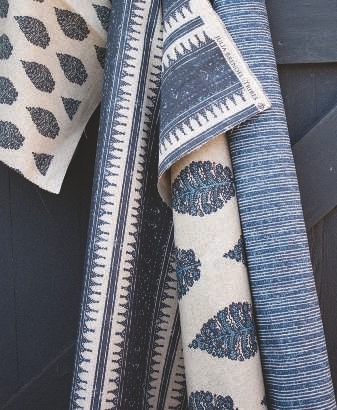 This naturally led her to choose the artistic path and Julia graduated from the Poznan Academy of Art with a Master's Degree in Packaging and Mosaics. During her five years of studies at The Academy, she explored painting, drawing, product and furniture design, packaging, silk painting and mosaics to mention just a few. In 1999, not decided on her career, Julia moved to London. What was meant to be a gap year became her life…
London's heady and eclectic mix of cultures and influences, its diverse offering of all things Art began a process in Julia that would eventually lead to a path where she could truly express herself creatively.
Julia continued to study by attending courses in ceramics and mosaics but it was when she enrolled in a textile course at the V&A, that thoughts began to take shape. During the workshops, Julia designed a cushion and a scarf based on Diaghilev's ballet costumes – she fell in love with the process and from that point, she knew what she had to do.
Julia opened Julia Brendel Limited in 2012, initially producing a range of fabrics that were manufactured on the historic looms in the famous weaving town of Zyrardow in Poland. Zyrardow is similar in many ways to the weaving towns of the Midlands in the UK, sadly now effectively defunct. Julia moved all of her weaving to the UK subsequent to the final closing of the looms in Zyrardow.
The design process and its influences
Julia's designs emanate from a plethora of influences. We have touched on her studies, to which, one can add such diverse subjects as marble sculpting courses in Carrera, photography and social media studies, but it is her love of travel that most profoundly influences her design process. Extensive travels in Asia, The Middle East, North Africa and The Caribbean as well as throughout Europe, all find voice in her portfolio of designs. The common theme here is the process of allowing local traditions and cultural influences to permeate the design process. This is at the core of Julia's overall approach to design. It may have begun with Polish and Hungarian folk designs but now encompasses many of the World's most beautiful and iconic designs.
Julia creates her designs in the old-fashioned way by drawing, painting, cutting and pasting and only then working on the designs digitally on the computer to create repeats, apply colours and correct any imperfections. The ready pattern is then sent off to either printers or weavers and the first strike offs are printed or woven. Julia says, "This is the most exciting stage because you finally get to see the result of your work. Every time the envelope with first samples comes through our letterbox, I am excited like a child on a Christmas Day".
Julia has also embarked on experimenting with digital printing of her designs on material, rather than weaving. She's found it allows for smaller runs of fabric to be created, which is perfect for bespoke pieces for customers and also for exactly matching colourways to clients' requirements.
There is a wholesome quality to the look and feel of the materials Julia creates. It is essential to her that the materials are natural and environmentally sound. She uses pure cotton and linen, producing results that are beautiful, unaffected and that come to life imbued with her distinctive designs. Superior honest fabric is fundamental to the brand she has built. Her inspiring designs are used across a range of table linen, runners, lampshades, throws, cushions and luxury scarves as well as in the actual fabrics themselves used in curtains, blinds and upholstery.
Her collections are created of cohesive matching patterns and colourways so a whole room/scheme can be designed using the coordinated fabric for blinds, curtains, cushions and upholstery. They have a modern feel with some vintage nostalgia and reminiscence of the past. People often say- they look new but old and as a result, her fabric can be used in a modern or 'historical' setting. Personally, Julia loves layering patterns and says her style is eclectic with many influences of her own cultural heritage, mixed with her travel experiences and of course with over 20 years of living in England.
Perhaps not surprisingly, Julia does not like to limit herself. Although her designs are primarily designed for interior décor, she has also worked on other artistic projects where her fabrics were used such as a major operatic production and an advertisement in which fabrics were used in historic and modern costume dresses. Collaboration with artists on alternative projects keep the creative juices flowing!
Julia has exhibited at many trade and retail shows in England including Decorex in London. Her work is regularly featured in national and international interior magazines including The English Home, Period Living, Country Homes and Interiors, Veranda etc. She also collaborates with many Interior Designers, Soft Furnishing makers and also with retail clients. She sells her textiles via many stockists around the country and recently also in the USA as well as through her website: juliabrendel.com.
Today, Julia Brendel is a renowned and successful designer with a thriving business in the UK, built up over almost 10 years. Her hard work and determination, coupled with her insistence on sustainability and good conscience have all led to a most fascinating collection of fabrics and accessories. She has a large portfolio of clients who are always interested in what she's working on next… no doubt, in a post-Covid World, there will be more travel.
Julia lives in Canterbury with her Irish husband Gerry, Alex 16, Mia 15 and Zola, a 10 week old puppy. She works from her garden studio, which can be visited by appointment, contact: julia@juliabrendel.com or call 07834 767178.