Orlestone Oak's new grand flooring range is perfect for large rooms and both period properties and modern alike.
Until the Georgian era in the 18th century, there was an abundance of large trees in the UK and houses were generally floored with wide planks of oak. According to Jasper Weldon writing for www.buildingconservation.com, floorboards were often more than 300mm wide. But as forests thinned out and the timber supply reduced, boards became much narrower and the best wood was limited to the richest rooms in the finest houses.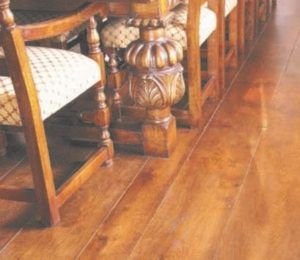 Since September, though, Orlestone Oak, a family firm with its own sawmill near Ashford, can install those early period-style floors with its new range called Grand Flooring. This is available in either solid oak or engineered planks, up to six metres long and 400mm wide.
Director Jack Barton says he's very excited about the new range. "Everyone loves it. It's particularly suited to older houses with character and properties with a traditional look, but also works in more modern settings. No one else is offering this, and it's really picking up momentum."
There is a huge range of colour and finishes and you can see them in the showroom at Nickley Wood, Shadoxhurst, Monday to Friday from 8am-5pm and on Saturday mornings. "We encourage customers to get involved in making choices, so the product is personalized and bespoke," says Jack, who has worked alongside his father, Managing Director Barrie Barton, since leaving school.
Grand Flooring is prepared on-site predominantly as solid oak planks which are cut, air-dried and kiln-dried before machining. Engineered boards produced in collaboration with a highly-respected supplier and having a top oak layer are available, too, with tongue and groove fixing. Both kinds of flooring are hand-finished by Orlestone to a high quality.
The firm offers other bespoke joinery work too – windows, doors, stairs, gates, furniture, decking – all in traditional oak which adds warmth, beauty and value to a home. The 60-year-old company prides itself on minimising its impact on the environment with extremely low wastage, for example, a biomass boiler system burns sawdust to run the kilns that dry the timber.
The experienced and highly-skilled team is also proud of its craftsmanship following age-old methods: they cut wood – but never cut corners!
www.orlestoneoak.co.uk
Tel: 01233 732179