Keep the Home Fires Burning
As the days get colder and darker we all want a warm place to curl up, and a cosy corner by the fire is the ideal spot to enjoy a good book from on a cold winter's afternoon.
Wingham Woodburning Stoves is a family run business, with traditional values at heart. The company have a proven excellence with the installation of woodburning stoves.
Recently there have been some misleading headlines relating to the banning of wood stoves. The Clean Air strategy identifies that "using cleaner fuels, in a cleaner appliance which is installed by a competent person, knowing how to operate it efficiently, and ensuring that chimneys are regularly swept will all make a big difference."
Stoves can be a very efficient method of heating, and burning wood is almost carbon neutral, especially when logs are sourced responsibly. A good quality stove has around 80% efficiency rating, meaning that 80% of the heat that is being produced from the stove is being used to heat the room. Look out for the ECO Design Ready stoves, and DEFRA approved stoves, such as the stoves by Wingham Woodburning Stoves.
Before and After
Some installs need just one consultation, others need more. It's important to the team at Wingham Woodburning Stoves that they know exactly what the client has set their hearts on. Whatever it takes, they do their very best to make sure you get the installation you want. Installation featured includes a Town & Country Fire and a Little Thurlow stove, with a Capital Fireplaces Carrara marble surround; firebrick chamber and oiled slate hearth.
Top tips for efficient burning
Have your wood-burning stove installed by a registered professional. It is important that the stove is fitted properly.
Install a quality stove with a good efficiency rating. Look for labels such as 'Eco Design Ready'. All the stoves installed by Wingham Woodburning Stoves are efficient and clean burning.
Burn dry logs, which have less than 18% moisture. Buy kiln dried logs with an average moisture content between 0-4%, or any dry well seasoned logs. Use a wood moisture tester if you are unsure.
Use the stove as per manufacturers manual. Stoves like to be worked hard or not at all.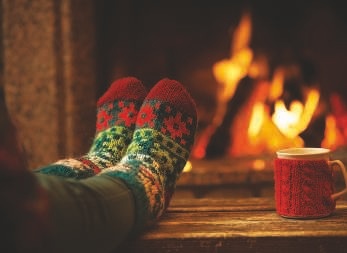 Wingham Woodburning Stoves
Little Crockshard Farm Shop,
Crockshard Lane,
Wingham, Nr Canterbury CT3 1NY
Tel: 01227 728130
www.winghamwoodburningstoves.co.uk