Reinstating period door features in your home is a great way of making your home more harmonious and can also add value.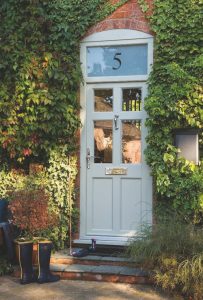 Whilst plenty of thought is given to restoring windows and fireplaces, sometimes doors and door furniture are not always given the consideration they deserve.
Period timber doors add solidity and charm to a property that is hard to beat – and if any of the original door furniture remains, all the better. Panel doors, common throughout the Georgian, Victorian and Edwardian eras, in various designs, were often shunned during the 1960s and boarding was sometimes nailed over both sides, hiding the real door beneath. Discovering the originals underneath these boards is one of those moments that makes renovation rewarding.
If your doors are coated in years worth of gloss paint, they can be chemically dipped or sandblasted, with many specialists offering a collection and delivery service.
The stripped door can then be waxed, varnished or painted as you wish. If the doors remain looking damaged or patchy, then applying a limed finish is a good idea and is actually a traditional finish for doors, floorboards and furniture.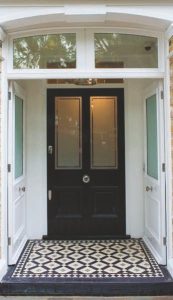 Doors that have warped or have become rotten over time and are sticking in their frames can be repaired, usually for less than it would cost to replace.
It is vital not to cut corners when buying doors, wheher you go for replicas or reclaimed pieces. You need to meaure carefully and choose something which you really love as you will be using the doors every day.
If the doors have been replaced – particularly common with front doors which are often replaced with unsuitable PVCu designs – reclamation yards usually have a good stock of all styles. Take your measurements along  with you and be prepared to sift through quite a few. Most reclamation yards also offer a reconditioning service, at an extra cost.
Door furniture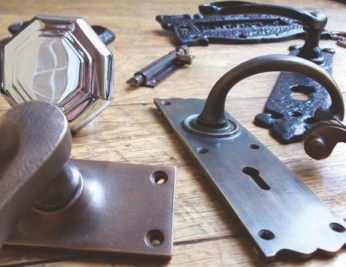 There is a wide variety of different items that can be purchased to enhance the aesthetics of your doors.
Before choosing your door furniture it is important to see as many different options as possible. Researching the type of door furniture which was in your house at the time it was built can be an adventure in itself. Doorknobs have been made from lots of different materials over the years, from brass and nickel to chrome and glass. If you wish to go with the era, brass and porcelain were most popular in Victorian times, wooden doorknobs were favoured in Edwardian houses and polished nickel or chrome was used in the Art Deco period.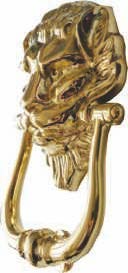 Knock out
Founded in 2010, Grace and Glory has a passion for producing stylish items for the modern period home. This glorious lion's head door knocker cast in solid brass has a polished finish and beautiful detailing. (graceandgloryhome.co.uk)
Ironmongery
Bell Pull or Push
Originally, the pull would operate the bell via a cable, but with the advent of electricity, push buttons became more common.
Escutcheon
The cover for the keyhole would often be highly decorated and made from the same material as the other fittings.
Finger plate
Finger plates were often in pairs: the larger one above the knob and the smaller plate below. They were sometimes in glass or porcelain; and might be plain or decorated.
Knocker
The knocker, if present, was usually placed centrally on the door, and at about head height.
Letter Plate
Letter plates or boxes came in after the introduction of pre-paid postage stamps. They were in brass and iron, and elaborate. Commonly the plate was cast or stamped from a sheet of metal, and decorated with fretwork. Iron ones were sometimes painted to match the door.
Lock
Mortise locks, set into the closing stile of the door, were generally used on the front door. As the 19th century went on, these locks were fitted to the more important internal doors.
Numerals
Often painted onto the glass above the front door, or on the woodwork. Alternatively, the numbers would be on an enamelled or engraved plate. In the case of the latter, black wax could be used to highlight the numerals.
Pull
Front doors sometimes had a special large knob or a handle for pulling the door closed.
Art Deco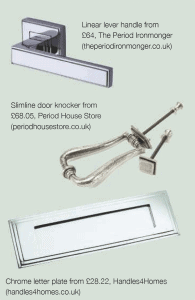 The Art Deco period started in the 1920s and has remained popular thanks to its modernist styling and use of high quality materials. Art Deco design tends to be very distinctive and back in the 20s and 30s Art Deco was considered to be the height of forward thinking modern design. Even now, Art Deco design retains an edgy, somewhat contemporary look, with it's combination of often intricate geometric designs and striking use of both curves and straight lines. Typically Art Deco products were made from chrome and stainless steel, the sleek colour of silver lending itself well to the modern ideals underpinning the style, showcasing the very best in craftsmanship.
Victorian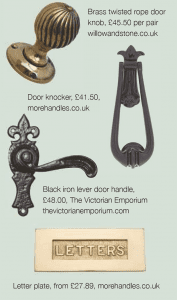 Cast iron was a popular metal used on door furniture in the first half of the century, designs for door knobs, knockers and hinges echoed back to the previous century with designs like lions heads, dolphins and urns. By 1850 the use of brass became more widespread and front doors had shining brass bell pulls, finger plates and letter boxes. A very imposing sight. Cast iron foot scrapers were also a traditional feature beside a front door. House numbers engraved on glass panels or in metal began to appear on front doors. The most relevant finishes to choose for a Victorian house are black iron or brass which can be smooth or rough cast brass in finish.