Raising the Thatched Roof
We take a look at Chestfield Barn's re-roofing as Glen Charter and his team undertake the massive project to replace the thatch on this grade 2 listed barn.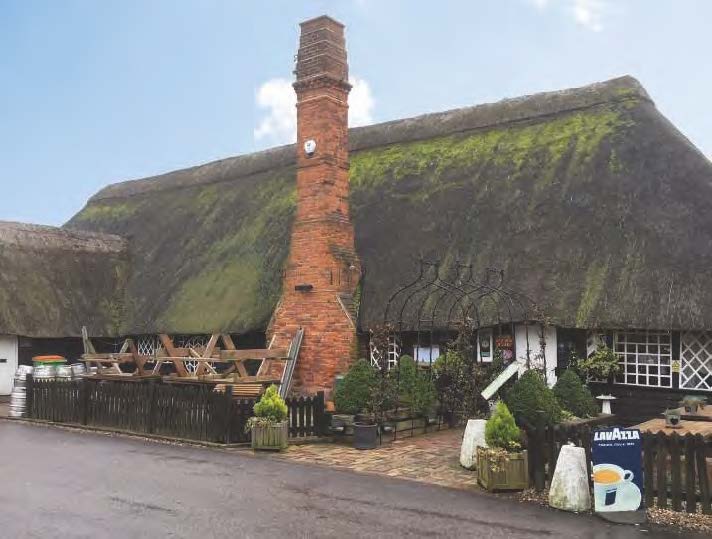 The extensive thatched roof of the quaint Chestfield Barn pub and restaurant is a well-known sight on a busy route linking the North Kent coast with Canterbury. But for the past few weeks, it's been shrouded in scaffolding, as the massive job of re-roofing has been underway. This mammoth skilled task has been undertaken by Glen Charter Master Thatchers of Eastling, near Faversham. It's very much a local project, with literal good support from ADH Scaffolding of Faversham!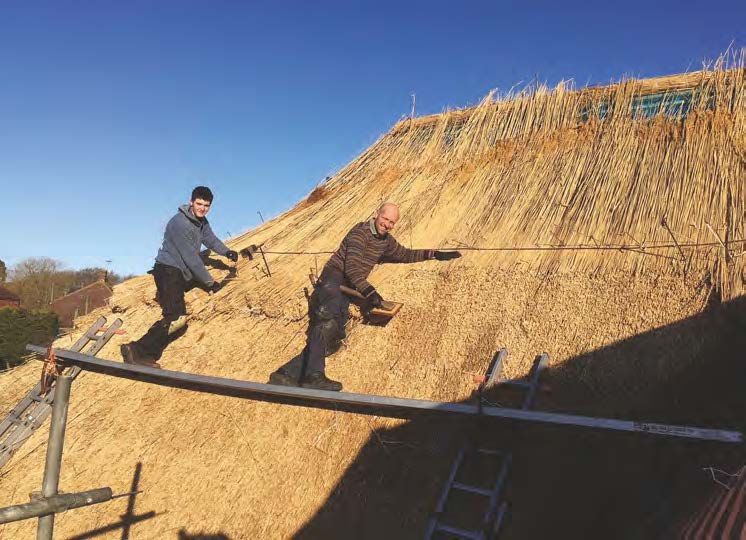 This roadside pub – which has remained fully open throughout the work – is a historic jewel in the collection owned by Kent-based Shepherd Neame, the oldest brewery in Britain. The Grade 2 listed barn has stood for hundreds of years, since well before the neighbouring coastal towns of Whitstable and Herne Bay grew up. It was part of the Chestfield Manor complex mentioned in the Domesday Book which at one time belonged to Bishop Odo, half-brother of William the Conqueror, and it's thought the present half-timbered tithe barn dates from the 14th century.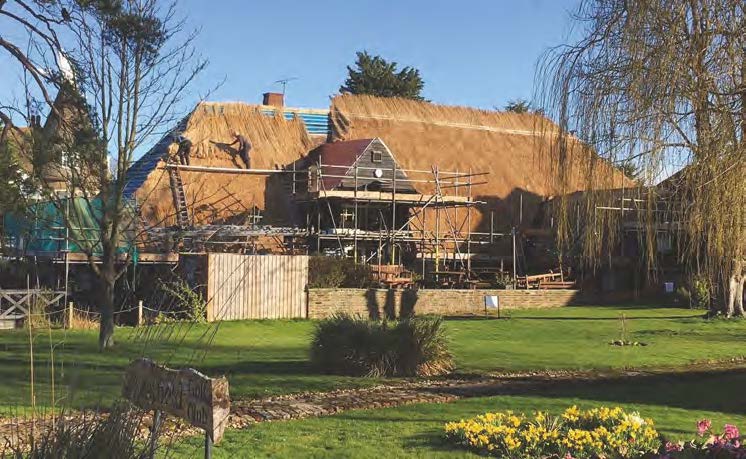 About 100 years ago it was converted into a clubhouse for the next-door golf course; then it became a tea-room before Shepherd Neame bought, renovated and converted it in 1988 to be the only pub in the village of Chestfield.
Its attractive appearance makes it a tempting spontaneous stop, but it's also a popular venue for planned events with friends and family. After all, the thatch makes it easy for visiting guests to find!
Today the cosy yet spacious bar and restaurant offer 21st-century service in quirky surroundings, including high oak-beamed ceilings, an inglenook fireplace and a delightful patio garden with koi carp pond. You can usually obtain free fish food at the bar, to the delight of children and some adults, too!
The main ground floor area has plenty of space to enjoy food and drink, but there is also a separate function room for a business meeting or special occasion, such as wedding reception or anniversary party.
Food ranges from pub classics to gourmet delights, produced in a large and well-equipped kitchen. There are special 'food nights' featuring at different times perhaps steak or fajitas. Other events include quizzes and regular Friday night music.
Tenants Alan and Michelle Clarke, in charge for the last two and a half years, say they cater for all tastes and requirements including vegan, vegetarian, gluten-free and dairy-free. Their new menu is 'going really well' with many compliments received, and they say they may organize a special event for the completion of the roof.
We return to the Chestfield Barn for our summer edition, to show the new roof in all its glory.