Buying salvaged, vintage or antique items for your home will not only enhance its character, but add individuality and a sense of history. It's also an environmentally-friendly choice!
There are so many vintage and architectural treasures to be found that not only bring an abundance of period charm to your home, but help restore original features that may have been damaged or lost over the years.
Re-using items rather than buying modern reproductions also cuts down on the environmental impact.
Salvage and reclamation dealers often have specialities, focusing on specific items such as radiators or timber beams; others sell pretty much anything. Some yards can look a bit rough and ready, so be prepared to look hard and use a bit of imagination in your hunt for that hidden gem. Smaller businesses tend to curate stock and show it to its best advantage.
Be Creative
Finding new ways to use ordinary items can offer exciting possibilities. Consider how old items can be used out of context. Old factory lamps can be used to illuminate a work-table. An old bureau can be painted and then used to house vintage table linens and mismatched crockery. Consider painting it and putting on different handles or drawer pulls.
A collection is always more interesting when you have a lot of one thing. It makes a definite statement. It could be mixing bowls or serving dishes: mix and match and arrange items in a salvaged cupboard for an eclectic look.
Little things can make a big impact. An industrial stool or wall hook, a rusted planter, or a shelf above a row of hooks will do the trick. Vintage signs can also add a graphic touch.
Tips for Buying
Be prepared to haggle on price, especially when buying in quantity.
Factor in the cost of delivery on larger items.
Don't be afraid to ask about the provenance of an item.
Stock is always changing, so be prepared for more than one visit.
Take a tape measure. Oversized pieces can overwhelm rooms so look at the scale of what you buy in relation to the room for which it is intended. If you are buying an original Victorian bath check that your floor can take the weight and that you have enough hot water to fill it.
If there's something specific you're looking for, ask the owner to try and hunt it down for you or add it to their wanted list. If something comes in that they think will suit your needs they will get in touch. Most businesses will reserve items for a limited time.
Don't use too much salvage or your home will look like a junk shop. Buy what you like. And work pieces into a room – if it's an afterthought, it will look like an afterthought.
Key Salvaged Buys
Chairs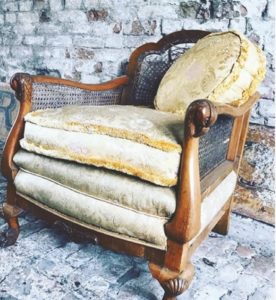 Old classroom chairs have a super industrial vibe and look great mismatched. Classic designs include plywood stacking chairs, sculpted plastic Robin Days or metal and wood. A big old armchair makes an eye-catching statement when re-upholstered in a bright colour.
Cabinets
Old wooden cabinets from apothecaries or haberdashers are a wonderful way to inject period character. They look good anywhere, so think laterally. Vintage cabinets can be pricy, but there are bargains to be had if you hunt around.
Vintage Maps
There's something inherently pleasing about a vintage map: the colours, the faded paper, the doorway into a different geography and way of viewing the world. They're a great way to add a sense of history and a hint of mystery to any room. Try to choose a map location that reflects your passion.
Sideboards
A mid-century sideboard is a real statement piece. These practical items of furniture add warmth and instant quirky chic. They vary in price, but affordable G Plan and Ercol sideboards are still reasonably easy to hunt down, while original Danish teak designs can cost more.
Radiators
A refurbished original radiator is of superior quality, durable and eco-friendly. You may pay a bit more, but the result will be authentic and appropriate for a period home.
Baths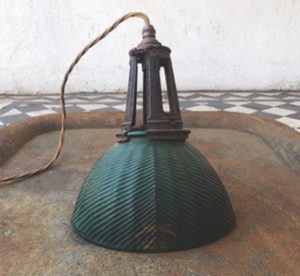 Vintage baths are generally deeper and more comfortable than their modern counterparts. Check the surface. If it's flaking it will need to be stripped and resurfaced which will entail extra work and cost.
Lighting
Industrial metal pendants are the go-to style for dining rooms across the land. Angled factory shades can be placed in a row over a kitchen counter for ambient light. They work equally well in a corner of a room or to light a feature wall. Always check lighting is wired safely.
Where to Buy
Warehams, Whitstable
68 Oxford Street
Whitstable CT5 1DG
Tel: 07831 210139
Offering a good selection of antique garden ornaments and Gustavian furniture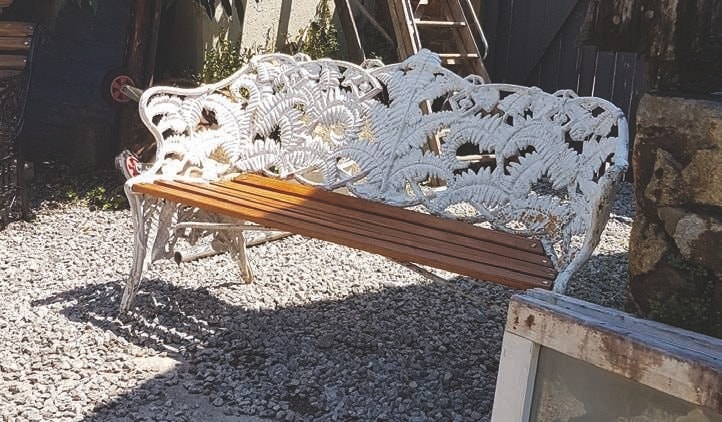 The Antiques Barn, Bethersden
Ashford Road
Bethersden TN26 3LF Tel: 07708 759581
www.antiquesandfurniture.co.uk
An eclectric mix of antique/vintage/retro/salvage and more. Full & partial house clearance service.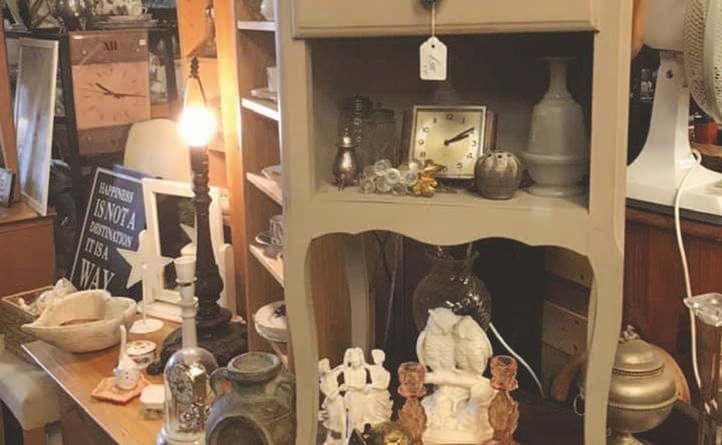 The Potting Shed, Folkestone
34 Rendezvous Street
Folkstone CT20 1EZ
Tel: 07967 006696
www.thepottingshed.shop
Sourcing beautiful antiques and original objects for your home and garden.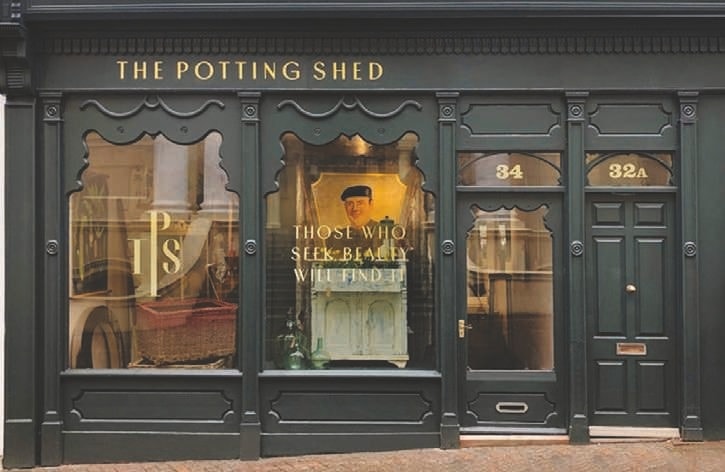 Workshop Number 29, Folkestone
29 Rendezvous Street
Folkstone CT20 1EY
Tel: 07956 785661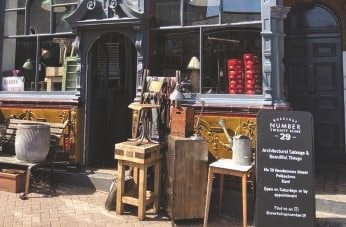 The Antique Oak Flooring Company
Willow Court Farm
Bilsington Road
Ruckinge
Ashford TN26 2PB
Tel: 01233 659508/07733 263540
www.reclaimedflooring.co.uk
Experts in the reclamation & supply of Antique and Reclaimed flooring for period restoration and contemporary design.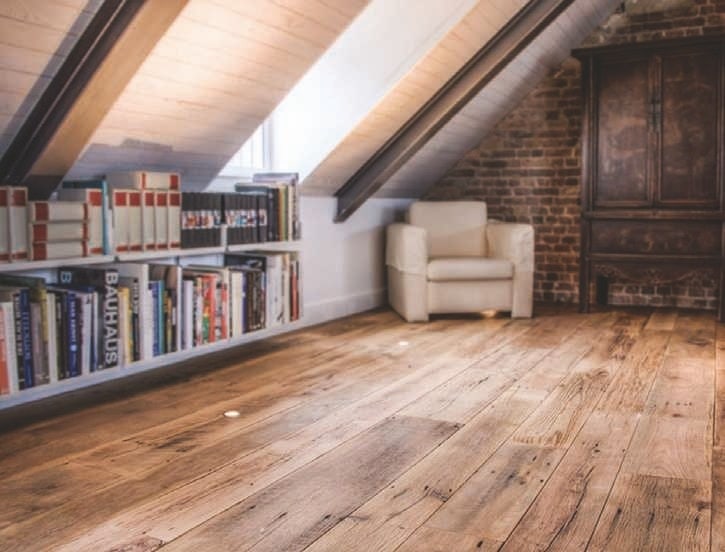 Old English Tools
Standard Quay
Faversham
ME13 7BS Tel: 07796 343722
Tel: 01622 859676
Tools old and new bought for cash. Workshops cleared. Bench planes, chisels, axes, bill hooks, froes, draw shaves, side axes and garden tools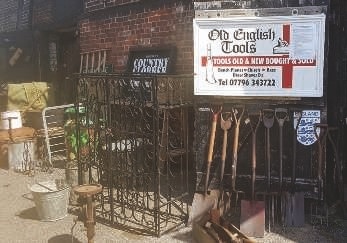 Symonds Salvage Ltd
Colts Yard
Pluckley Road
Bethersden TN26 3DD
Tel: 01233 820724
A treasure trove of reclaimed building materials, antiques, bygones & collectables.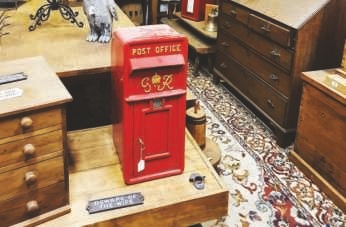 Fabulous Nellies
97 Sandgate High Street
Sandgate
Folkstone CT20 3BY
Tel: 07799 730994
The home of eclectic antiques & decorative collectables French furniture and more.