Rolling Clay with Keith Brymer Jones
Kent based designer of contemporary ceramic homeware and TV judge of The Great Pottery Throwdown
By Susan Hubbard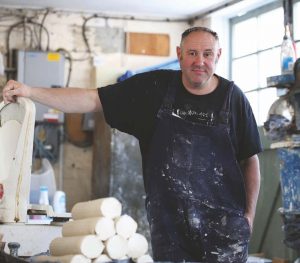 He's moulded an international business from his passion for pottery, but it was his love of music which helped throw him on to our TV screens.
Keith Brymer Jones is one of the judges on The Great Pottery Throw Down, a BBC2 show in the Bake Off genre which is now in its second series. He's the one who cried a lot…
The programme-maker had seen one of the pop videos made by Keith in an unusual form of marketing and education about pottery. An Adele spoof called Rolling Clay with Keith, featuring Keith in a wig and some ceramic-themed lyrics, had caught the attention of Richard McKerrow of Love Productions. "He and I had a mutual contact who alerted him to the Adele video which he loved, and so he contacted me about being a judge for the show," says Keith.
Ten amateur potters compete in various tasks, with one contestant 'fired' each week in the show presided over by Sara Cox and judged by Keith and ceramic artist Kate Malone. The first series inspired many more hands to the wheel, with reported surges in sales of clay and interest in pottery classes.
Keith has become noted for his tendency to shed a tear or two, moved by the energy and hard work of the participants. Perhaps he recognised in them his own passion, which began at the age of 11 when he made a pottery owl at St Mary C of E School in Hendon, London. From then on he spent every available opportunity in the art/pottery room. "I was there lunch times, break times, after school and even before school!" he says, adding that maybe his dyslexia had something to do with it.
"At the age of 16 I started attending pottery evening classes in Mill Hill, but before that I used to bunk off school to go and look at the V & A. They've got an incredible range of ceramics there – alas, none of them mine, but hey ho!"
After a brief stint as a member of a punk band, Keith served an apprenticeship at Harefield Pottery just outside London, where he learned the traditional hard graft necessary to make modern ceramics.
Moving on to a studio in Highgate, he began to design and hand-make his own products, collaborating with leading retailers including Conran, Habitat, Barneys NY, Monsoon, Laura Ashley and Heals.
"Some retailers were more experimental than others, or in other words, some trusted in my vision of what could be achieved from a certain story/mood-board for a particular season," he says. The largest order produced at Highgate was 16,000 pieces for Habitat, though more usual requirements were for 3,000-7,000.
Nowadays he has complete control over his designs, which he formulates in an old bakery building in Whitstable, and manufacturing is on a much larger scale, taking place in China. "We sell to over 35 countries around the world now, so no amount of throwing on the wheel is going to cater for that, no matter how fast one works," says Keith.
He throws shapes in the Whitstable studio until he's satisfied with something, then takes the prototype to China where he works closely with a team to ensure consistently high standards in the
mass production. All items in the Keith Brymer Jones ranges are finished by hand.
"I moved to Whitstable in 2000, but the pottery didn't move until 2006. I initially moved there because it was considerably cheaper to buy a house than in London, it had an understated bygone feel about it, and it has the sea."
Keith also throws experimental shapes on his Whitstable wheel for other ceramicists, in his position as Head of Design at MAKE International which operates as a springboard for newcomers to bring their designs into production. "I look for and create opportunities for other illustrators and brands to develop products in ceramics, fabrics, glass, tin etc. which they wouldn't otherwise have the opportunity or resource to do. The general concept is very similar to what I used to do as a sole trader for retailers, just on a much bigger scale."
He's recently ventured into glass-making. "It's very exciting working in glass, and the initial interest in KBJ glass has been exceptional. I have a policy with any new medium I work with: one has to understand the material – its strengths, its weaknesses and its parameters, so subsequently to know what can be achieved."
Stylish yet simple is Keith's mantra, and that's exemplified in his popular Word range of homeware. From dinner plate to butter dish, egg cup to bucket mug, each item is made in high quality pure white porcelain and hand-stamped with a single word or short phrase in a small sized retro typeface.
"My design philosophy is a simple one: I like to create stylish yet simple products that are pleasing to the eye and, above all, are practical in the modern home and make people happy."
An energetic and busy man, and yet he found time recently to see punk band The Damned at Margate Winter Gardens, saying that punk has influenced his work ethic and general thought process. "It was such a strong cultural message for all who grew up in that era."
He also keeps in close touch with The Great Pottery Throw Down team. "The crew in the programme (some 50-strong) are incredibly professional and wonderful to work with. We do become like one big family – it's kind-of inevitable over the course of 8 weeks filming. "Sara Cox and Kate Malone, my fellow presenters, are both close friends of mine now.
We all have to trust in what each of us do – although Sara still winces a little when I open my mouth. She never really knows what is going to come out of it. Having said that, nor do I!"
Keith's pop videos about his work are on YouTube.
Originally published in our Spring 2017 issue.