As new life is being breathed into the disused All Saints Church at Hawkhurst, a local roofing firm is ensuring that the building has a watertight future.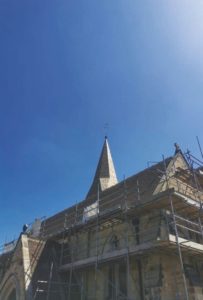 The Grade 2 listed former chapel-at-ease in the Highgate conservation area was built by Gothic Revival architect Sir Gilbert Scott in 1861. Now, following 20 years of dereliction, it is being converted to residential use.
"The spire and roof were seriously dilapidated from the years free of occupation as well as some incidents of vandalism," says Wayne Wills, of Ashford and Cranbrook Roofing.
The sandstone building's tower rising into a broach spire (having triangular faces at the base) is a notable local landmark. Work on the spire, using western red cedar shingles, began in July last year and took about two months. The main roofing work was expected to be completed this summer, having had to fit around other on-site development.
Wayne's brother John, a heritage roofer and master lead worker, has been the main man on the job. He was able to refit some of the existing clay handmade Kent peg tiles mixed in with some new ones.
"It was a complete overhaul of both spire and roof," says Wayne. "Work on the roof entailed the addition of over-rafter insulation to enable exposure of as much of the original internal structure as possible.
"We also made bespoke lead surrounds to 23 cast-iron heritage-style rooflights, and we had a specially-made clay feature ridge sympathetic to the original appearance." He adds that in situ stonework had to be maintained, and a scheme of work was agreed with local heritage consultants.
Ashford and Cranbrook Roofing is very much a family firm, founded by Albert Edward Wills in about 1910. Wayne, now managing director, joined his father Derek in the business in 1994 and brothers John and Michael work with him. His son Harry is now training as a heritage roofer in the craft of peg tiling. "The family business has been our lives and careers," says Wayne.
Kentish peg tiling is a speciality of the firm, though they work with slate too. Kentish pegs are smaller than normal tiles, which means they require more care.
"We work on listed, heritage and buildings of outstanding beauty or importance and cover Kent and the surrounding counties. Among architectural colleagues we are known and respected, which gives us the pleasure of working on some of the county's most beautiful ecclesiastical buildings."
The company has won awards for its work, but Wayne is prouder of its community and customer reputation.
"Working on outstanding beautiful buildings of significant age, and helping to maintain them for future generations is all the reward we need. There is no better feeling than knowing you have saved a heritage building from dilapidation and ruin for future people to enjoy."
For more information follow their work on Instagram (ashfordandcranbrookroofing)
www.cranbrookroofing.co.uk
Telephone: 01580 242925