Maintaining a traditional feel but with modern day comforts, hand-crafted and restored shepherd huts are full of character and make a beautiful space that can be used all year around.
After the difficult times we've all been having, fun and holidays have been in short supply. Whilst the braver amongst us may be contemplating getting on a plane in search of escape, despite the fear of quarantines and ever-changing rules, when current restrictions allow this, others maybe well be considering the 'staycation' as the safer option for our desperately needed R & R.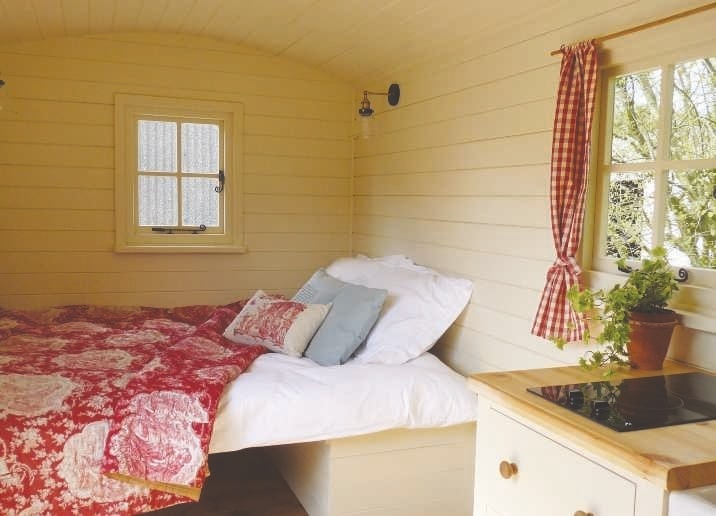 Glamping get-a-ways in idyllic countryside settings with the all-important touch of luxury and an unusual quirky twist are soaring in popularity. A quick web search reveals all manner of unusual accommodation available like yurts, teepees, log cabins and various huts. At one time the thought of staying the night in something like a shepherd's hut was unthinkable, unless you really were a shepherd tending your flock throughout the lambing season. Now, there are many of these throughout the land that you can stay in without a hint of roughing-it, most offering the kind of accommodation and facilities the original occupants would think they had died and gone to heaven if they saw.
So what or who is behind this growing trend to restore these shelters, that on first glance, appear to be the love child of a traditional gypsy caravan and vintage railway carriage? One of the companies in the South East that has taken up the challenge of supplying the growing demand and doing it justice is Elham Valley Shepherd Huts.
Julian Chambers, who is the driving force behind the operation, has 30 years of experience in antiques and architectural salvage under his belt. Over a decade ago, whilst walking on Romney Marsh, Julian and his wife Lin had the good fortune to discover an old, abandoned shepherd's hut in a sorry state. They persuaded the farmer to sell it to them and so began the restoration journey.
Using his knowledge of antiques of all kinds and even vintage agricultural machinery, Julian sympathetically returned the hut to more than its former glory by careful conservation of the existing useable parts and also the introduction of reclaimed components, whilst retaining its unique character. The finished result was a triumph; it created a compact, self-contained and deluxe accommodation that when located in a suitable countryside setting becomes a desirable relaxing, rustic haven for vacationers. And it's no surprise that it was snapped up immediately by buyers who wanted exactly that, for their B & B business.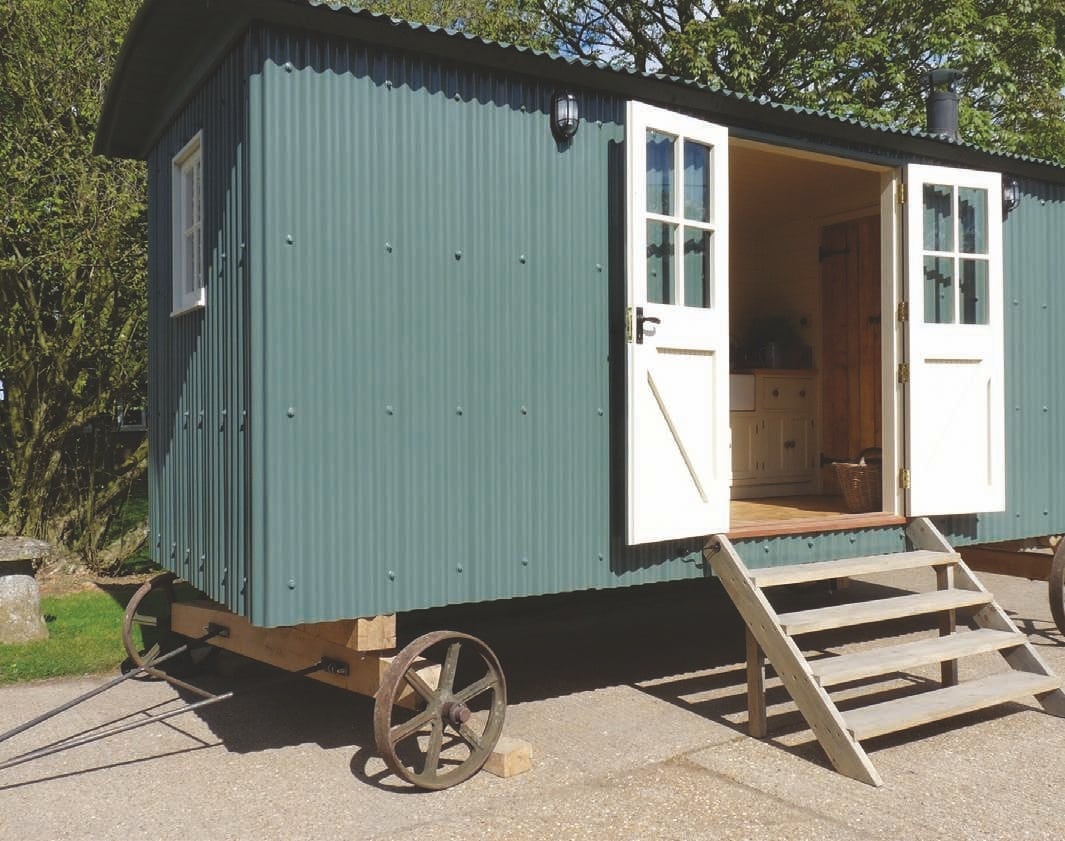 From there onwards they searched for other huts to rescue and restore, sometimes the hunt would take them many miles away, maybe only returning with a wreck, a chassis or other salvageable parts. Luckily Julian's experience means he has an eye for spotting just the right items that can be adapted to be re-used on the body, exterior and interior of the huts, which means he's built up a useful collection of parts including vintage wheels, drawbars, turntables, reclaimed floorboards and items of antique furniture to adapt for some of the interior fixtures.
The previously mentioned high demand for shepherd's huts inevitably leads to a drain on what is a finite resource. There were only a certain number built, so there aren't many left now to save and Julian and his small team of dedicated craftsmen are obviously not the only ones intent on saving these little beauties for us to enjoy.
They are however, not like some of the others, committed to creating high quality, bespoke amazing spaces. The larger huts have full-sized shower rooms with a toilet, a kitchen with hobs, butler sink, storage and mini-fridge. There is ample comfortable seating that converts into a double bed. The reclaimed floorboards and doors add to the romantic charm and a sense of times gone by. They are also fully insulated with the addition of a wood burner to give year-round toasty warmth. The finished result is exquisite, charming and understated luxury, a testament to the team's attention to detail and desire to produce a thing of beauty.
So will the lack of huts left out there to be rescued spell an end to this restoration business? For those, like the Elham Valley team who are doing it well and with a passion, hopefully not. The encouraging news is Julian has fortunately found some plans from one of the companies who made many of the original shepherd's huts in the late 1800s, he's using these to ensure he makes authentic replicas of parts like the wooden axels, which he makes from English green oak. The plans help him get the dimensions and proportions true to the original specifications when he is replicating original elements and he has built up many contacts with reliable and trustworthy professional service providers and suppliers in his local area, for everything from electrics to welding, which is good for the local economy too.
It's great that these little gems that could've been lost forever have not been left to rot and they are now being conserved and re-used for happy holidays for many years into the future, the team has certainly raised the baa!
Find out more at: elhamvalleyshepherdhuts.com or call 01303 840874