How long has it been since you redid your flooring? A year, five years, ten? Or do you, like many people, still live with the threadbare carpets that were in your house before it was your house, because... well... flooring is such a big job.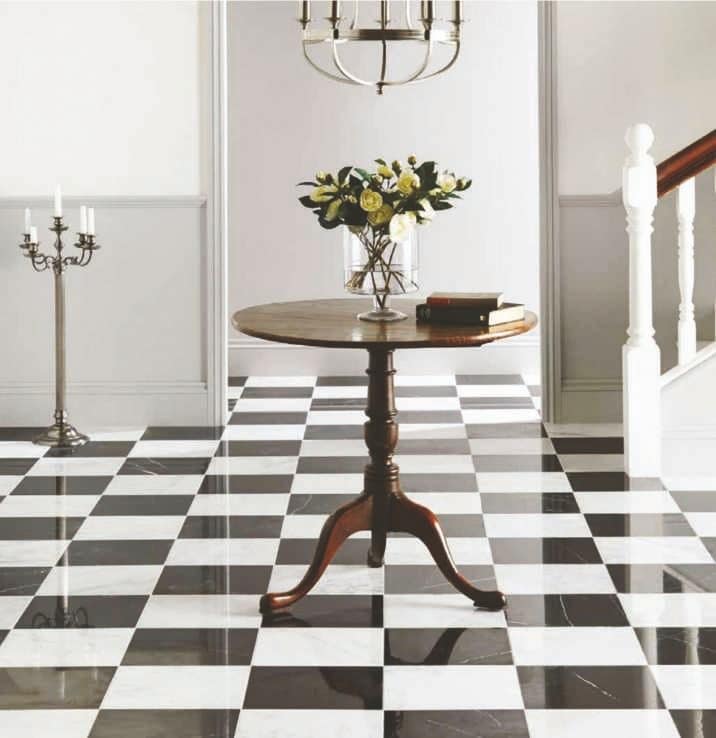 Natural Stone
The beauty of natural stone has been admired for thousands of years. If you are looking to immerse yourself in classic beauty and transform your floors, natural stone is the perfect choice. Long lasting, cost effective and versatile, it's also at home with other materials and textures such as wood, metal, glass, ceramic and porcelain.
Travertine
Travertine is a form of sedimentary limestone, made from compressed deposits left by calciterich hot springs. It is usually pale in tones from off-white to bronze. Because of its marble-like qualities, travertine has been prized by sculptors for centuries.
Limestone
The options offered by limestone have ensured its popularity for thousands of years. Now you can create your own lasting impression with limestone, which is available in colours from white through to deep black.
Granite
This hard stone, once molten like lava from the very centre of the earth is mainly made up of mica, quartz and feldspar. Dense, strong and durable, polished granite will enhance many rooms. With its low slip potential, granite is suitable for kitchens, hallways, boot rooms and porches. It also looks beautiful in different lights.
Marble
All marble starts off as limestone, but great pressure transforms it into a hard, crystalline rock that can be worked and polished. White in its pure form, impurities form veins of many colours making each slab unique.
Natural Slate
Slate floor tiles in the home have become increasingly popular. Slate is used for interior and exterior use especially for flooring, walkways, stairs and wall cladding. In extensive quarrying areas such as Wales, there are still many buildings which are wholly constructed of slate.
Slate floor tiles, being made from an extremely durable material and totally natural, will bring a beauty and elegance of style to your home which can only improve with age. Slate fl oor tiles will enhance any room of the home, from the kitchen and bathroom through to the hallway and living areas. There can be no denying that in choosing slate tiles you will introduce a beautiful and cost effective addition to your home.
Flooring tips & advice
One of the first things that you need to take into consideration is measuring the area that the new floor will be placed in.
The next thing is choosing the right type of flooring that matches the room you're renovating. This is important, as you do not want to place carpet in the bathroom area, or in the kitchen.
Set yourself a budget to stick to. This way you do not spend more than you have to on your materials that are needed to finish the job.
When choosing the floor design, be sure to make sure it matches the rest of the room. Colour scheme is something that you may need to take into consideration.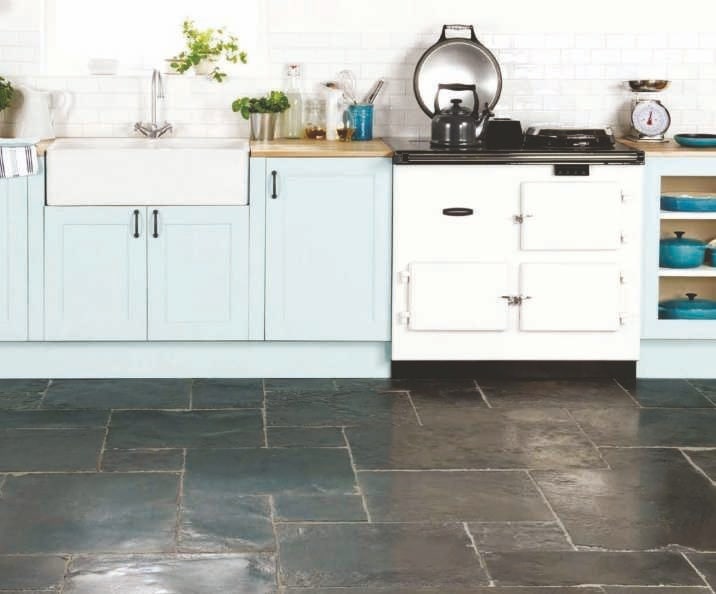 Carpets
Carpet trends have swung from one extreme to another, from the complex designs of the early twentieth century, through the bold geometric patterns of the early 20th century, to the more recent trend for plain, neutral colours. This last trend is one that has really made a mark on the public consciousness and many people now assume that a carpet should be a neutral backdrop for more expressive wall coverings and furniture.
This can certainly be a good approach. After all, it's a large investment and should last many years, so if you like to change your décor regularly then a plain carpet may be just the backdrop you need. However, take a look at interior design publications and you'll notice that colour and patterning are hitting our floors in a big way.
The best way to go about choosing a carpet is to consult a respected dealer or fitter. With professional advice and fitting, your new carpet should last for many years, making it a most worthwhile investment.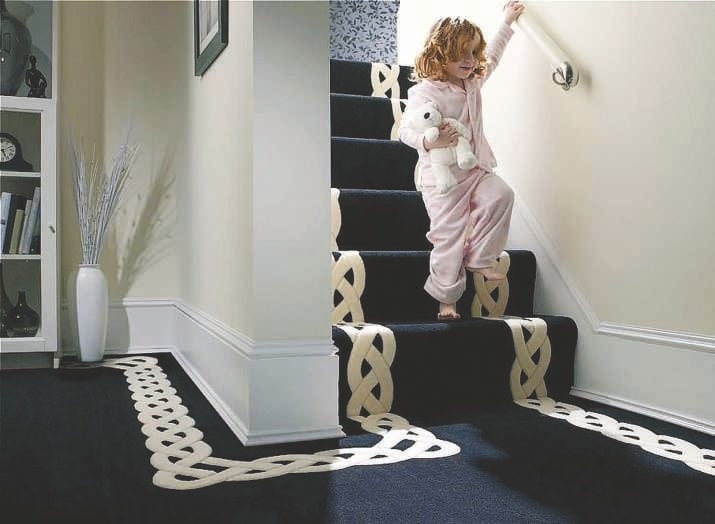 Which Carpet to Choose
WOOL: Still thought of as being the best fibre for use in carpets. It's warm and luxurious underfoot, as well as being easy to clean, naturally flame retardant and eco-friendly.
NYLON: Very hard-wearing and quite often used in blends, i.e. 80% wool and 20% nylon. It's also easy to clean.
POLYPROPYLENE: This is typically used in twists and loop piles and is highly stain resistant.
SISAL, COIR, SEAGRASS AND JUTE: Prized for their durability they are ideal for high traffic areas and are of course natural materials.
Wood Flooring
Hard wood flooring has an enduring reputation for quality and lends a distinct air of class to any home. Although it's one of the pricier options, a good quality hard wood will last many years and may add value to your property when you come to sell.
Solid or Engineered Wood?
Solid wood flooring is flooring made from a solid piece of wood and nothing else. High spec engineered wood flooring on the other hand is made up of a thickness of hardwood on the top surface that is bonded to a multilaminate hardwood ply. A plywood is basically multiple layers of hardwood bonded together in opposite directions. This is what gives the board its strength and stability and is what makes it suitable for harsher conditions such as when used over underfloor heating or in kitchens, bathrooms, conservatories etc.
Reclaimed Wood
In recent years we've come to learn to protect our world and there is less wood available for construction, so we've looked to the ecological equivalent to newly harvested wood – reclaimed wood.
Reclaimed wood is a stylish and popular choice to decorate and enhance both traditional and modern homes.
Harvested decades and even centuries ago from slow-growth virgin timber, aged wood offers an authentic and exceptionally tight wood grain with a rich, naturally weathered colour and patina that cannot be duplicated today. Wood over 100 years old is particularly suitable for high-traffic areas, due its tight grain, which makes it resistant and hardwearing.
Choose your wood carefully and make sure that your builders and contractors are confident working with reclaimed wood.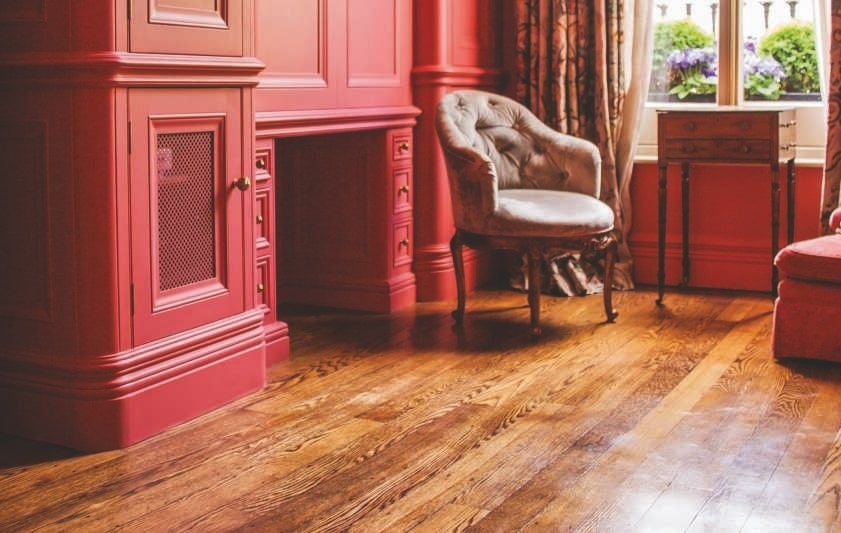 Vinyl Flooring
Luxury vinyl tile, which is also referred to as 'LVT' flooring, is great if you have an active home with kids or pets, or just high-traffic areas you want to keep looking beautiful.
You've probably heard of vinyl tile, the popular peel-and-stick flooring. Luxury vinyl tile is similar in its construction – a wear layer, an image layer, a resilient core and backing – but it's generally thicker, and offers greater levels of durability and design realism than vinyl tile.
There are a lot of options to choose from when it comes to vinyl flooring solutions but customers are quick to point out that Amtico and Karndean are more popular when it comes to getting the perfect combination of design, durability, and cost. These two brands have been all-time favourites for quite a few decades. However, deciding between Amtico and Karndean can be a tough thing to do as both brands have their own unique selling points. While Amtico has marked its presence for over 50 years, Karndean has also given it competition for the last 40 years.
Both Amtico and Karndean are worth your money for a great looking floor. If it's a matte finish that you are looking for, Amtico should be your ideal choice while for a glossier look, you should choose Karndean.
Finally, your final decision regarding the right flooring solution should be a fine balance of both budget and preference.