We talk to Darren Hole of Dude & Arnette, the country's leading oast house maintenance and restoration company.
Oast houses are familiar features of the Kentish countryside. Symbolic of the once prolific cultivation of hops for beer-brewing, they are now more likely to be converted into interesting homes or business premises.
One estimate says that about 5,000 oast houses were constructed mainly in the mid-1800s, with 3,000 in Kent alone. Smaller numbers were built in Sussex (about 20%) and Hereford & Worcester (15%). Only a handful are still in use today for drying hops.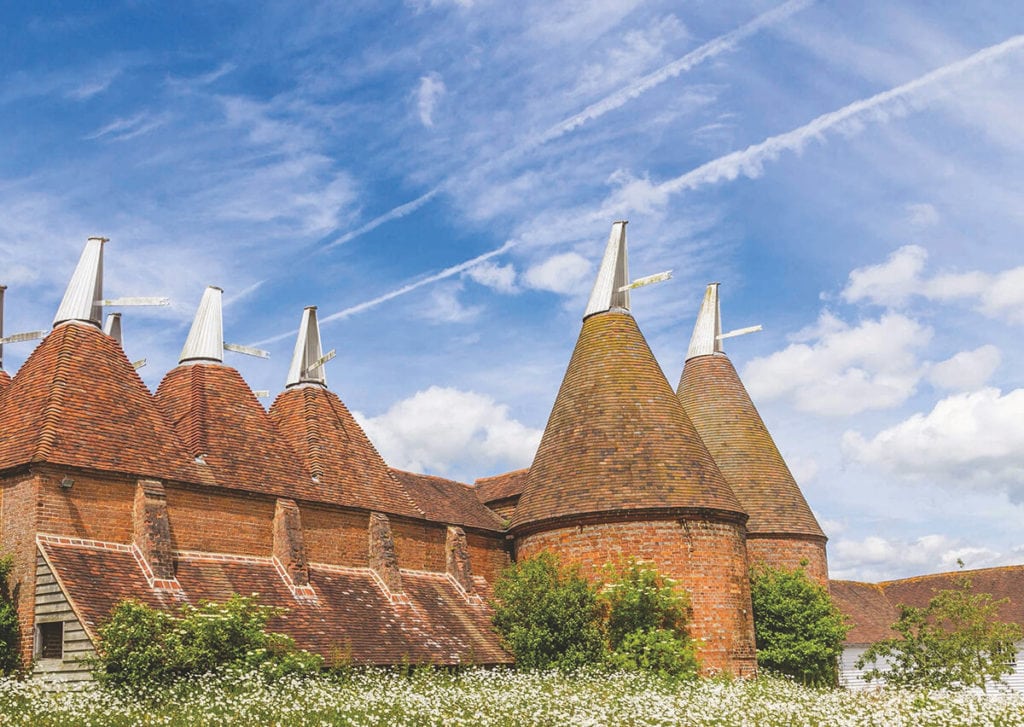 Drive past one of these quirky and usually stunning conversions today – maybe with a pang of envy for the residents – and you can't fail to notice the distinctive white cowl on top. This used to act like a chimney, allowing hot air from hop-drying to be drawn up and out through the kiln roof. Specially designed to keep the rain out, the cowl turned in the wind to ensure the clearest path for the hot air to escape.
Not surprisingly, given the county's numerous oasts, the leading specialist in maintaining cowls is a family business based in Kent. Dude & Arnette claim that if you have an oast house anywhere in the UK (yes, there a few scattered further afield) then the cowl is almost certain to have been serviced by them at some point in its history.
Darren Hole, Managing Director, is immensely proud of the maintenance and restoration work carried out by his dedicated team which includes wife Mandy who works in the office, and son Brandon who is set to take over the business one day. Former mechanic Darren took over the business from Mandy's father David Holmes, thereby keeping it in the family.
"I like the customers who own oast houses – often they are very interesting people," he says. "I like the work we do and keeping old traditions alive."
He explains that the team typically remove a cowl then transport it to their workshop in mid-Kent before sanding down, drying, repairing, sealing and then adding five coats of paint. Then the cowl is taken back and re-fitted. Sometimes a fibreglass cowl will be replaced with a wooden one which is more like the original and lasts longer. Darren says he enjoys 'the best views in the world' from the top of an oast!
Setting up the firm's website www.dudeandarnette.co.uk has proved an enormous help in driving business. "Before that, I think many people just didn't realise there were specialists like us," says Darren. Now the team work on about 250 cowls a year. They also offer other roofing work, including repair or replacement of Kentish peg tiles.
Despite the two lockdowns this year, Darren says he has been busier than ever, with customers spending more time both at home and on their homes. It looks like a bright future for a firm whose business is the past, and who say they have a very modern approach to their keen sense of tradition.