In part two of Mark Lane's 70s bungalow restoration we take a look at his beautiful garden transformation.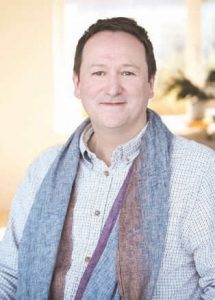 In the previous issue of Conservation News we covered the refurbishment and transformation of Mark Lane's unattractive 70s bungalow into what is now his beautiful contemporary home. Now, as promised, it's time to focus on what the award-winning garden designer and BBC TV presenter has achieved in his garden, as told to our feature writer Louise Tomlin…
When Mark and his partner Jasen moved to the property outside Canterbury 11 years ago the garden was a bit like a time warp with large lawns and overwhelming 1970s conifer island beds. They have just under an acre of garden, with the house in the middle and the back facing onto open fields.
Their initial focus was to concentrate on the rear of the garden and the orchard, where they installed a swimming pool and a 20m x 10m perennial herbaceous and ornamental grass border. This has developed into a wonderful wildlife haven for bees, butterflies, birds, small mammals and other beneficial insects.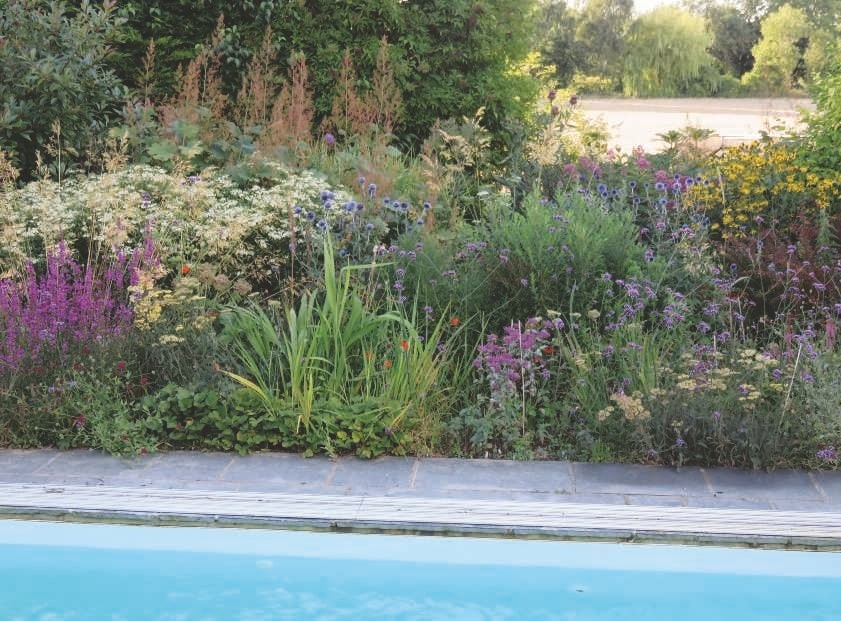 After sorting out the rear garden they wanted to develop the area to the front of the property and make it more accessible. As Mark is a garden designer and he is also a full time wheelchair user he had very specific ideas about what he wanted. There was just under a third of an acre to work with – this would mean a lot of materials and of course a lot of plants.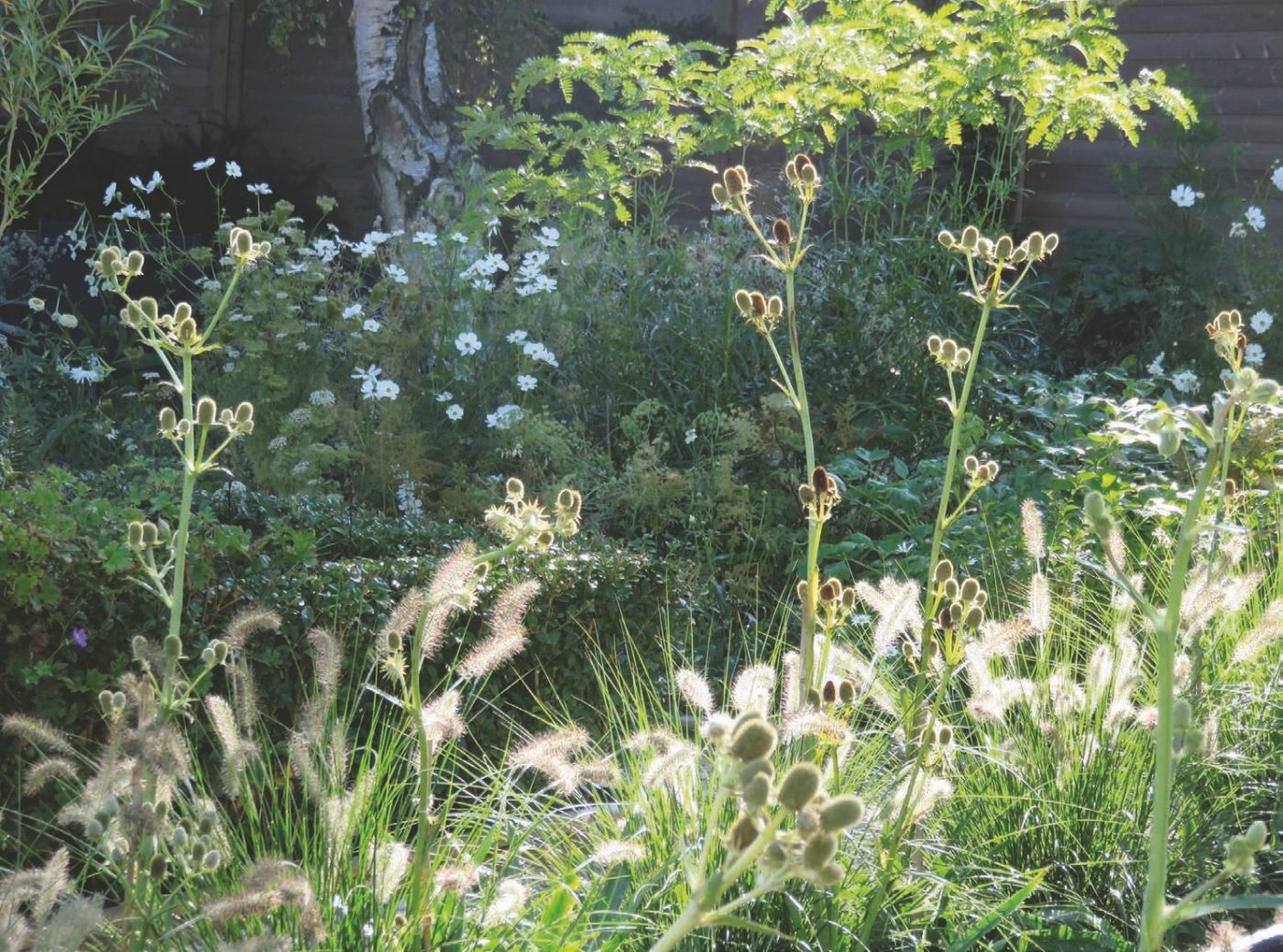 The ground had to be cleared and they had to excavate to create levels because the garden sloped in many directions. At the top, close to the perimeter fencing they used timber sleepers and backfilled with soil, creating raised beds, which means Mark can work on these with the help of long handled tools. Many of the very large trees were completely overshadowing the garden so they needed extensive pruning and trimming.
Mark has designed what he describes as a 'wild-life contemporary' garden. The layout of the garden ensures that the paths would be wide enough for a wheelchair, that turning circles would be ample and that the changes in level throughout the garden would be addressed. The light coloured gravel paths weave in and around feature borders, with glorious, abundant and mixed planting. Ornamental grasses sway in the breeze and catch the sunlight. Swathes of colourful plants drift throughout the borders in what seems a delightfully informal style that contrasts with the more formal evergreen clipped hedging that is the backdrop to some of the front garden. More movement is provided by a tiered water feature that runs through and down the centre of a border that creates a stylish focal point.
Photo of tiered water feature in border taken recently whilst filming was taking place for a programme on one of Mark's charity projects (© Mark Lane)
For the path edging Mark designed 'L' shaped boards with white LED strip lighting running through them, they snake around the entire garden. This works really well, the paths can be illuminated after dark without the source of light glaring too much, which can be a pain for wheelchair users as they tend to be lower down and closer to the light source.
Some of the large specimen trees have been trimmed and they have been sympathetically assimilated into the new design to lend height, beauty and maturity to areas like the new dining and seating area.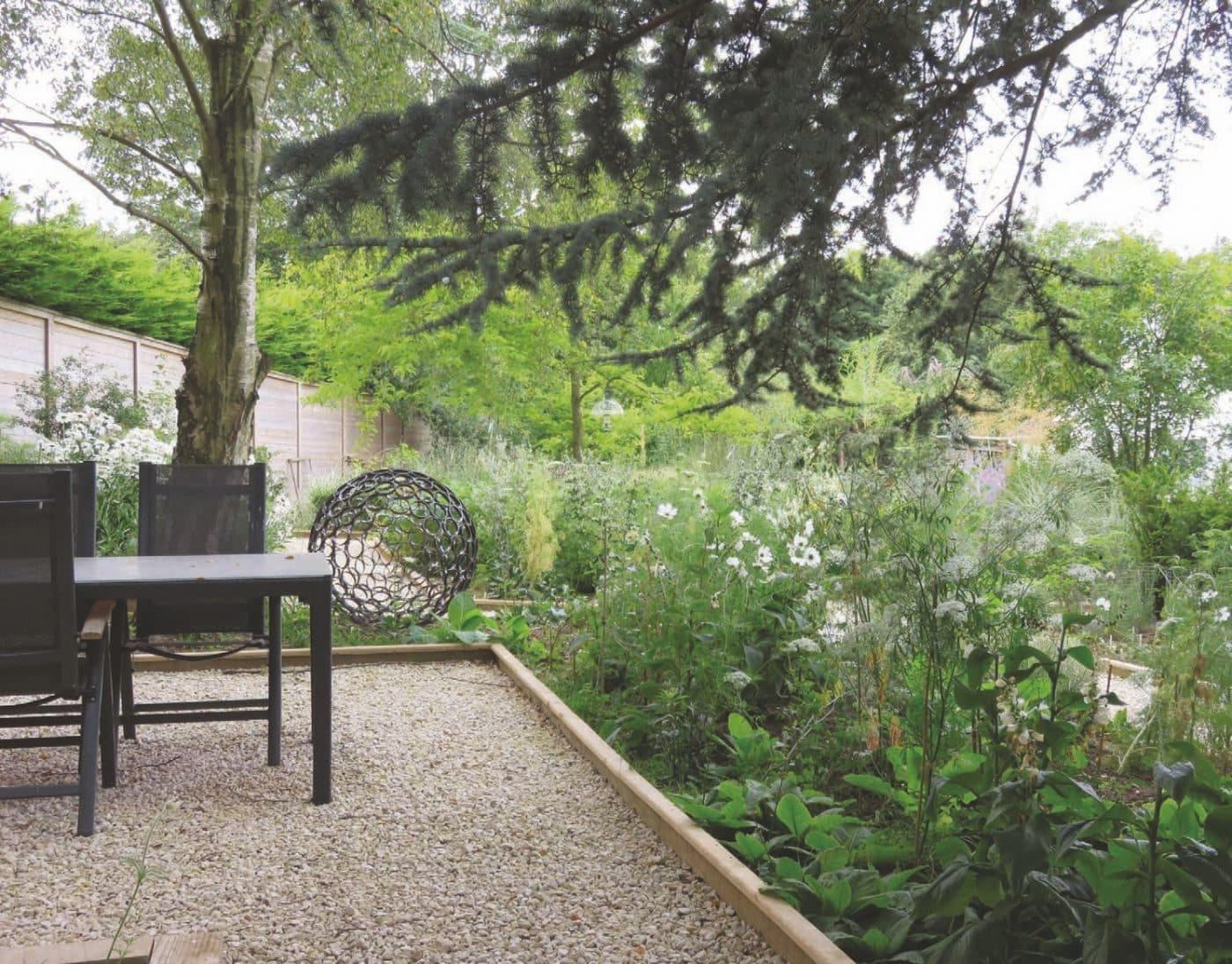 Mark said, "We now love this part of the garden. Previously, we would pass the lawns and conifers and not take much notice of them, but now we have a wonderful garden at the front that is separate from our orchard and swimming pool borders. Whereas before we would automatically go out on to the patio at the back of the house to enjoy a meal and a glass of something, now we find ourselves meandering up the paths and sitting among our contemporary-wild garden. It's an ongoing project, it's in my nature as a designer and gardener to encourage it to evolve and grow, anyone who loves gardening will understand the pleasure and fulfilment that brings. This is a beautiful place to live nestled in the Kent countryside and we've made it our own natural paradise."
Many thanks to Mark, for sharing his garden project with us.
www.marklanedesigns.com