What works and what doesn't - choosing plants for late-season colour by Alexandra @ themiddlesizedgarden.co.uk
I've always thought of trees and leaf colour as the defining element of an autumn garden. And usually we do have good late-season leaf colour. But the weather in summer dictates much of your autumn leaf colour.
This summer has been exceptional – long, hot and dry. My leaf colour is not as good as usual, so I have realised how much shrubs and perennials contribute to a beautiful autumn garden.
The most magnificent tree for colour in my garden is Cotinus coggyria 'Grace'. It is stunning in spring and summer, with dark green-red leaves and fluffy clouds of flower. But in the autumn it is usually a blaze of fire-gold. This Cotinus leaf changes from dark green to this red, and usually eventually turns flame-coloured.
The trees in my garden have always been fantastic in autumn. But I think this means I've overlooked the importance of the other elements – the perennials and shrubs.
I recently interviewed garden designer and BBC Gardeners World presenter, Mark Lane. He travels around the UK a lot, and says that long, hot summers have a different impact in different parts of the UK. Autumn leaf colour is affected by how much sunshine and rain you get in the summer. We saw excellent autumn colour in the north of the UK, not much autumn colour in the Midlands and the South East has been very variable.
The best flowers for autumn garden colour
Dahlias are great for autumn colour. Dahlias, asters (most now called symphyotrichum) and sedum are all flowering in my garden now. But I have missed a trick by not having rudbeckia, gaura and penstemon. Japanese anemones are often recommended for autumn colour too.
And perhaps it's just me, but echinacea – another oft-recommended autumn favourite never survives long in my garden. I have just planted some persicaria, given to me by a friend, and am looking forward to their impact on next year's autumn garden.
However several roses are on their second burst of flowering – the Bonica roses in the front garden, and Burgundy Ice in the main border. Bonica roses and Nerine bowdenii bulbs are two easy-care and super-reliable flowers for autumn colour.
Bulbs for autumn colour
We had a burst of white cyclamen earlier on in the month, but otherwise my top bulb for autumn is Nerine 'Bowdenii'. It was planted along the front wall of the house by my predecessor. In fifteen years, I've thinned them out once, but have otherwise done absolutely nothing to them.
So shockingly neglected that I think you can even see weeds behind them, but they go on and on. But apparently they do take a few years to get established, so hang on in there if yours aren't doing much.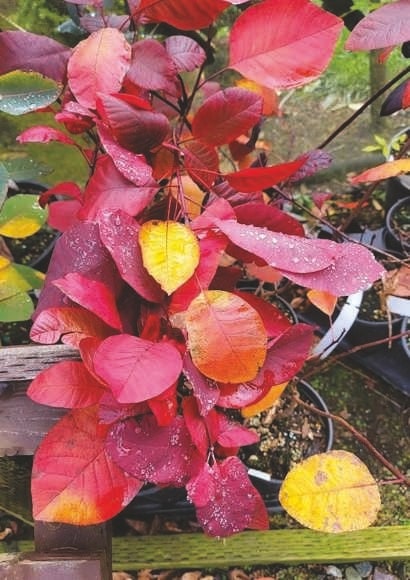 Shrubs are the late-season stars
So this autumn I have really appreciated what good autumn-leaf shrubs bring to the garden. And I realise that I've missed a trick or two. I've always adored peony foliage in the spring. It emerges a glorious dark red and looks wonderful with primroses. But I hadn't appreciated what peonies can sometimes bring to the autumn garden.
I have an unknown peony with beautiful autumn colour. And several very large peonies with no autumn colour at all. Their green leaves are just dying. Think how much more spectacular the garden would have been had I considered late-season foliage and peonies!
I wish I'd chosen more peonies for their autumn foliage as well as their flower colour.
Viburnums for autumn garden colour
Apparently Monty Don doesn't like viburnums. It seems hard to see why not – both the viburnums in my garden make a very useful contribution in two seasons of the year. In winter, Viburnum x bodnantense 'Dawn' has delicate, fragrant pink flowers.
Another multi-season star – Viburnum opulus or guelder rose has pretty white pompom flowers in spring and beautiful autumn colour.
Hydrangeas and cornus are two more multiseason shrubs. I planted my cornus for the vivid colours of the winter stems, but am enjoying their autumn foliage too. Cornus are good in autumn as well as winter.
As with the peonies, some of my hydrangeas have beautiful autumn colour and others don't.
Grasses in the autumn garden
Grasses add texture, sibilant sound and shimmering sensuality throughout the summer months as they grow and then, from mid-August right through to Christmas, their flowering and autumnal colours match anything else that the garden can grow for colour and drama while being absolutely in tune with the season. Used well, they are a magnificent addition to any garden.
Autumn garden colour in pots
The parterre in mid-October with Panicum virgatum 'Shenandoah' and topiary box in the pots. Many autumnal plants can be grown in containers. Recycled pots can add a personal, quirky touch to your garden and are good for the environment, too. Anything that can hold compost can be used – tins, wine boxes, colanders, old washing machine drums, colanders, chimney pots, even old boots can be transformed into planting vessels, providing some drainage holes are drilled into the base.
The most important lesson about autumn garden colour
I feel I've learned a very important lesson about autumn garden colour. You don't necessarily need to plan it. All you need to do, when choosing plants for spring or summer, is to check what their autumn foliage is like too. Given the choice between a peony with good autumn foliage and one without, all other things being equal, you can get two seasons for the price of one.