Autumn is upon us, the evenings are gradually drawing in and winter is fast approaching. This is the time for trees and hedging; fruit trees and fruit bushes; roses and bulbs; and garlic.
Plant it now
Autumn is the best time to plant garlic because it needs a bit of winter chill to encourage it to do its best in the coming year. One interesting variety to try is Serpent Garlic which gets its name from its extravagantly coiled stems known as 'scapes'. The scapes are edible and are regarded as something of a delicacy. They can be picked in summer. Harvest the bulbs as normal later in the year. Two for the price of one!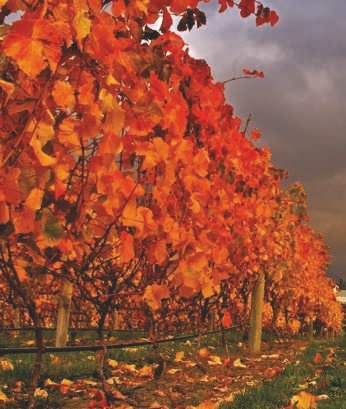 Vineyards in Autumn
Now that's a sight worth seeing. Tour some of our favourite vineyards and you'll see a spectacle of autumn colour, harvesting and vines laden with grapes. If you don't know where to start (Kent has quite a few vineyards), The Wine Garden of England website is the perfect guide, but we love Chapel Down, Gusbourne, Hush Heath, Biddenden and Simpsons, for their award-winning wines, magnificent views, tours and tastings. Visit www.winegardenofengland.co.uk
Prickly Pals
Follow these steps to make your garden a hedgehog haven.
Avoid pesticides and chemicals.
Put an escape route into your pond.
Hedgehogs are quite good swimmers, but if your pond has steep sides they will have trouble getting out.
Be careful with power tools. Hogs love to hide in piles of vegetation or overgrown areas.
Netting for protecting vegetables can be a problem. Try not to leave them lying around.
A nicely built bonfi re looks like a perfect nesting site to a hedgehog.
If your dog tends to chase things, watch her carefully when you put her out at night.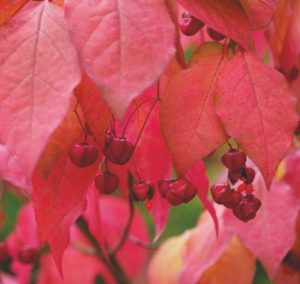 Red Cascade
Euonymus varieties offer both foliage in brilliant shades of red, and hanging lobed fruits to the autumn garden, and do well in a range of conditions in most soils in sun to part shade. Grow as a specimen shrub, in mixed borders, in a semi-woodland setting, or massed as an informal hedge. One of the advantages of growing Euonymus is that they are tough plants which will tolerate less than ideal conditions, making them suitable for growing in a diffi cult area of the garden.
Faded Beauty
With its huge blooms, Hydrangea macrophylla makes a great show all through the summer. By autumn the flowers are beginning to go over, but don't be in too much of a hurry to lop them off. These faded blooms have a gentle, understated charm which will continue to add colour and structure to your garden for a couple more months. Although conventional wisdom dictates pruning hydrangeas immediately after flowering, this is entirely optional. Some gardeners like to hold off the secateurs until winter starts to bite. As long as they are pruned by mid-spring your plants will not suffer.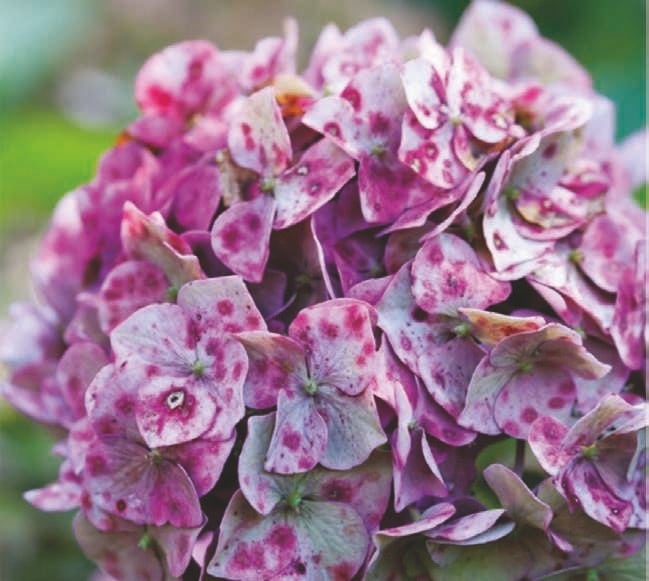 What to do now
Pick apples frequently before they become damaged so they won't deteriorate in storage.
Revamp your bedding. Remove tired summer flowers, then plant new frost-tolerant ones.
Continue planting out spring bulbs, such as daffodils, hyacinths and crocuses.
Make leaf mould.
Harvest cabbages.
Plant lettuces in a cool greenhouse for daily salads this winter.
Collect and store seeds somewhere cool and dry until next spring.
Rich Pickings
Kent offers plenty of places to pick the perfect pumpkin, from farms to independent shops: you're sure to find a super treat to creatively carve or cook into a cosy autumn dish. So if you're searching high and low for a pumpkin to make the neighbours stop and scare! Visit www.visitkent.co.uk for ideas.