We have a delicious recipe courtesy of our favourite Kent foodie destination, Macknade, to celebrate the opening of their brand new Fish Butchery. Pay a visit to their Flagship Food Hall to pick up fish and seafood from wholly sustainable sources… as fresh as it's going to get!
Risotto Al Limone with Pan Fried Plaice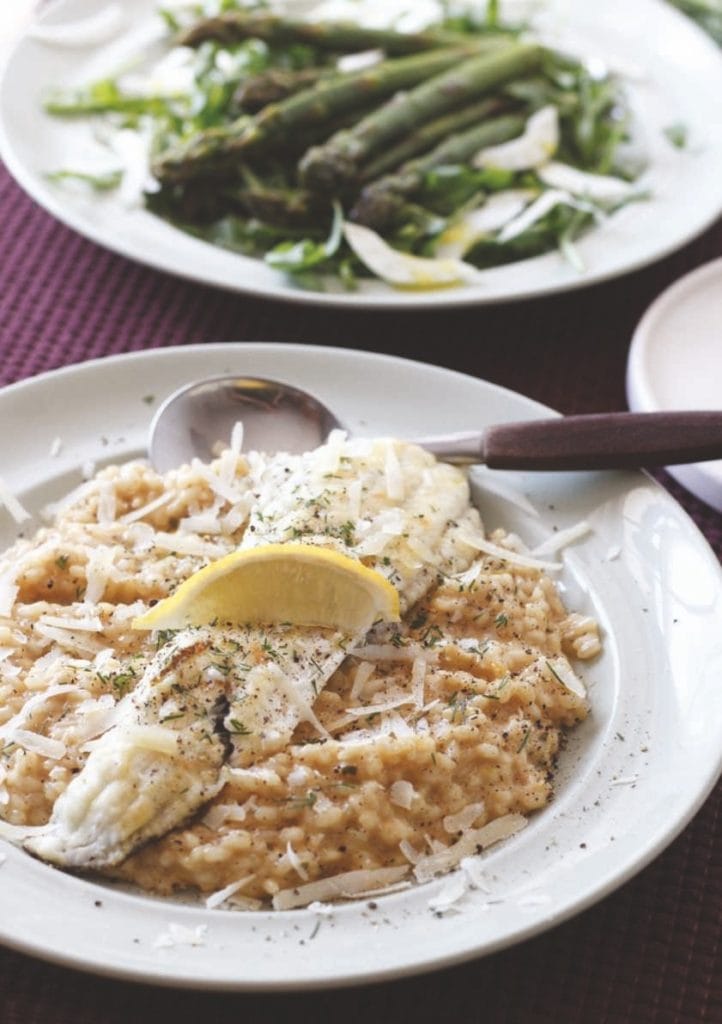 You will need
For the risotto:
60g butter
1 tbsp extra virgin olive oil
2 finely chopped shallots
1 finely chopped celery stick
300g arborio rice
800ml chicken stock, or veg stock
200ml white wine
1 good, unwaxed lemon
6 sage leaves
Sprig of rosemary
1 tbsp chopped fresh dill
1 egg yolk
4 tbsp grated parmesan
4 tbsp double cream
Sea salt & cracked black pepper
For the fish:
4 fillets of white fish
Plain flour for dusting
Method
Lightly dust your fish fillets in flour and set aside. Heat half the butter with the olive oil to a medium heat and sauté your shallot and celery mix for approx. seven minutes until soft.
Add the rice and continue to cook, stirring frequently, until the grains are somewhat translucent. Add 200ml of white wine and cook until absorbed by the rice, stirring frequently. Add 150ml of stock and cook until absorbed by the rice, and continue to add stock as it is soaked up, stirring frequently. (You may not need all of the stock, or you may need to add a little more hot water if you run out – risotto rice takes approx. 20 minutes to cook, so you can play this by ear.)
While the rice is cooking, chop your sage and rosemary, as well zesting half of your lemon and add to the rice when you're about half way through.
In a small bowl, mix your egg yolk, cream, the juice of half the lemon and parmesan, as well as a good grinding of black pepper.
When the rice is al dente remove it from the heat and stir in the mixture before placing the lid on tightly and leaving to rest for a couple of minutes. During this time, heat a little butter and oil in a frying pan to a medium-high heat and fry your fillets for two minutes on each side – the fish is very delicate, so take care when turning it over.
Give the rice a good stir, taste for seasoning and adjust if necessary. Serve with the fish on top and a fresh green salad on the side.
To make a simple vinaigrette, mix two teaspoons of dijon mustard with 2 tbsp of red wine vinegar and 6 tbsp of extra virgin olive oil.