Cooking on the Big Green Egg
Two amazing BBQ recipes, plus win a copy of the Big Green Egg cookbook.

Pork Belly with Membrillo Alioli
Serves 6-8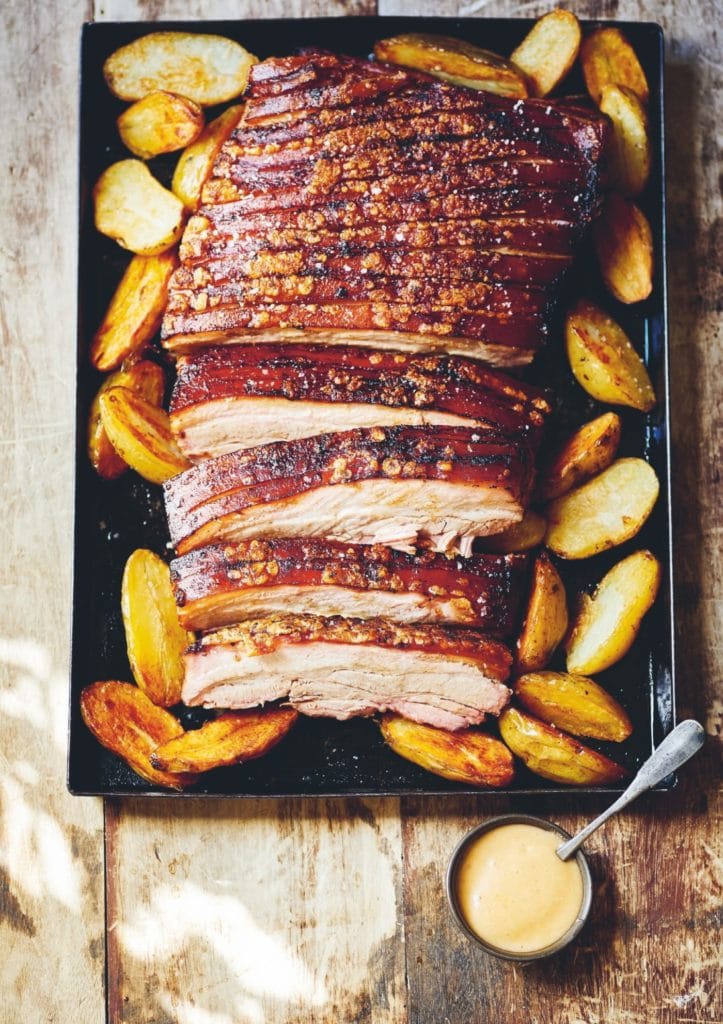 Pork and smoke are a wonderful combination and one of those classic BBQ flavours. I'm guessing that when you bought your EGG, a big hunk of pork was on your list of things to cook first.
With this recipe you are managing a temperature change during the cook. You will find yourself having to do this to crisp up, sear or finish a dish in plenty of recipes. This works equally well with a boned and rolled pork collar roasting joint.
Adding wood chips here is very much a matter of personal taste. I think it can get a bit much on slow cooks, and if you are using a quality charcoal there is plenty of flavour already. I suggest you master these recipes without wood chips and then experiment once you are confident. That way you will have a base flavour to compare 'chips vs no chips', safe in the knowledge you have not made a mistake in the cooking process.
You will need
Piece of pork belly or collar, about 1.5kg / 3lb 5oz, removed from fridge before lighting the EGG, skin scored with a sharp knife
For the membrillo alioli:
1 plump garlic clove
250g / 9oz membrillo (quince paste)
150ml / 5/8 cup oil (equal parts extra-virgin olive oil and sunflower oil)
Lemon juice, to taste
Salt and freshly ground black pepper
Method
Season the joint all over with salt and pepper on the flesh side. Place on the grill skin side up, close the lid and roast for 1½–2 hours, until the internal temperature of the meat reaches about 60–65°C / 140–150°F.
While the pork is roasting, peel and crush the garlic with a little salt then add to a blender. Add the membrillo and blend slowly, adding the oil in a thin stream, stopping a few times, until all the oil is emulsified into the membrillo. Add salt, pepper and lemon juice to taste.
Increase the temperature of the EGG to 180°C / 355°F and turn the pork skin side down to crackle the skin. Check every 2 or 3 minutes, moving it away from any hot spots near the edge if it looks like it might scorch before crackling. Allow to rest for 20 minutes before carving or slicing and serving with the membrillo alioli.
Egg set up
Indirect set-up; convEGGtor in legsup position with the stainless-steel grill on top of the convEGGtor legs.
Target temp: 130-150°C / 265-300°F, then 180-200°C / 355-390°F.
Herbed Side of Salmon or Sea Trout
Serves 4-6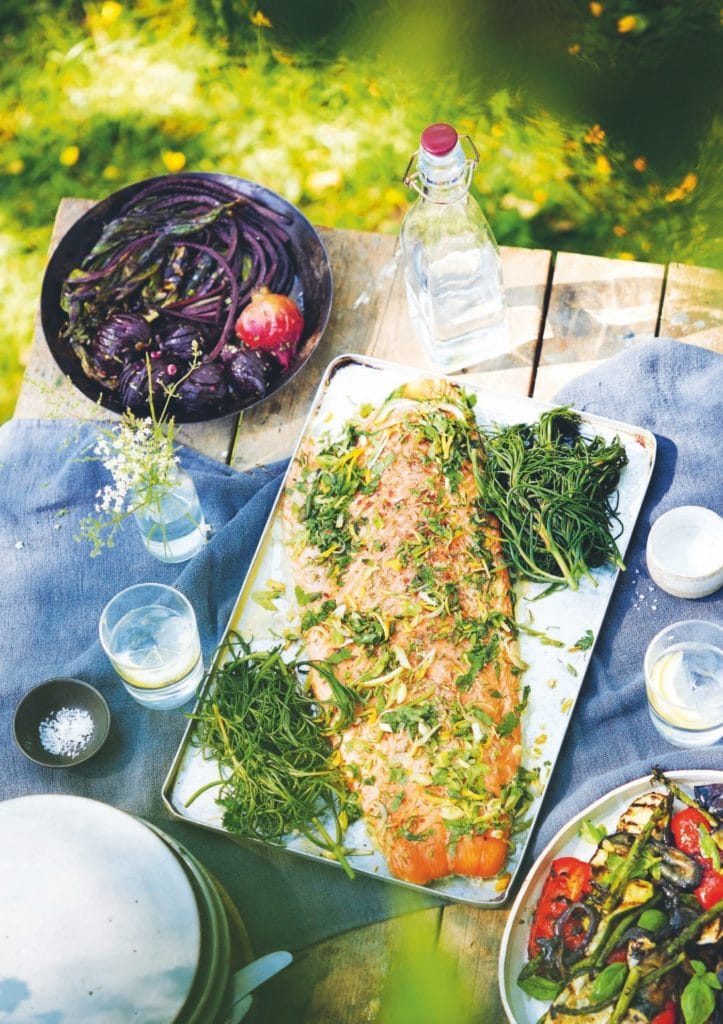 If it will fit, the side can be cooked whole. If it won't, just cut it in half. The thinner edges will be a little more cooked than the middle, so share out different sections when serving. This is a wonderful summer centrepiece.
You will need
1 side of salmon, centre cut (the thickest section), or a large trout fillet (about 600g/1lb 5oz)
Extra-virgin olive oil, for brushing
Salt and freshly ground black pepper
2 large shallots, finely chopped
Finely grated zest and juice of 1 lemon
A couple of small bunches of herbs (tarragon, chervil, chives or flat-leaf parsley), leaves and stalks separated and roughly chopped
Method
Brush the salmon fillet all over with a little olive oil and lay on a baking tray. Season generously with salt and pepper, then top with the shallots, lemon zest and the chopped herb stalks.
Place the tray on the grill, close the lid and bake the salmon for about 30–40 minutes. You can tell it is done when the fish feels just firm to the touch and the white juices are just starting to break through the surface. You can rest it for 10 minutes then serve right away, or let it rest, covered in foil, for up to 2 hours before serving.
Gently brush the herbs and shallots off the salmon and add a squeeze of lemon juice, keeping the remaining lemon to serve as wedges at the table. Pull the salmon into big flakes and put onto a big platter or onto plates, topped with the chopped herb leaves.
Serve with a salad of raw vegetables and leaves, grilled vegetables, or a baked whole beetroot.
Egg set up
Marinate the fish before lighting the EGG.
Indirect set-up; convEGGtor in legsup position with the stainless-steel grill on top of the convEGGtor legs.
Target temp: 90–110°C / 194–230°F.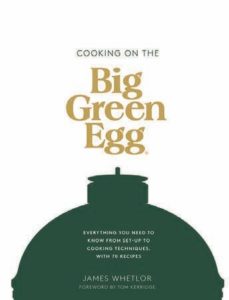 Extracted from Cooking on the Big Green Egg (Quadrille, £25)
Photography © Sam Folan
Win a copy
For your chance to win a copy of Cooking on the Big Green Egg, please email your name, address and telephone number to dawn@conservationnews.co.uk.
Closing date: Friday, 2nd July 2021