With the joyful thought of spring on the horizon, it may be time to show your garden some love and consider tackling some meatier projects like updating your fencing to give your garden a well-deserved facelift before summer gets underway.
Over the last couple of years those of us lucky enough to have our own outside space may well have come to view our gardens with fresh eyes and renewed appreciation, having realised how fortunate we are. It can be a daunting prospect and not something to rush into without taking time to prepare properly, and first you need to decide what it is you want to achieve, so we've come up with ideas to give you some inspiration and get your creative juices flowing.
For what seems like centuries, garden fencing was just something that no-one got excited about; it was just there to fulfill the purpose of demarcation and security. It can go unnoticed unless it starts to fail, fall down or look like an eyesore. The good news is that over the last decade or so garden fencing has undergone something of a renaissance and instead of just replacing boring old wooden featheredge panels with the same old-same old, there are now many sleek, modern and contemporary fencing styles that can bring your outside space into the 21st century.
Take a look online and you may be surprised; there are all sorts of newer styles like tongue and groove panels rather than featheredge or close-board panels. Some companies are even selling panels that look good on both sides, so you and your neighbour get the best of both worlds. Nowadays instead of being simply a perimeter, your fence can be an integral part of your garden design and not merely a 'backdrop'.
Instead of the usual and rather conventional softwood options, there are now hardwood panels like cedar, redwood and larch available that, depending on how they're used and which design you choose, will look great in both modern and traditional settings, so if you have a period-style property there's scope for thinking outside the box. Many style programmes on TV these days like Grand Designs, Amazing Spaces and Your Garden Made Perfect show us that it's cool to blend the old and the new, and this isn't just for the inside of your property.
A style of fencing that has become very popular is the cedar horizontal slatted panel, sometimes referred to as 'Venetian'. These look superb, and with the small gap between the battens or slats give some privacy but also allow a certain amount of light to filter through along with offering less wind resistance. If you prefer more privacy, solid hardwood panels are also available that look very classy and modern too.
A note on softwood versus hardwood: most typical timber fencing, gates, posts etc. have traditionally been made from softwoods which, unless they are pressure-treated, can rot after as little as 5 – 7 years, especially when in contact with the ground. Hardwoods tend to be longerlasting and some companies will guarantee their hardwood panels for 20 years, so although they may be initially more expensive they will work out cheaper in the long run. There aren't many softwood fencing companies that can offer guarantees on how long their timber will last before rot sets in, but there are a few so it's well worth researching. Look out for those that pressure-treat their timber and offer a guarantee.
Another new addition to the fencing scene that has arrived in the last decade or so is composite. This is now being used to manufacture materials for everything from decking, fencing, garden structures and buildings. Now this really has set the cat amongst the pigeons, so to speak! It really is a change from the same-old etc etc…
What is composite? It is a blend of recycled wood and plastic used to design and manufacture products that look like real timber decking boards and fencing, but the lifetime of these products far outlasts natural timber. Most of the companies that are selling composite products say they use 100% recycled materials, 100% renewable energy to produce them, and are leading the way in moving towards sustainable living by reducing the impact of their manufacturing on the environment.
Companies like EnviroBuild and e-Composite Products Ltd are really hammering home their 'eco' credentials and if that sort of thing concerns you, like me, then you will want to take a look. Many of them are offering a range of other products made from composites, such as decking, cladding, garden buildings and structures that look stylish and not at all fake or 'plasticky'. I think they are going to give the traditional suppliers a run for their money, so before embarking on your garden hard landscaping project keep an open mind and take a look at all the options.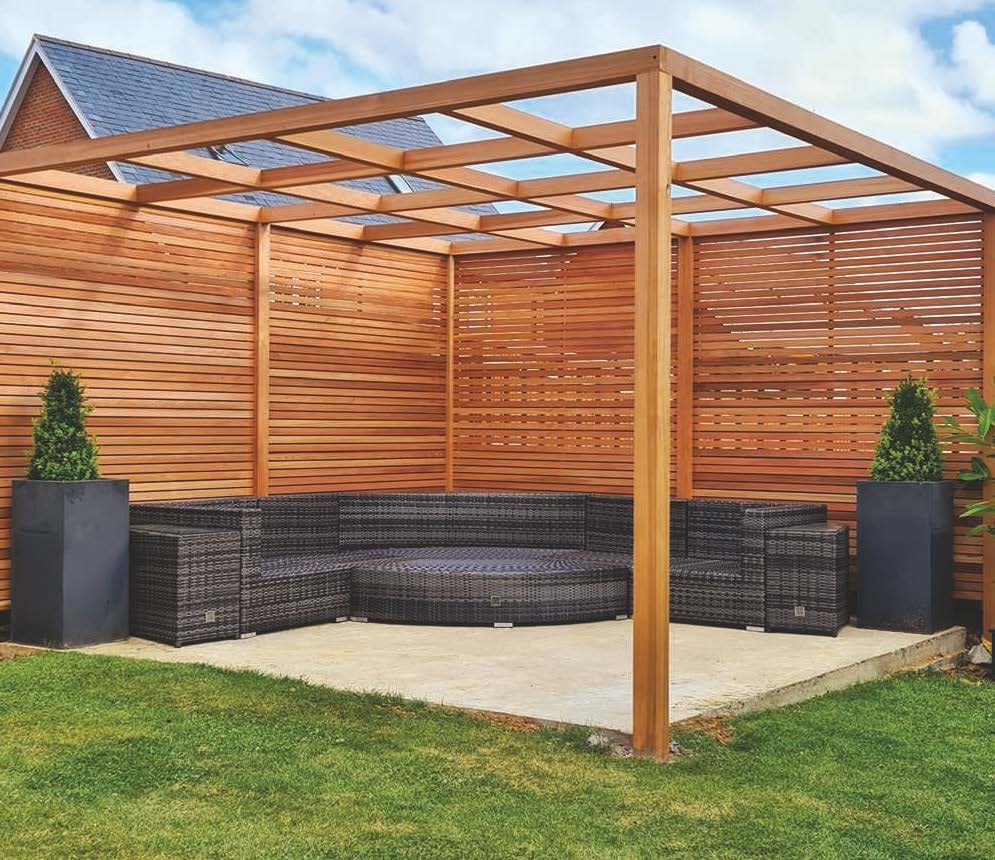 There's another alternative fencing choice in the market: coloured metal fencing systems. One such company, ColourFence, offers what they call 'fit and forget' fencing. They boast that once it's fitted it requires no repairs or treatment and that it's virtually maintenance-free. They've got a range of pre-coloured metal panels and posts that look similar in design to traditional fencing – solid panels, some with a choice of trellis at the top.
And finally, if your fencing doesn't require replacement and is basically structurally sound but just looking a bit dull and tired, you could consider freshening things up by staining it a lovely new colour to complement your planting and garden furniture, then going that extra mile by fixing some lovely new decorative trellis screens in contrasting colours. There are many companies online that have superb floral, geometric and exotic designs cut from composite material or metal that could take your garden to another level, adding a touch of Moroccan, Mediterranean or Oriental styling: the world is your oyster.