Taking us through the year in six seasonal chunks of two months each, Sarah Raven highlights the best vegetables, fruit and herbs grown in the UK.
For each one, there are hosts of simple yet inspiring recipes – over 450 in all – ranging from Warm broad bean salad to Green mayonnaise; Spinach and Gruyère tart to Mint and pea tip risotto; Sweet potato gratin to Celeriac soufflé; and Basil ice cream to Damson and almond pudding.
Roasted Pepper Soup
Serves 6-8
A lovely rich soup. Serve it warm with a dollop of Greek yoghurt and some just-torn-up basil leaves; or, if it's a beautiful warm autumn day, serve it cold with a floating ice cube.
You will need
4–5 red peppers (about 600g)
600g ripe tomatoes
1 red onion
3 garlic cloves
½ red chilli
1 tablespoon balsamic vinegar
3 tablespoons extra virgin olive oil
Handful of basil leaves
1.2 litres good chicken or vegetable stock
Salt and black pepper
200g Greek yoghurt, to serve
Method
Preheat a medium (180°C/gas mark 4) oven. Quarter the peppers and deseed them. Halve the tomatoes and roughly chop the onion, garlic and chilli. Put all the vegetables and basil on a roasting tray, mix the vinegar and oil, and pour it over the vegetables, making sure everything is well coated.
Roast them in the preheated medium oven, turning them from time to time, for 45 minutes. Put everything through a mouli or sieve to get rid of the skins. If you pulse it in a food processor the flavour will be less mellow, as it will include that of the skins, but it will still be delicious.
Thin the soup with the stock to the consistency you want and season with salt and freshly milled pepper. Tip into a saucepan and warm for a couple of minutes, or put it in the fridge to cool. Before serving, add a dollop of Greek yoghurt.
---
Frozen Mocha and Ginger Meringue Cake with Pomegranate Sauce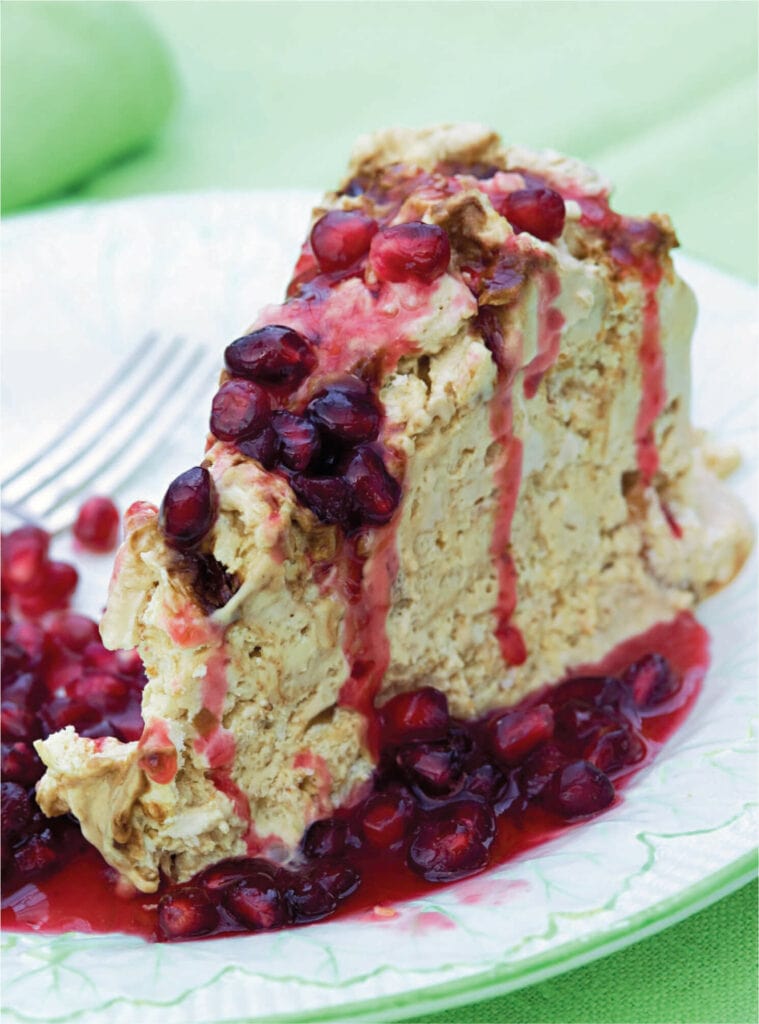 Serves 8-10
I love this pudding and it's very easy to make. Serve it with pomegranates in winter and raspberries in summer. To save time, you can buy the meringues – it doesn't matter if they are powdery and dry.
You will need
2 tablespoons strong instant coffee powder or granules
1 tablespoon boiling water
750ml double cream
1 tablespoon caster sugar
1 tablespoon coffee liqueur, such as Tia Maria or Kahlúa
3 pieces of stem ginger, thinly sliced, plus 1 tablespoon of the ginger syrup
For the meringues:
6 egg whites
180g granulated sugar
180g caster sugar
Sunlower oil
For the sauce:
3 tablespoons redcurrant jelly
275ml pomegranate juice (bought or fresh)
Juice of 1 lime
1 heaped tablespoon arrowroot
Seeds of 2 pomegranates
Method
Preheat the oven to 110°C/gas mark ¼.
To make the meringues, whisk the egg whites until very stiff and dry, and slowly add the granulated sugar bit by bit, whisking until the egg white regains its former stiffness. Fold in the caster sugar with a large metal spoon. Spoon on to greaseproof paper rubbed with a trace of sunflower oil, or 'Lift-Off' paper, or a silicone mat, and bake in the preheated oven for about 3 hours until crisp. Remove and break the meringues into pieces.
Mix the instant coffee with the boiling water, then chill it well. Whip the cream to the soft-peak stage and mix in the sugar, Tia Maria or Kahlúa and half the coffee. Fold the mixture with the sliced ginger, ginger syrup and meringue pieces. Spoon the mixture into a deep (8cm) straight-sided round cake tin, 22cm in diameter, or a loaf tin, lined with non-stick paper, and marble the top with the remaining coffee. Freeze for at least 24 hours.
To make the sauce, melt the redcurrant jelly in the pomegranate juice over a low heat until dissolved. Add the lime juice. Bring to the boil, remove from the heat and add the arrowroot (which thickens clear), already mixed with a little cold water. Put back on the heat and simmer gently, while whisking, for a couple of minutes. Then let the sauce cool. When it's completely cold, add the pomegranate seeds.
Serve the cake straight from the freezer, drizzled with the sauce.
---