Gorgeous Garden Buildings
How about a gorgeous garden building to give you extra space without the fuss?
Sometimes, as our family grows or our circumstances change, we find ourselves needing more space. However when we've found a property we love, we're loath to move and, when that property is a period home, an extension is generally out of the question. So what's the solution?
Sheds
To most people, an 'outdoor building' means a shed, but this word conjures up images of tiny wooden structures full of rusty garden tools and empty flowerpots! However, rather than just a flat pack wooden affair with a leaky roof, sheds can be a practical and attractive way of expanding the space available to you. Wooden sheds are still the most popular option, but these days you can get a bespoke, high-quality one that looks simply amazing, with rustic aesthetics or even bright colours. Far from being a 'dumping ground' for garden rubbish, sheds can, if properly insulated, be great for storing all manner of things for which you may not have room in your cupboards or attic.
Alternatively, a shed can make an excellent playhouse, especially if you opt for one that mimics a Swiss chalet or Tudor house. If your shed is of sturdy construction then you can ask your electrician to run power to it, giving you the option to add light and heating, thus making it a year-round play area for the kids. Make it as fun as possible by adding homely touches such as bean bag chairs and brightly coloured accessories. You can even paint one wall with chalkboard paint or set up an oversized easel to give your little ones the chance to get creative without risking your own furnishings!
Summerhouses
If you're looking for something a little more grown-up, then how about building a summerhouse? This is often reminiscent of a detached conservatory, utilising large windows and skylights to flood the building with sunshine during daylight hours. Again, with the addition of light and heat, you can turn it into a summer and winter house, giving you extra space for entertaining or simply a change of scene when home life gets a little hectic.
Sadly, for some people summerhouses do become little more than storage areas, so make a point of keeping yours clutter-free and relaxing, utilising storage solutions such as under-seat cupboards, wall cabinets and ottomans if you need extra room. Even if you don't intend to use your summerhouse in the colder months, it's still important to make sure it's of sufficient quality to resist weather damage and mould. Make sure you check on its condition periodically when it's not in use and make the most of it by storing your garden furniture and furnishings inside.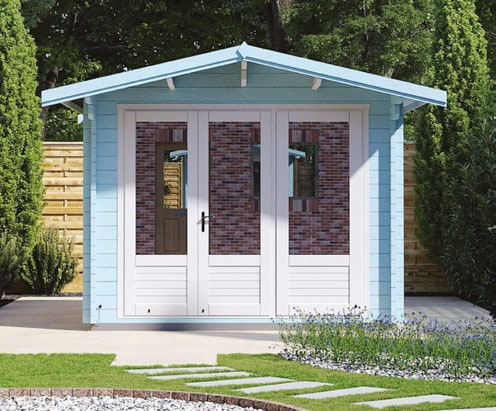 Outdoor Offices
A building of more solid construction, such as brick, concrete or good quality hardwood, can have a multitude of uses outside the traditional confines of the garden building. With many more people opting to work from home since lockdown, the outdoor office is becoming increasingly popular. Allowing small businesses to create an area away from the demands of family life, yet still on 'familiar ground', outdoor offices are the perfect solution for those at-home workers who require a little peace and quiet.
However, just because it's an 'office' that doesn't mean it needs to look unappealing. Wouldn't you love to set up your craft venture or computer hub in a beautiful log cabin? The design options are positively endless, and a good design company will be able to create an outdoor building that functions as an office, but looks like a fairytale!
One particularly important thing to note if building an outdoor office is that you will almost certainly be storing computer equipment and other supplies inside. This means that security is a priority, and you should speak to a reputable alarm specialist and insurer prior to moving your business outside.
Gyms
Another excellent way to utilise your garden space is to build your own personal gym. For many people the thought of travelling to a gym, finding someone to look after the kids and having to work out alongside people they don't know can be intimidating or prohibitive. A home gym can be the answer. A few carefully chosen pieces of equipment can allow you to get fit in comfort without having to build a gym the same size as your house! Add to this the fact that close proximity to your home is likely to increase your motivation, and you may be on to a workout winner.
Again, there are several points to remember before embarking on a project like this: like home offices, home gyms will need to be adequately secured and insured. They will also need to be very well built to cope with the demands of heavy gym equipment and fairly high-power electricity consumption. Also, it's important that you have some sessions at a professional gym or hire a personal trainer, to ensure that your workouts are both safe and appropriate for your fitness levels and goals.
Everything Else
If you think that an outdoor addition would benefit you, then speak to a professional architect and/or builder about your requirements, options, and any limitations you might face with regards to space or legislation on your period home. Make sure that the size or type of your build, as well as its intended purpose, don't contravene any local regulations or require planning permission (a professional company will be able to advise on this). From recording studios to games rooms, and traditional garages to woodworking shops, garden buildings offer an endless range of options for people wanting to add space or facilities to their homes without impinging on the existing architecture.