Gregg's Italian Family Cookbook
Gregg Wallace has fallen in love with Italian cuisine. Along with his wife Anna, and a little help from her Italian parents, he has created a simple Italian cookbook so we can all enjoy traditional Italian cuisine at home.
"I want to do this book and I want to do it with my new Italian family. Everybody knows this is my favourite cuisine… it is to my mind the greatest cuisine of the world. It's family food, it brings people to the table, it's not difficult to do, everybody can learn to cook this way…I have discovered so much love in this new family of mine and it's centred around the table. I want to share this passion, I want everybody to taste their own slice of it." Gregg Wallace
Prawns with Chilli and Garlic
"I can remember watching my dad make this recipe, and being fascinated by the grey prawns turning pink as they cooked. They tasted so good that I even sucked the juices from the heads. It's a messy dish to eat – you will have napkins covered in pink once you have finished – but so worth it." Anna
You Will Need
3 tablespoons olive oil
3 garlic cloves, chopped
1 teaspoon chilli flakes
28 raw large king prawns with shells on
300ml (10fl oz) dry white wine
3 tablespoons finely chopped flat leaf parsley
Method
Put the oil in a frying pan, add the garlic and chilli flakes and fry over a medium heat for 2–3 minutes.
Add the prawns and cook, stirring, for 2–3 minutes until they turn pink.
Increase the heat, pour in the wine and allow to bubble for 1 minute so that the alcohol evaporates.
Sprinkle the prawns with the chopped parsley, then tumble them into a large serving dish.
Serve with crusty bread to mop up all the lovely juices.
Tiramisu
"Traditional tiramisu contains raw eggs, but I avoid them in my recipe below. The dessert is made with sponge fingers soaked in coffee and Marsala that are layered with rich and airy mascarpone cream. Very yummy!" Anna
You Will Need
500g (1lb 2oz) mascarpone cream cheese
600ml (20fl oz) double cream
300ml (10fl oz) Marsala wine
1 teaspoon vanilla paste
3 tablespoons icing sugar
425ml (15fl oz) strong espresso coffee
2 x 200g (7oz) packets sponge fingers
3 tablespoons cocoa powder
Method
Put the mascarpone into a large bowl with the cream, Marsala, vanilla paste and icing sugar and whisk until thick. Pour the coffee into a shallow dish and dip the sponge fingers in it a few at a time, until soaked but not soggy.
Arrange some of the fingers in a 26 x 20cm (10½ x 8 inch) serving dish, just enough to cover the bottom. Spread about one-third of the cream mixture over the sponges. Continue layering until you have used up all the sponges and cream, finishing with a layer of cream.
Dust the top with the cocoa powder, then place the dessert in the refrigerator overnight, or for at least 2 hours.
Win a Copy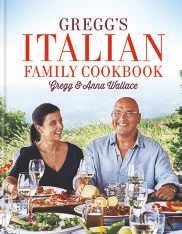 For your chance to win a signed copy of Gregg's Italian Family Cookbook, please email your name, address and telephone number to dawn@conservationnews.co.uk.
Closing date for entries is Monday 12th August 2019
Good luck!