Grow Your Own Spring Menu
Growing your own is a great value way to get nutritious food on your dinner table that's packed full of flavour and is good for both you and the environment.
The UK's leading garden centre, Dobbies, has put together two tasty spring dishes to inject some freshness into your mealtimes. Whether you've grown some delicious heirloom tomatoes, vibrant carrots, or fragrant herbs, check out these mouth watering recipes that are perfect for outdoor entertaining and get creative with your crop.
When it comes to growing your own, there's nothing more rewarding than cooking a delicious meal with the fruits of your labour, and what better way to enjoy it than with family and friends?
---
Heirloom Tomato, Herb & Chicken Salad
The perfect accompaniment to spring and summer BBQs, this light and fresh salad is a crowd pleaser and will make your heirloom tomatoes the star of the dish. Combined with a creamy, fragrant dressing and crunchy sourdough croutons, this salad comes together in just a few short steps and can be prepped in advance of your get together.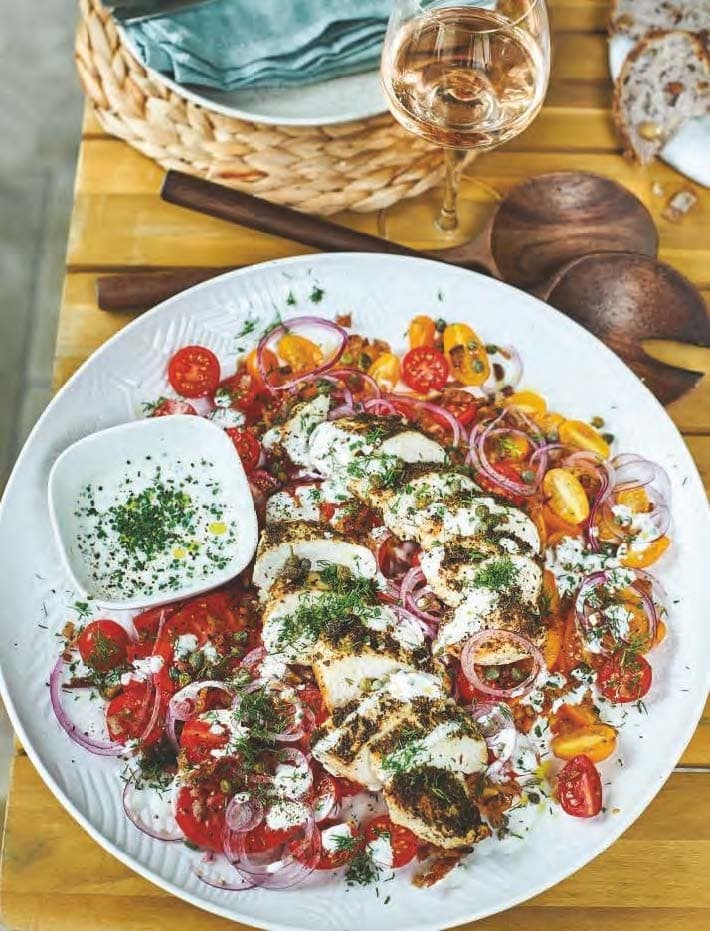 You will need
Serves 4
For the salad
3 tbsp extra virgin olive oil
2 chicken breasts
2 tbsp dried oregano
500g selection of mixed heirloom tomatoes
2 slices sourdough bread, cubed
1 small red onion, thinly sliced
1 tbsp small capers
10g fresh dill, chopped
For the dressing
100g Greek yoghurt
4 tbsp mayonnaise
1 clove garlic, crushed
2 tbsp white wine vinegar
10g fresh chives, finely chopped
Method
Preheat oven to 200c/180c fan assisted. On a baking tray, mix the sourdough with 2 tbsp of olive oil and season well. Bake for 7 minutes or until golden. Remove and let cool. Slice the chicken into two pieces lengthways. Drizzle with olive oil, season and then add the oregano. BBQ for 4 minutes on an outdoor grill, or use your oven grill, then let cool and slice into pieces.
In a small bowl combine the dressing ingredients and season to taste.
Use a large platter to arrange the tomatoes, sourdough croutons, red onion, capers and chicken. When close to serving, pour over the dressing and sprinkle with the dill and any leftover chopped chives.
---
Smoked Salmon, Cream Cheese & Watercress Filo Tart
If you're looking for a showstopping lunch dish that packs a punch and will shine a light on your fresh spring herbs, this delicious smoked salmon, cream cheese and watercress filo tart is the perfect choice. Impress your family with this seasonal delight and watch it become a firm favourite.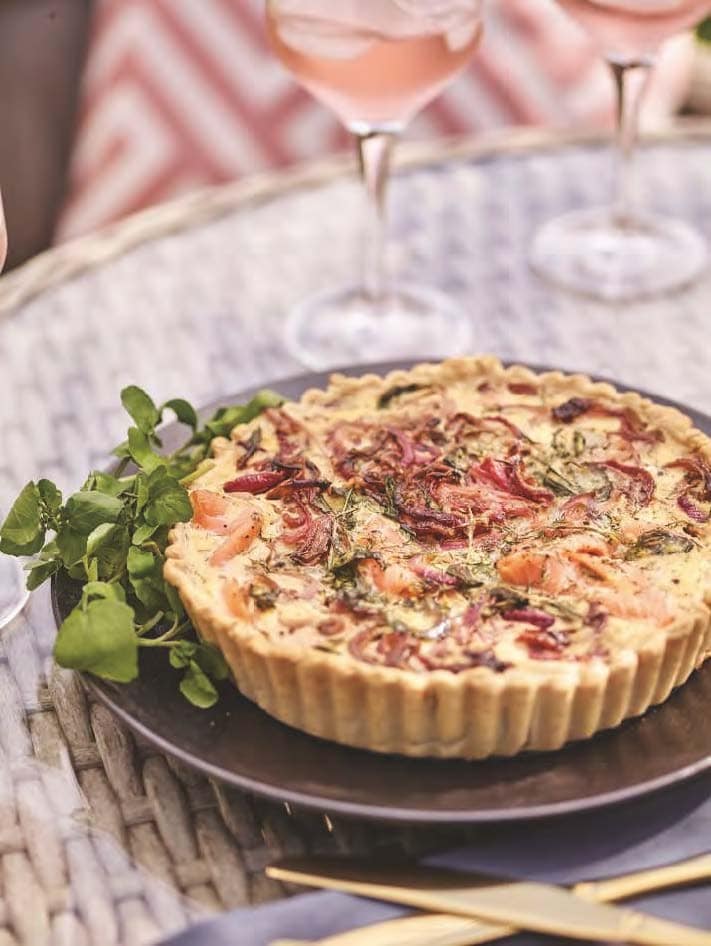 You will need
For the tart
2 red onions, thinly sliced
2 tbsp extra virgin olive oil
4 long sheets of filo pastry (approx. half of a 270g pack)
100g butter, melted
100g pack smoked salmon ripped into chunky pieces
150g chopped watercress with large stalks removed
For the custard
3 eggs
100g cream cheese
200g double cream
zest of 1 lemon
20g fresh dill, stems removed and leaves chopped
Method
Preheat the oven to 180c/160c fan assisted and place a flat baking tray in the oven to heat. In a large frying pan, heat the olive oil and then add the onions and some seasoning. Sauté on a medium low heat until caramelised, about 10 minutes.
Brush the sheets of filo with melted butter and drape over a tart tin, leaving the excess to overhang. Continue until you use all the sheets and press the pastry down gently into the tin. The add in the salmon, onions and watercress.
In a large bowl whisk the custard ingredients with some seasoning and pour the mixture over the tart. Roll up the excess pastry to form a crust around the tart and brush with additional butter. Bake on the hot baking tray for 35 minutes or until golden and set. Remove and let cool and then serve with additional watercress on top.
---
For more grow your own inspiration or gardening advice, visit dobbies.com.