How about a perennial that can start blooming before your earliest spring bulbs, continue flowering until your roses are almost ready and has great looking, deer resistant foliage for the rest of the year? Welcome to the world of hellebores!
The Hellebore, also known as the Christmas Rose or Lenten Rose, is a star performer in the winter garden, providing colour and interest at a time when festive cheer is welcome and the garden may be looking rather forlorn. These beautifully elegant flowers bloom from late winter to early spring, in a range of colours from rich, red wine burgundies to dusky pinks, through to luxurious creams, greens and whites. Part of their charm is in the delicate intricacy of their large, saucer-shaped flowers, which may be plain or adorned with soft speckles.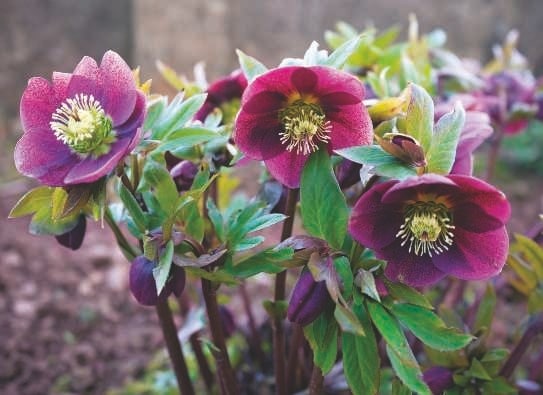 Suitable for beds, borders and containers, hellebores are woodland plants and thrive in moist, rich soil with good drainage. They enjoy dappled shade and prefer to be in a sheltered position, protected from strong, cold winds. They are a great problem-solver for tricky areas of the garden, such as shady patches under deciduous trees and shrubs. Once planted hellebores dislike being moved, so give careful consideration when contemplating where to place them. To make the most of their charm, try planting hellebores where they can be viewed from the house, as you may not wish to venture outside to admire them if temperatures drop. Alternatively, plant them close to a door or pathway that will still be used in chilly, winter months.
Hellebores are perennial plants, meaning they flower year on year. Their leathery, sometimes marbled leaves are evergreen and are an attractive feature in themselves. However by autumn, the older leaves may appear untidy and ragged. If this is the case, cut them off using secateurs – be sure to wear gloves as hellebore sap can irritate skin. This simple process immediately gives the plant a fresh, neatened appearance, and gives the hellebore flowers greater visibility. Exposing the plant to increased light and air also reduces the risk of fungal diseases such as hellebore leaf spot. Hellebores benefit from an annual mulch with leafmould or compost in spring, to add richness to the soil and help retain moisture.
Hellebores are notorious cross-breeders and hybridise easily, meaning that new plants self-seed every year, boasting their own distinct patterns and colour combinations.
The beautiful detail of the hellebore blooms cannot always be fully appreciated when they are planted in the garden, as the flowers have a tendency to gracefully bow their heads downwards. To enjoy them in all their glory, cut some hellebore flowers on short stems and float them facing upright in a bowl of water as a table centrepiece . For a more traditional display, cut hellebores with longer stems, sear the ends of the stems in boiling water for twenty seconds, and then arrange them in a vase of cold water.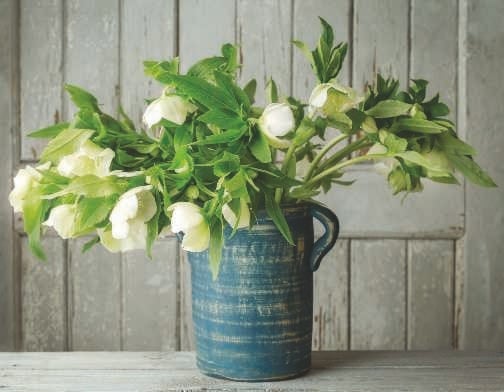 For classic, snowy white blooms, choose Helleborus niger, also known as the Winter Rose. This species flowers from winter through to early spring. Helleborus niger 'Little Star' boasts pearly white blooms, and its smaller form makes it an ideal Christmas houseplant that can be planted outside once it has finished flowering. New to the market in 2021 is 'Snowdrift', whose white flowers open as simple, single blooms, but go on to develop a frilly, ruffled centre giving the effect of a double bloom.
For colours ranging from blush pinks through to opulent purples, choose Helleborus x hybridus, also known as the Lenten Rose. This species flowers slightly later, usually from mid-winter through to spring. For the darkest of dark purples, choose Helleborus x hybridus 'Double Ellen Purple', whose double blooms are often gently speckled on the outer petals. 'Harvington Double Pink Speckled' has delicate, pale pink double flowers with raspberry markings in the centre of each petal.
If your Christmas wish is for your garden to sparkle and shine this winter, why not take a trip to your local garden centre or nursery today and seek out this most magical of plants?