Historic Homes: built to last!
Georgian Brickwork is a small specialist team of bricklayers who work solely on period and listed properties.
The team is led by Charles Reilly a craftsman with over 25 years of experience in the heritage sector. Charles is passionate about keeping heritage brickwork skills alive and making sure that historic homes in Kent are maintained using the right materials and methods. For several years he has run training for bricklayers looking to enhance their heritage skills. He also offers consultancy and advice for homeowners, architects and conservation officers. In Autumn 2022 he is launching a new programme of events from his training space at The Historic Dockyard, Chatham.
We asked Charles to talk us through some of the common issues affecting historic brickwork that homeowners might notice on their properties.
Spalling Bricks
Historically bricks were fired at lower temperatures, and this means they are inherently softer than the modern bricks produced today. When a brick has 'spalled' the surface will be indented and may crumble when touched. There are several causes of spalling and identifying the cause is an important part of finding the solution. You may notice that bricks at lower levels erode at a faster rate than elsewhere on the building. If the problem is on a roadside wall it may be due to excess moisture and salts on the road splashing back onto the brickwork as vehices go past. Contact with cement mortar also erodes bricks, particularly if the mortar mix is harder than the brick, and cement mortar also contributes to the retention of moisture within the wall. If a chronically damp brick is then subjected to freezing weather conditions the face can spall and become flaky. Sometimes a brick is so badly damaged it must be replaced, but many can be repaired. Lime repointing that includes the repair and replacement of individual bricks can help resolve damp issues as well as improve the look and stability of the wall for the future.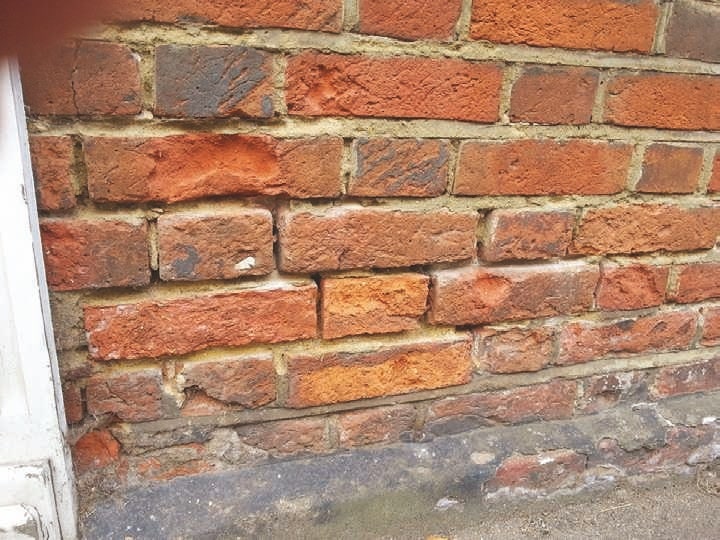 Loose Mortar
In a listed property areas of loose mortar may just be the result of wear and tear over the centuries. However, mortar can also be eroded by weather and salts, with sea-facing properties and walls that take the brunt of the rain suffering the most. Even sparrows can cause havoc to lime mortar joints. These little garden birds like to peck at the mortar for extra roughage in their diet. Unfortunately, there is not much that can be done to deter them, aside from perhaps getting a cat!! Sometimes specific areas of a wall are more affected than others, a skilled craftsman will be able to assess the areas that need repointing and carry out 'patch' pointing where required, using a lime mortar mix to blend in with the original mix.
Unsightly repairs using the wrong bricks/mortar: The use of the wrong brick to a repair a wall is a frequent complaint – and an eyesore! It may be that an old external door has been bricked up, or perhaps new waste pipes have been installed for an upstairs bathroom and the surrounding bricks don't match the originals. Another grumble from today's listed property owners is that previous occupants have had repairs carried out using cement instead of lime and this has created an unsightly area in an otherwise beautiful brick wall.
Charles explains that using cement mortar on historic brickwork was common practice from the early 20th Century. In comparison to lime, cement is a much cheaper standardised product. The presence of a localised cement repair may be just an aesthetic issue, but widespread use of cement on a historic property can upset the cycle of moisture within the brickwork and lead to more serious problems. It is fine for brick walls to get wet providing that the rain can be absorbed by the brick and then evaporate in drier weather; lime allows this continuous 'wicking' process to occur, allowing the building to 'breathe'. Unfortunately, cement prevents it, leading to trapped moisture within the bricks and often contributing to damp issues within the walls of the house.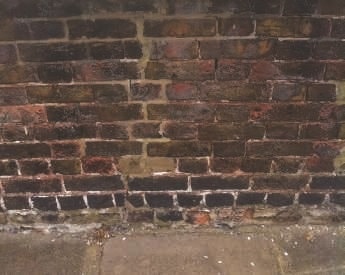 Finding a Heritage Bricklayer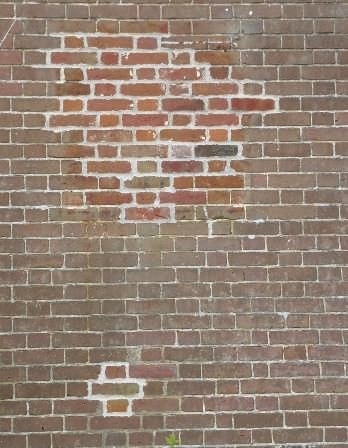 According to Charles, all the above issues are resolvable however he stresses that choosing the right person to undertake repairs on your home is vital. You want the contractor to use the correct methods and materials and meet the requirements of your local conservation officer. A repair to your home that uses like-for-like methods and materials may not need listed building consent. However, Charles states that if you are unsure it is wiser to check before starting the work.
When you undertake repairs on your property you want the result to look good and last for many years. There are many factors that contribute to an enduring high-quality finish. The depth of the raking out, the type of brick and aggregates, and the mix of the mortar will all have an impact on the final outcome.
The cost of the work is always an important consideration, Charles explained that lime mortar repairs are generally more expensive than cement repairs. The process is slower because the preparation of the repair area, the care of the lime mortar, and the aftercare of the brickwork all take time, and skill! Depending on the weather conditions lime mortar may not be fully cured (hardened) for two or three months. So, when you are comparing quotes, take account of the skill and experience of the craftsperson as well as the price. If you do it right the first time you won't be in the demoralising position of having to go back to the more expensive specialist to ask them to put right the issues that the cheaper contractor didn't fix properly!
Georgian Brickwork are often asked to correct repairs that were undertaken by other contractors using the wrong methods and/or materials.
So, how do you find an experienced craftsperson to repair the brickwork on your historic home? We asked Charles for his tips;
Do your research! Check their website and their credentials
How long have they been a heritage specialist, who trained them?
Can they provide information/references for completed contracts that are similar to your project? Are there similar examples on their website, can they talk about the contract in detail?
Can they explain the process and methods that they will use on your property? Will they supply you with a method statement if you need to make a listed building consent application?
Your local listed building officer will be aware of the heritage bricklayers on their patch. Whilst the officers are not able to specifically recommend anyone there is nothing to stop you asking a contractor how they get on with the local conservation officer in your area. A mutually respectful professional relationship between the bricklayer and the conservation officer can help smooth the process of applying for consents.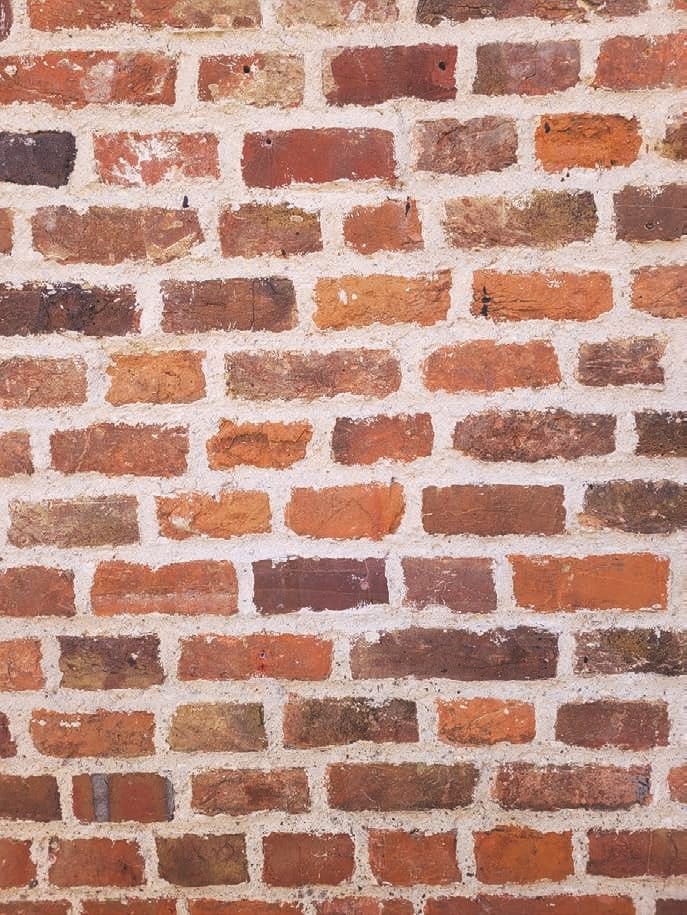 Charles is contactable through his website, www.georgianbrickwork.co.uk.
If you would like to find out more about looking after your historic brickwork why not join Charles on Saturday 3rd September at The Historic Dockyard, Chatham for his workshop Historic Homes – Built to Last!
Dates for Your Diary
Saturday 18th June: FREE Drop In Event 10am-3pm
To celebrate the opening of Georgian Brickwork's Heritage Brickwork Training Workshop at Unit 6, Craft Workshops, The Historic Dockyard, Chatham ME4 4TE. Drop in and say hello anytime between 10am and 3pm. Parking available. All welcome!
Thursday 1st September: Gauged Brick Arches (GB3)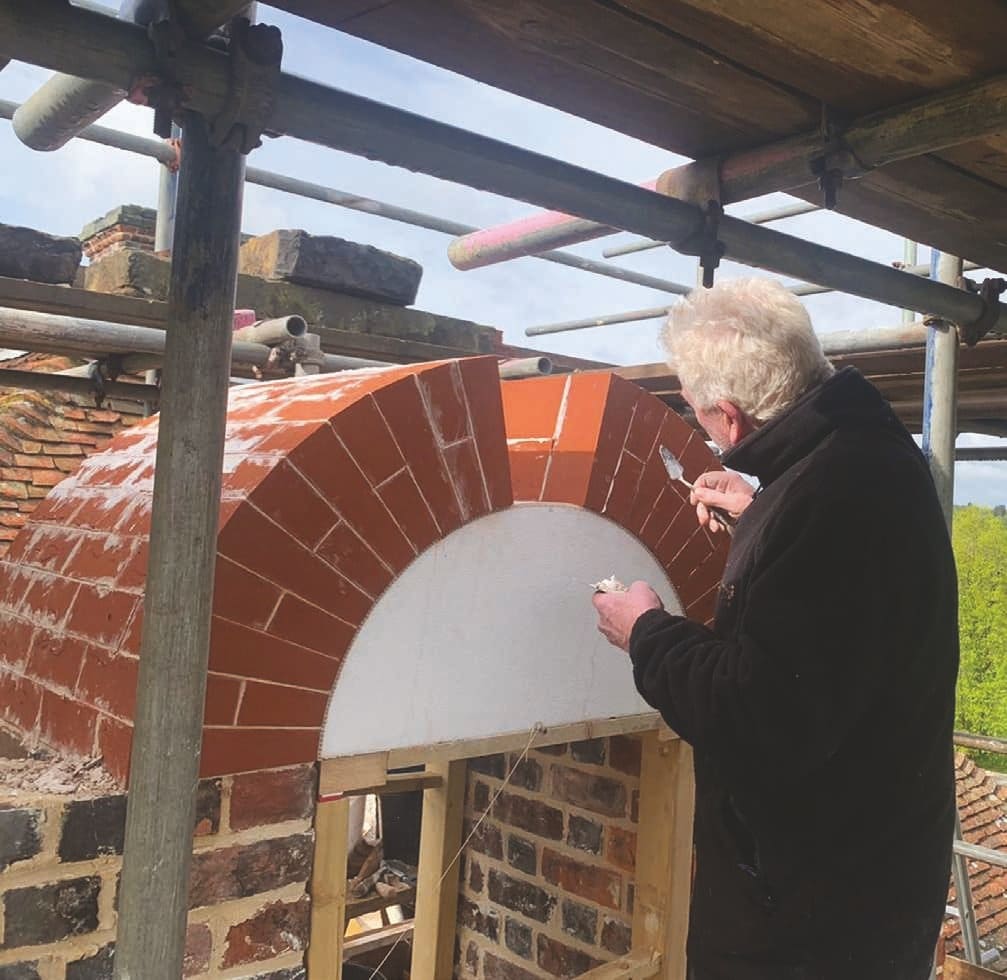 This workshop session is suitable for anyone with an interest in finding out more about traditional gauged arches. Topics include the geometry of an arch, techniques for cutting bricks, and an examination of different types of arch within the locality.
Saturday 3rd September: Historic Homes – Built to Last! 10am – 1pm
A three hour workshop exploring some of the common issues affecting historic brickwork that homeowners might notice on their properties. Includes discussion, demonstrations and examination of brickwork buildings at The Historic Dockyard, Chatham.
Thursday 15th September: Using Lime Mortar (GB1) 10am – 1pm
This three hour workshop is suitable for anyone with an interest in finding out more about Lime Mortar. The session will cover the Lime Cycle, choosing aggregates, the preparation and aftercare of lime mortar, different mixes, and will include practical demonstrations.
Saturday 8th October: Built to Deceive!
This one day seminar examines the changes in brick built houses from 1660 to the end of the Georgian period in 1830 and explores the Georgian love affair with facadism -as exemplified by the many Tuck Pointed houses of that period. A morning lecture followed by lunch and an afternoon of Tuck pointing demonstrations, and discussion of the Tuck pointed buildings within the Dockyard.
Thursday 18th November: Tuck Pointing 10am – 1pm
This three hour workshop is suitable for anyone with an interest in the traditional craft of Tuck Pointing. The session will include demonstrations and information on methods and materials.
All courses take place at Unit 6 Craft Workshops, The Historic Dockyard, Chatham ME4 4TE. Parking is available at The Dockyard. For further details of these events including information on how to book and pay online visit https://georgianbrickwork.co.uk/workshops-events/ or email heritagebrickworktrainingltd@gmail.com