How has Covid-19 Affected Kentish Vineyards?
Rowena Hawtin at Discover the Vine interviewed six vineyards based in Kent to get their perspectives
Biddenden, Chartham, Gusbourne, Simpsons, Terlingham and Woodchurch vineyards talk about how they have been affected by Covid-19 and how they have adapted their businesses as we come out of lockdown and ease back into normal life.
In the Vineyard
Common to all the vineyards, managing the vines has been of primary importance and whilst some of the vineyards completely rely on family members to tend the vines – others have retained their employees where their role is vineyard based. However, this has been kept to a minimum and a number of employees have been furloughed to ease the financial pressure. The good news is that on the whole, the weather has been sunny and dry and although one or two vineyards said there had been some frost during this period, the damage to the vines was minimal.
Tours and Tastings
Without a doubt – due to lockdown – all tours and tastings ceased with immediate effect. Cellar door sales are a major part of revenue for Kent vineyards – especially for the smaller ones. There really is no substitute for being in the environment where the grapes are grown and enjoying the whole wine tasting experience.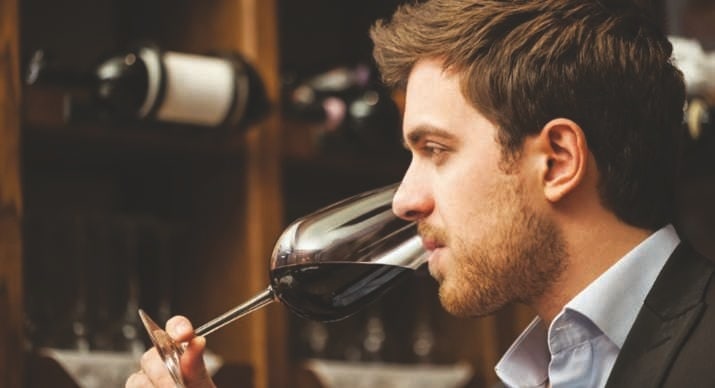 Sales
On the positive side, all of the vineyards stated that they'd seen a significant increase in online sales with Chartham vineyard just launching this service in May 2020. At Gusbourne, as well as their sparkling wine, they have just launched their 'Cherry Garden' rose and Simpsons have just released the Flint Fields Blanc de Noirs 2016 which has been so popular that it has sold out, but the 2017 is due for release in November 2020. Terlingham are launching their 2019 vintages of their flagship wine made from Bacchus as well as their rosé wine made from Rondo and Dornfelder due for release around mid July.
Biddenden and Woodchurch vineyards have also recorded increases in online sales and although these sales don't compensate for the losses of the vineyards closures they all agree that they are retaining their current retail customers as well as attracting new ones – both locally and further afield.
On Trade
It isn't just cellar door sales that have been affected as the enforced closure of all bars, pubs, restaurants and hotels – the whole hospitality sector has had a direct impact on the vineyards. Many of these organisations are trade customers and of key importance, not only in supply, but also in terms of increasing their visibility and reputation in the wider community.
There is a collective concern as to how some of these will manage in the future as the hospitality sector will be one of the last to come out of lockdown, and at the time of writing it is uncertain how they will trade in the post Covid world.
A positive aspect of the effect of Covid-19 has been in the growth of community spirit among people in the local vicinity. People have gravitated towards using local suppliers to a greater extent than before in preference to queuing up at the local supermarket and it is hoped that this will continue not only for wine but for local Kent produce as well.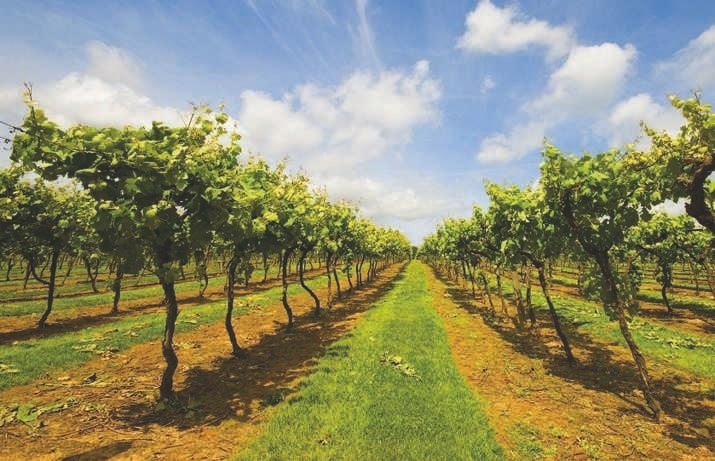 What does the future look like?
At the time of writing it is difficult to predict with any certainty the way forward for local vineyards but most will be open by mid-June/early July for visitors to have picnics in the grounds.
The shops will be open to purchase wine – but full scale wine tasting will be unlikely as social distancing and cleansing glasses will be very difficult to enforce in the tastings areas.
Terlingham are hoping to offer picnics from July onwards with pop-up gazebos; Simpsons already have rigorous social distancing measures in place for their employees which will be extended to customers when they re-open as safety is paramount – which all the vineyards take very seriously. Gusbourne are hoping to do something similar in the way of picnics, and Biddenden will be opening their shop to customers for purchase only. Woodchurch wines were due to celebrate their 10th birthday this year and had opened their cellar door in preparation for this celebration. However their shop is now open for visitors. Chartham vineyard have been working hard to build up their art exhibitions which visitors can enjoy as well as tasting their wines and this will resume as soon as it is safe to do so.
Although the complete impact of Covid-19 on the Kent wine industry and the wider hospitality sector is at present unknown, it is important that we continue to support our local businesses and communities as we begin the journey back to a more normal environment.
Biddenden Vineyards
Biddenden Vineyards celebrated its 50th anniversary in 2019. The family is able to draw on five decades of winemaking knowledge and pair this with new methods and techniques to ensure that Biddenden is at the forefront of the English wine industry.
Taking online orders
The shop and walks remain closed in line with government advice. www.biddendenvineyards.com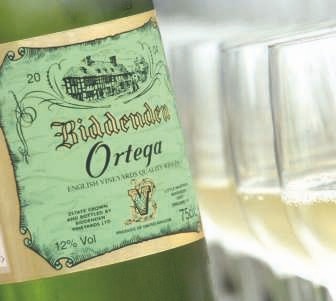 Chartham Vineyard
Chartham Vineyard is owned by Dr Roz Waller and her husband Richard Goodenough and managed by their son, Andy. They offer deliciously fine wines made from grape varieties and rootstocks that are ideally suited to our soil, terrain and cool maritime climate.
Taking online orders
The shop and vineyards remain closed in line with government advice. www.charthamvineyard.co.uk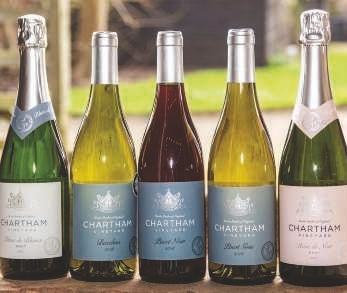 Gusbourne Vineyards
A combination of the best age-old traditions with modern technology and cutting-edge equipment allows us to sit comfortably between old and new world winemaking, while at the same time bringing our own exacting quality standards to the process.
Taking online orders
The Tasting Room is currently closed. www.gusbourne.com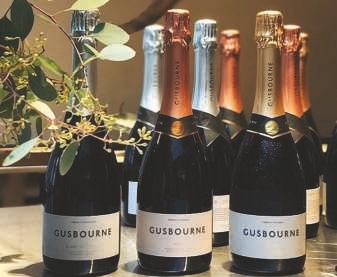 Gusbourne vineyards wish to thank:
MACKNADE FINE FOODS www.macknade.com
PRESS WINE SERVICES AT THE GOODS SHED www.presswineservices.com
THE SECRET CELLAR www.thesecretcellar.co.uk
QUERCUS WINES www.quercuswines.co.uk
Terlingham Vineyard
Small but mighty! With just four acres of vines, Terlingham make between 2,000 and 4,000 bottles of wine a year and are all about being as low impact, sustainable and eco-friendly as possible. The family of five does everything on the vineyard themselves, by hand.
Taking online orders – contact free deliveries
The shop and vineyards remain closed in line with government advice.
www.terlinghamvineyard.co.uk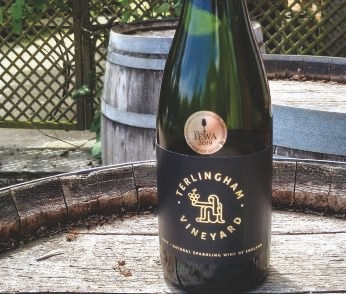 Woodchurch Wine
Set on hills looking south over the ancient Romney marsh down to the English channel, our land has the perfect geography and climate to produce the highest quality grapes and the finest English sparkling wine.
Taking online orders
The vineyard is currently closed.
www.woodchurchwine.co.uk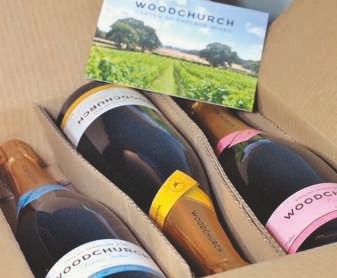 Simpsons Wine
At Simpsons, we believe that the finest wines convey a rich sense of provenance and integrity, firmly rooted in the characteristics and exquisite nuances of their terroir. This is why we settled for nothing less than the finest parcels of land in southern England to plant the vines for Simpsons' exceptional English sparkling wine.
Taking online orders
www.simpsonswine.com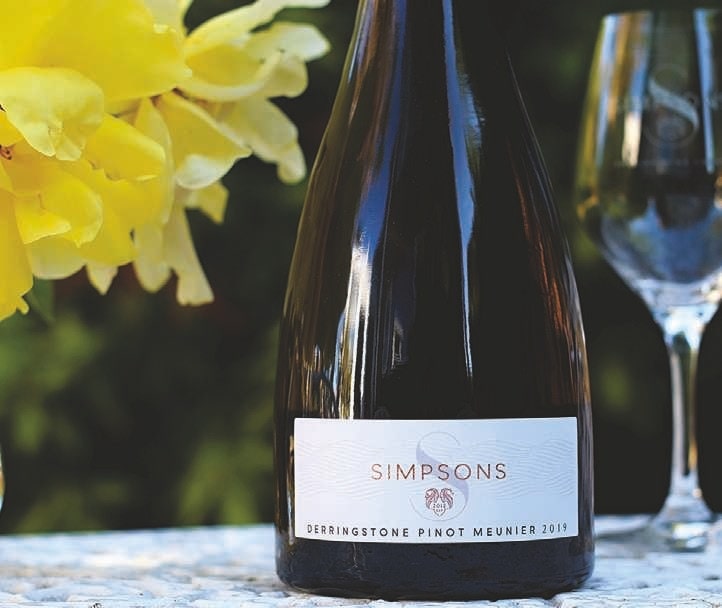 If you have any questions about this article or any other enquiries – please visit www.discoverthevine.co.uk
Rowena Hawtin #thewinelady
We wish to thank:-
Gibson's Farm Shop; Clive Barlow at the Goods Shed; Macknade Fine Foods; Barham Village Store; Filberts; The Strand Wine Company; Squerryes Flint and Oak Deli