Afternoon Tea is just a little bit naughty, but a whole lot nice!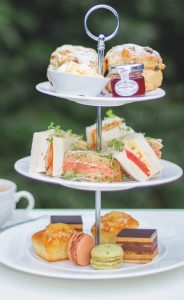 A pot of properly-brewed tea accompanied by tiers of tempting treats and served in an elegant salon may be the ultimate guilt-free indulgence. At a civilised hour and not necessarily with any alcohol – though a small glass of Prosecco or Champagne might be on offer for a special occasion – there's no risk of next-day regret. As for the waistline, well, you could just promise yourself a brisk walk or an extra session in the gym. Remember, a little bit of fondant fancy does you good…
Perfect presentation and an attractive ambience are important parts of the experience, enhanced by beautiful china, exquisite cakes, perfectly-formed sandwiches and tasty tea: a pleasure for the senses of sight, scent and taste, and maybe the ear, too, if there's a piano present or other soothing background music.
We have Queen Catherine of Braganza, wife of Charles II, to thank for our British tradition of tea-drinking. She fell in love with the drink and introduced it to the royal court and the aristocracy. The 7th Duchess of Bedford is believed to have invented the idea of 'afternoon tea'. At this time it was an expensive drawing room luxury but, as prices settled, tea rooms opened up everywhere as respectable alternatives to pubs, especially for ladies!
Since then, tea has been a prominent feature of British culture, yet it continues to reinvent itself with a whole range of varieties now available under supermarket labels as well as from specialist companies. Putting on the kettle for a brew is a comforting part of everyday life, but going out for tea turns the humble cuppa into something way more special.
The best hotels pride themselves on attention to detail in their afternoon offering. The Connaught in London, for example, says its tea-time concept is a combination of tradition and fun. Finger sandwiches (uncut until the last possible moment to avoid drying out) and classic scones are served on elegant plates alongside the pastry chefs' newest designs featuring seasonal flavours. Each cake is treated like a jewel: small, elegant, perfectly formed and precisely placed. Delicious, too!
A good waiter will help negotiate an ideally long list of beverages, including Assam, Oolong, Darjeeling, Lapsang Souchong, Earl Grey or a caffeine-free herbal. Of course, the tea will be loose-leaf, presented in a pot, with a strainer, to be poured into beautiful cups by one of the table guests at the optimum moment. Our very own tea ceremony…
Host the Perfect Tea Party
Select a date and send out handwritten invitations. Dress the part – tea parties are special.
Switch on the music – sipping tea whilst listening to genteel classical music creates the perfect atmosphere.
Prepare your food in advance and display on plates, cake stands and trays.
---
Frasers, Egerton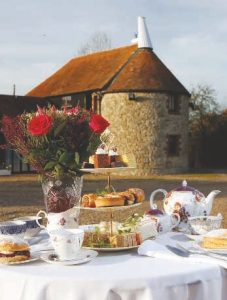 Frasers offers more than just the quintessential afternoon tea. Come, relax and while away a few hours in our 2 AA Rosette restaurant and savour the delights of the "Frasers" version of this English institution.
Your afternoon tea begins with a delicious selection of homemade savoury tarts and sausage rolls made with the finest locally sourced ingredients. Following this a range of our exquisite miniature finger sandwiches, including, home roasted mustard glazed gammon and egg mayonnaise to name a few.
Now for the cakes… Frasers legendary Gold Award winning carrot cake, delectable lemon drizzle, homemade scones, local cream and "Frasers" homemade preserves, and if you still have room, a selection of homemade patisseries. All served with a selection of Pluckley tea and coffee, or infusions.
---
Style the perfect table
Vintage lace is a big trend this summer. Lay the table with a lace cloth and napkins to add a 1930s feel.
Distressed silver trays are the sophisticated way to serve cups of tea.
Silk or fresh flowers can be arranged to pretty up the table.
Tiered cake stands and vintage bone china are a must – mix and match for an eclectic look.
---
Chiddingstone Castle
Choose from delicious homemade cakes, scones, light lunches, cream teas, coffee, tea and locally produced wine, cider, fruit juices and ice creams. The freshly-baked scones are legendary, the clotted cream delivered weekly from Cornwall and all teas are served on traditional vintage china.
www.chiddingstonecastle.org.uk
---
The Secret Garden
Afternoon Tea at the Secret Garden consists of a selection of dainty finger sandwiches, a selection of yummy homemade cakes (cake selection changes daily), extra large scones with Wooden Spoon Jam, strawberries, clotted cream and lots and lots piping hot tea and coffee. Served from 2.30pm to 5pm Tuesday to Saturday (Sunday and Mondays 4pm)
---
Whitstable Castle
The Orangery, at Whitstable Castle, is an atmospheric setting for home-cooked café food. Cream teas make it an enjoyable place to spend a summer afternoon amid the splendour of the extensive Whitstable Castle gardens.
---
Hythe Imperial
Afternoon tea has become one of the most ultimate indulgences, and it doesn't get much better than the way it's served at the Hythe Imperial with its own Afternoon Parlour which is located at the front of the hotel overlooking the gardens and being decorated as an elegant salon with Victoria styled China and Champagne Bowls.