Making the Most of Your Windows
Windows aren't simply a functional item, they add character to a building; and dirty or degraded windows can ruin the look of your property.
However, when living in a period home, it can be somewhat daunting to address the state of your windows because of the myriad facets involved: how can I avoid damage to the property? Will new windows be in keeping with the aesthetic, do I need special permission to change things?
Well here at Conservation News, we've put together a brief guide to renovating and replacing windows in historic and period homes. We always advise speaking to a professional before attempting any changes, but hopefully this article will help you narrow your focus and get the windows your home truly deserves.
Preserving your existing windows
There are a few companies in Kent that specialise in period windows, and these businesses will be able to help with larger restoration jobs. However, if your windows still have some life in them, or if you use our article to help you choose new ones, there are certain small maintenance jobs that you can do to significantly prolong their lifespan.
Repaint: regular repainting or re varnishing helps stop timber from swelling and rotting, and keeps your windows looking pristine. Aim to re-cover at least every other year, and don't forget to give them a good rub down first.
Oil: hinges, sashes, locks and catches all need regular oiling to keep them operational. You can also use beeswax on sashes to keep them running smoothly.
Putty: window putty has a finite lifespan and can become dry and flaky, especially with regular exposure to strong sunlight. Remove old putty with a scraper and let it dry before priming and replacing the putty.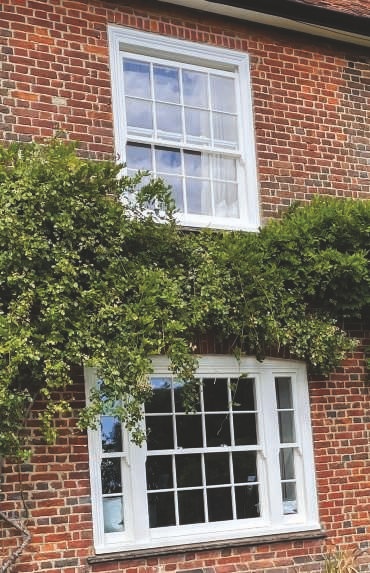 Getting new windows
Inevitably your windows will 'give up the ghost' and need replacing. If repair is not an option, then you need to think long and hard about what you choose as a replacement. The techniques used to make windows in the past are long gone today, and building regs can prohibit close copies, but that doesn't mean you can't get beautiful, sympathetic replacements.
Although it is possible to get 'off the shelf' windows for period homes, it is by far a better option to go bespoke, in order to preserve the aesthetic and value of your home. With bespoke windows you can specify modern features such as double glazing, without compromising on looks.
Planning permission
Unfortunately the question of whether or not you require planning permission to replace your windows is not a straightforward one.
Whilst you will generally not need planning permission, you will need to look at the legislation as pertains to your particular property. In some historic houses permitted development rights can be restricted, and in conservation areas, you may be subject to rules regarding the type of windows you can get. Obviously if your home is a listed building you will require permission, and you will need to be able to prove that your existing windows are damaged beyond repair.
Although new box sashes and casements fitted into existing frames are classed as refurbishment and require no planning permission per se, It is now the case that listed and historic buildings demand sympathetic replacements, meaning that you will need to have them made by a specialist joinery company.
Buliding regulations
Any new windows must be installed by a FENSA registered company and details from the old windows, such as vents, will need to be replicated or replaced with a suitable alternative (your installer will be able to advise you). You will need to keep a copy of your FENSA certificate, particularly if you intend on selling the house at any point.
Ground floor windows must contain safety glass and need to have the relevant safety mark on them (although this shouldn't really detract from the overall look).
For listed buildings there can be some leeway in terms of the U-value of the windows (the measurement of the amount of heat that's allowed to pass through the glass), but these values are generally fixed in non-listed buildings.
Different styles of window
Within period homes glazing can be extremely important, as 'flawed' glazing and/or stained glass will help add to the home's unique character. Again you may wish to replace existing panes with a sympathetic alternative, so speak to an expert glazier. In older homes windows tended to be very small, ss the technology to produce larger panes had not yet been discovered. In this case you will definitely want tailor made replacements.
Many period homes have side hung casements made of wood or metal, which swing open. Another popular style is the vertical sliding or box timber sash; a familiar sight in slightly newer homes, although earlier models may be held open by pegs instead of weights and pulleys.
Medieval and Tudor windows
In this early period, glass was still very expensive and rural properties often simply had openings that could be covered with shutters. If you live in such a property then the chances are that your panes are not original, which can give you a little more flexibility in terms of replacements. Where glass was used, it was typically in metal frames.
Georgian and Victorian windows
Georgian windows tended to use vertical sliding timber sashes, with 8 over 8 or 6 over 6 pane configuration. Meanwhile Victorian homes often had box sash or casement windows, usually of timber construction. The Victorians were also very fond of mock-Tudor windows, with leaded lights between stone 'mullions' (vertical struts).
Early 20th Century windows
After the war, double glazed windows tended to be used, and many single glazed windows in older buildings were ripped out and replaced with double glazing. As many of our existing historic homes were built in the 1930s, you will often find 'Crittall' style windows (a simple, black, multi-panelled frame) or even the more elaborate Art Deco style.
Wooden and Metal frames
When striving for authenticity, wooden and metal frames as a homeowner's best friend. They offer versatility in terms of style and can be created to mimic the home's original windows. Hard and soft wood can be used (the most obvious difference being that soft wood is more cost effective in the short term, whilst hard wood lasts longer). Contrary to popular belief, modern metal windows provide excellent thermal efficiency and are generally low maintenance.
uPVC and composite windows
In years gone by it was difficult for owners of period properties to replace their windows with long-lasting, energy efficient, double glazed optioms without spoiling the appearance of their homes. Fortunately those days are long gone with companies offering aesthetically pleasing optins that will complement the look of your unique home, but with all the modern-day benefits of uPVC windows. Victorian, Georgian, period cottage, there is a superior quality period style uPVC window option to suit. With the added benefit of being durable and extremely energy efficient, uPVC and composite doors should not be immediately dismissed by period homeowners.