Louise Tomlin meets the man behind John Corley Stained Glass Studio which undertakes the design and manufacture of new commissions, and the conservation and restoration of historic stained glass.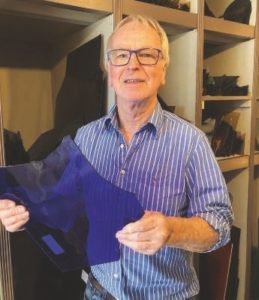 During the course of interviewing successful people involved in businesses in the sphere of restoration, we have uncovered a link with a person's love of art, and with an aesthetic awareness that has helped them develop their skills in the discipline of their chosen career. A very recent example of this was Karl Terry, a highly successful exponent of specialist conservation roofing and an accomplished and award-winning painter.
We don't have to dig too deep to uncover the links between artistic talent and the ultimate occupation for the subject of this story, as the man himself says the two disciplines work in parallel. We meet John Corley, one of the most successful stained glass artists and conservators in the field, who for over 45 years has been a leading light in the world of stained glass, carrying out private commissions and many complex conservation projects on glass from all periods, including high profile work on 800-year-old masterpieces.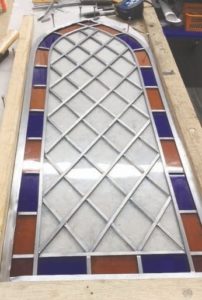 John's creative career began in the 1970s studying at Northampton School of Art and for a Fine Art degree at Canterbury College of Art. This exposed him to many notable artists and their works whilst studying painting and learning about the history of art. He was introduced to the stunning frescoes of pre-Renaissance European masters, right through to more modern abstract expressionists and post-impressionists, all contributing to his creative development.
A eureka moment came for John when visiting Canterbury Cathedral as a student. He was overwhelmed by the strength of colour in the windows and the powerful images; the magnificent medieval masterpieces had him hooked.
After graduating as a fine art painter, John took his portfolio to Canterbury Cathedral, now recognised as a World Heritage site, in the hope of becoming involved in a training programme in their studio to repair 12th and 13th century stained glass.
Happily for him, he was welcomed on to the programme and he stayed for nearly four years learning the intricate and highly skilled art of glass painting and conserving, whilst developing an appreciation and love of the material, its textures and the impurities of blown glass that give it its character. As part of his training, he was given the opportunity to attend a practical workshop run by the York Glaziers Trust at York Minster and assisted in works to preserve the famous Rose Window.
Following on from this, John was ready to concentrate on private commissions and conservation work, so the John Corley Stained Glass Studio was established in 1978 in rural Kent. As the business grew quickly, the need for more space for better facilities and to employ more staff dictated a move to larger premises in Deal, which is where the studio workshops and gallery shop are now well established. The studio undertakes all types of conservation of leaded glazing and stained glass spanning many time periods from medieval up to contemporary pieces.
The works necessitate the removal from site to the studio where the in-house team undertakes the delicate conservation work, along with initial reporting, recording and documenting of the whole process for future reference up to reinstatement to site. It's no surprise that such levels of expertise and experience means John's team, many of whom have been mentored and trained by him, are in demand and are involved in prestigious restoration projects for bodies such as the National Trust, English Heritage, The Crown Estate, The Churches Conservation Trust, Historic Royal Palaces and Private Collections, to name just a few.
It's not all painstaking devotion to conservation though. As a talented artist, John undertakes private commissions, and it's not surprising to hear he created the glass for the Landmark Trust's Cobham Dairy that we featured this spring. This involved painted, silver-stained, enamelled and kiln fired mouthblown glass for the roundels depicting the coat of arms. Other notable commissions are the Natural World Window for St Nicholas Church, Ash and the impressive Burning Library window at Ramsgate Library, which John designed incorporating drawings and designs from local school children.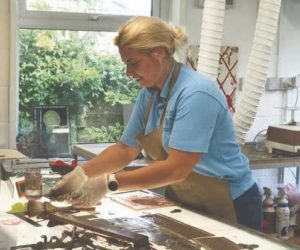 Throughout this long and successful career in stained glass, John has never stopped painting. He always has his own work on the go and there is a definite link between his work in glass and his paintings. "It all started with drawing," he told me. As a young man, drawing helped him develop a way of looking at things in detail and in-depth, helping him create his unique vision of the world, which is still with him today in his paintings and glass art. He's still inspired by the sea, the light and the natural world, which inform the shapes, forms, rhythms and colours that translate into the language of each work whatever the context, be it a framed stand-alone painting or a beautiful stained glass window.
Recognition of his long and distinguished career has just recently been announced in the shape of a very prestigious and well-deserved award: John has been made an Associate of the Society of Master Glass Painters, congratulations John Corley, AMGP.
To find out more visit johncorleystainedglassstudio.co.uk