Louise Tomlin tells how she particularly appreciates the efforts some householders put into their front gardens
Something we all may have been doing in recent months is walking in our local areas and possibly having the luxury of more time to really take in the scenes around us, I know I have. I've noticed what an effort some homeowners make with their properties. Front gardens are becoming a thing of the past these days with so many paved or concreted over to provide parking spaces which I'm sure you will agree are generally less than appealing. And yet some people take great pains with their colour schemes, their careful planting and the choice of ornamentation, somehow managing to combine these elements beautifully to create uplifting and pleasing scenes for those of who happen to pass by to enjoy.
We've decided to celebrate the diversity of front gardens and the ingenuity of the unsung suburban heroes who thankfully make such attempts to green up our towns and cities by making front garden paradises. These havens are beneficial to our environment and act as a counterbalance to the careless litter louts and households who just can't seem to manage to put their wheelie bins away or keep the rubbish inside them off the pavement! So here's a selection of prime examples of lovely front garden views that we've singled out for special attention, that we'd like to share with you. This is an opportunity for us to say a sincere thank you to everyone that strives to make your garden look beautiful.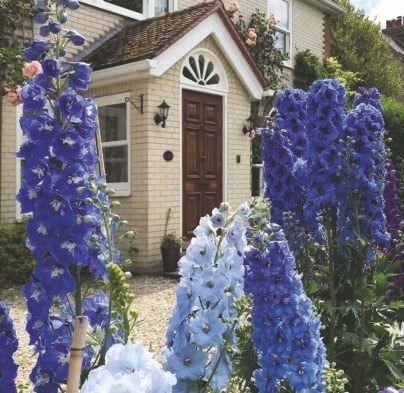 Delphinium Delight
The owners of this property are obviously lovers of these wonderful plants, so beloved of cottage-style gardeners. They've made them the star attraction by choosing many different shades of Delphiniums from powder blue to deep purple. The summer flowering perennials from the Larkspur family have tall showy spikes of flowers that burst upwards from the sympathetic planting of blue geraniums and contrast with the buff brickwork of the house, that is echoed in the soft cream gravel of the driveway. The overall effect is very classy indeed.
Enchanting Entrance
I don't know about you, but this inviting image transports me to days gone by? It has a romantic allure that tempts you up the pathway to a charming, white painted, decorative ironwork
porch. I can imagine the heady scent of the lavender wafting up as you brush past it. What could be quite a formal scene has a lovely natural feel. Red and white Valerian has self seeded amongst the lavender, which the owner has left to grow, a relaxed approach that pays off. I just love the way the decorative pattern of the frieze panel of the porch casts a perfect shadow on the front door's bottom panel. All in all this is simply gorgeous.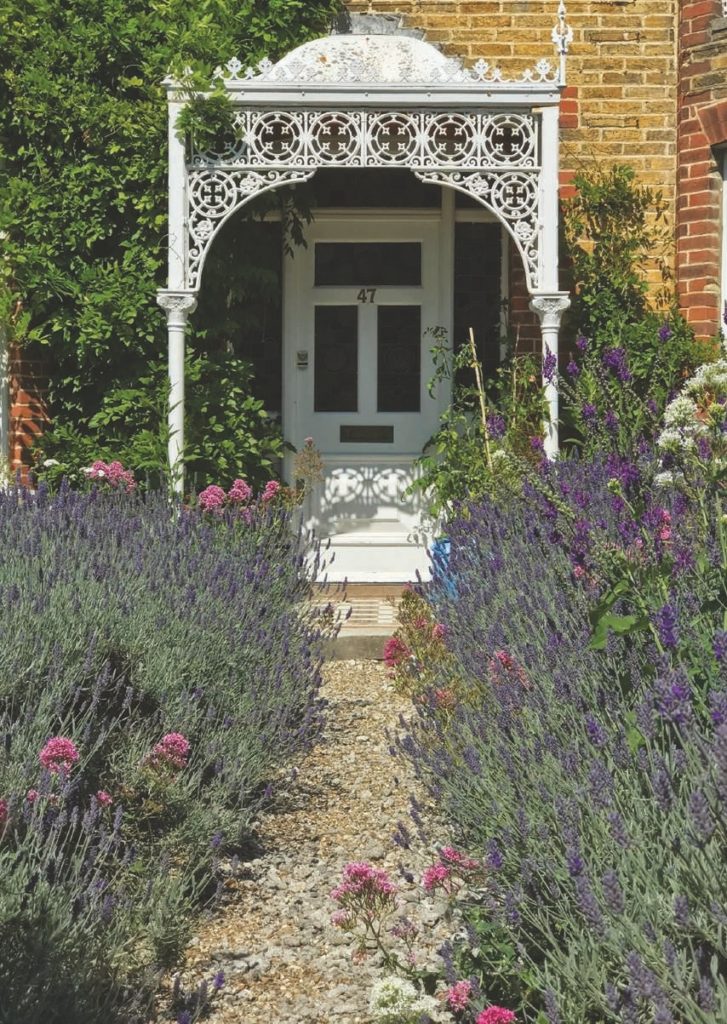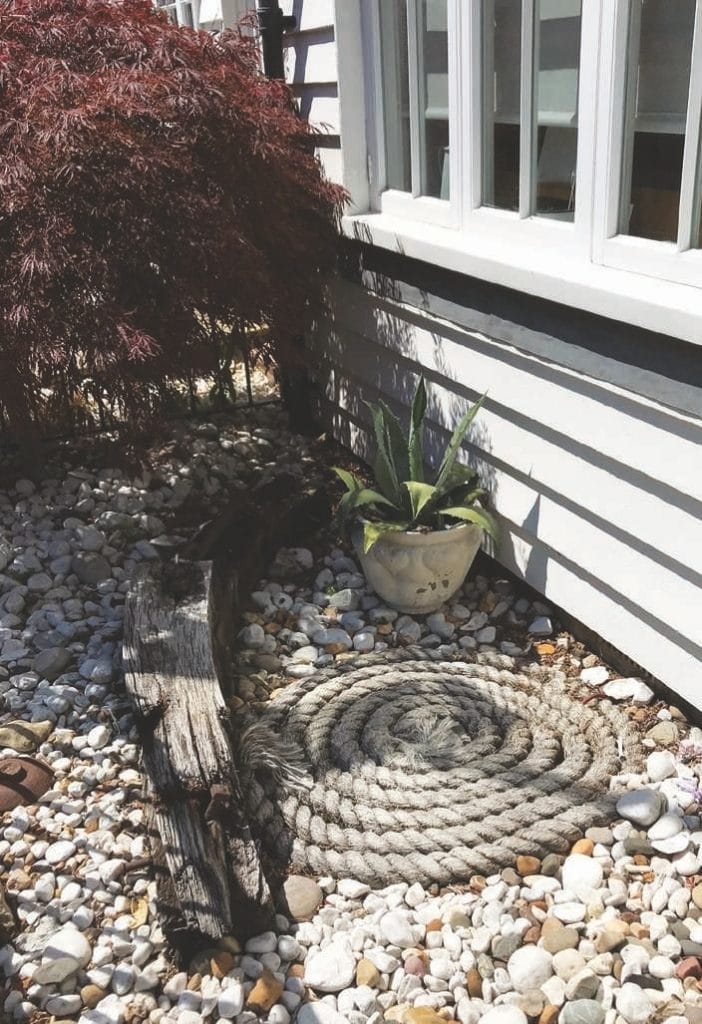 Nautical but Nice!
Beach themes are very popular not just in seaside towns, surprisingly I've seen them in inland settings too, maybe because they are fun to do and when they are done well they are very effective. This one also goes to show that it's possible to make a statement in a very small space without going overboard and scattering seashells, fishing nets and an over turned rowing boat. Whoever dreamt this one up is definitely a minimalist and an artist. The house is clad in white weatherboard which acts as a perfect backdrop for a coiled rope, driftwood, beautiful pebbles in muted shades some the same colour as the sandstone paving. A single pot with an Agave in it and a stunning burgundy Maple, complete the effect. It is superb.
Wondrous Wisterias
No round up of notable frontages would be complete without at least one that shows the flowering favourite Wisteria, that adorns many houses in spring and early summer. It's no mean feat to have grown one up to the front of the house like this example does. They need careful pruning, training and commitment over many years to end up looking this good. Bravo!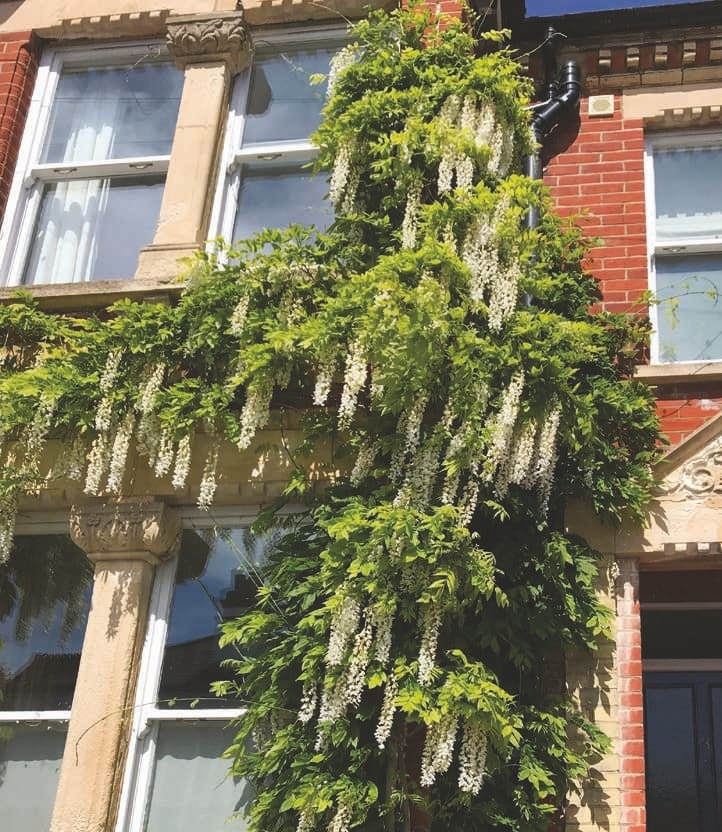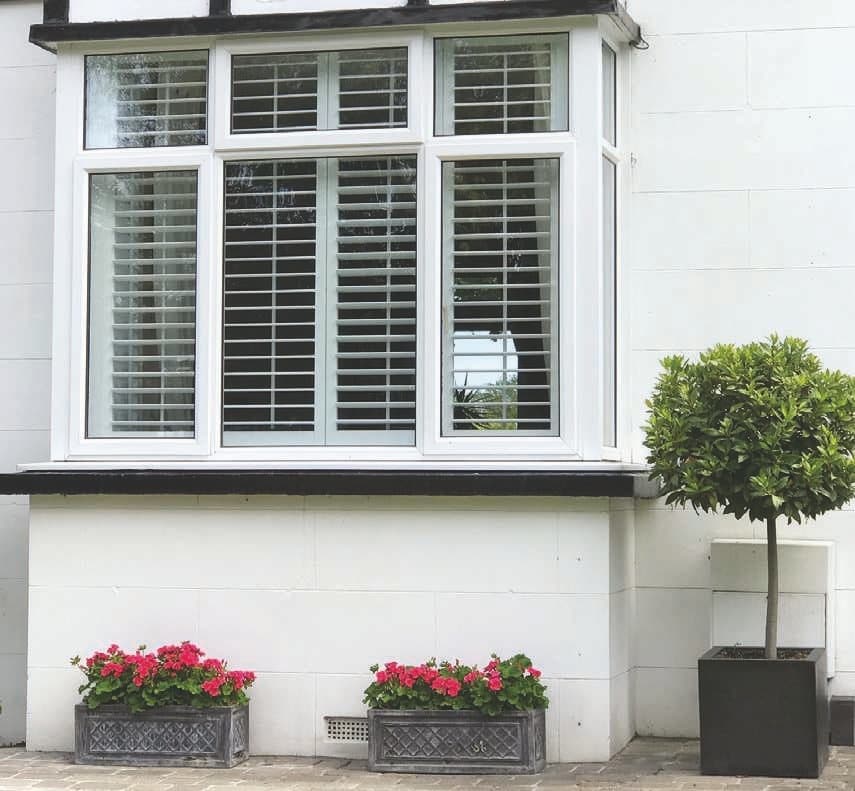 Less is Definitely More
Riotous colour and abundant floral displays are clearly not to everyone's taste. Some homeowners are masters of minimal and unfussy elegance. If it wasn't for the blast of strong red from the geraniums in the planters this could almost be seen as monochromatic. It has clean and simple lines. The classic standard Bay trees in plain box planters match the strong black horizontals and verticals picked out in the structure of the house. It's graceful and sublimely stylish.
What Could be More Welcoming?
This sweet little garden is an eclectic mix of styles that work so well together to create a pleasing setting. A gravel garden with timber sleepers and restrained planting looks cool and trendy. The traditional white picket fence complements the welcoming white bench, which seems to invite you to take a pew and relax for a moment. Large simple terracotta pots that are home for a deep red Maple and a European fan palm complete the charming scene.