I was very fortunate to be invited to Wickham Manor in November to visit the Palmer family whose country estate, owned by the National Trust, is in the historic town of Winchelsea near Rye.
Words: Rowena Hawtin
Wickham Manor is a charming 16th century country house set in 750 acres of Sussex countryside and is the home of the family who run the farm and the vineyard as well as a bed and breakfast. The landscape has not changed much for centuries and with the peace and quiet here, you couldactually  imagine that you had gone back in time a couple of hundred years!
The vineyard itself is 30 acres and they planted their first vines back in 2006 with their first vintage in 2009 which won the Bronze Decanter award for their Classic Cuvee – a blend of Pinot Noir and Chardonnay. Encouraged by such a prestigious award for their first vintage, they went on to produce some outstanding premium sparkling wines and they are launching soon their 2014/5 vintage which I was lucky enough to taste before the formal launch.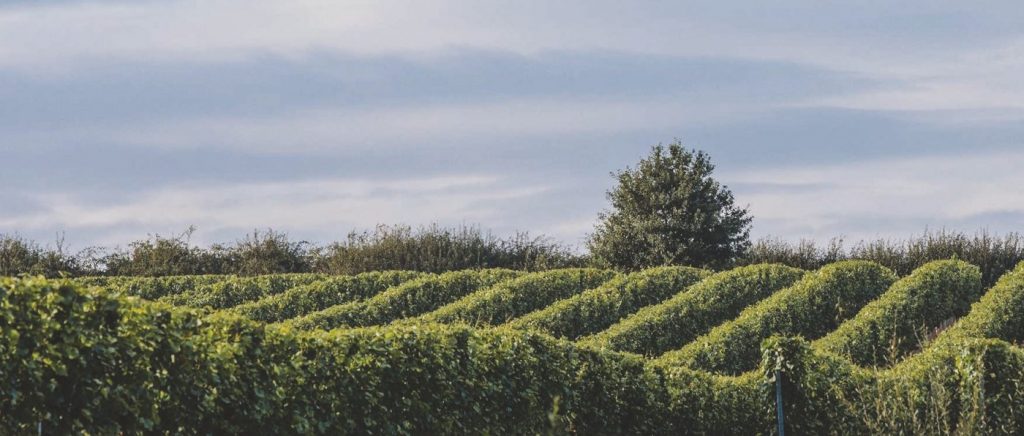 All the grapes are hand harvested with whole bunch fermentation and using the Champagne method of production with an average of two to three years on the lees. The wines have a great concentration of flavour with south facing slopes, Kimmeridgian clay soil and, being just five miles from the Sussex coastline, this keeps the frost at bay as the nights are not so cold.
They plant just two varieties – Chardonnay and Pinot Noir – and they make a 100% Chardonnay, a 100% Pinot Noir and a blend of the two which differs from many other English sparkling wines which tend to include the other Champagne grape – Pinot Meunier. Conditions were also favourable enough this year to harvest the Pinot Noir for a still red wine; however, we will have to be patient and wait at least another four years to sample this!
These are the wines I tasted from the 2014/15 vintage and they are all very good indeed.
Classic Cuvee 2014 – Pinot Noir 60% Chardonnay 40%
On the nose, the concentration of red fruit is very prominent: strawberry, raspberry and an underlying earthiness clearly indicate the character of the soil. On the palate, there are delicate honey flavours, brioche from the lees ageing and great length and concentration. Perfect with scallops and most white meat. £38.00.
Blanc de Blancs 2014 – 100% Chardonnay
A gentle persistent mousse, this wine has aromas of citrus, apricot and peach and a crisp, dry, refreshing acidity. On the palate, apple flavours linger and there is a nice long finish. After fermentation in stainless steel, the wine spent 3 years on the lees adding a creamy texture to the wine which complements the fresh fruit flavours. Serve on its own as an aperitif or it would pair very well with fish or a creamy cheese such as a goat's cheese. £39.50.
Rose 2015 – 100% Pinot Noir
I would describe this wine as off dry – not because there was much sweetness added – but the sheer ripeness of the fruit in this vintage gives it a lovely, smooth, off-dry texture. However, that crispness and refreshing acidity is not far away. Bursting with red fruits – cherries, strawberries and redcurrant – this is a superb example of an English rose. I recommend it to be drunk on its own or pair with some mild-flavoured cheese, so the subtler flavours of the wine are not overpowered. £40.50.
Tours of the estate and winery are £25 per person and tastings take place inside the family home at £10 per person for two wines and some well-paired nibbles. For more information and bookings telephone 01797 226216 or email sales@charlespalmer-vineyards.co.uk
www.charlespalmervineyards.co.uk
#thewinelady www.discoverthevine.co.uk