Our wine expert, Rowena Hawtin, recently visited barnsole vineyard near canterbury for a tour and tasting.
English wine has come a long way since the 1950s when the first commercial vineyard was planted in Hambledon, Hampshire. Climate change and improved wine making techniques have revolutionised the English wine market with many premium wines being sold in top restaurants around the country.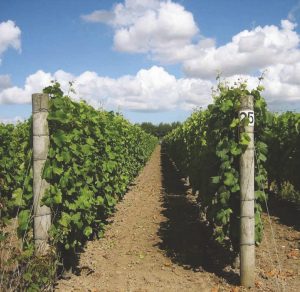 In February, I went to visit Barnsole Vineyard just outside Canterbury and met the owner, who is passionate about English wine and has an amazing knowledge of the history of English wine. If you're looking for something different why not pay Barnsole a visit?
On arrival we were greeted with a glass of their flagship wine – the Classic sparkling wine (2015) made from Pinot Noir and Chardonnay, with aromas of fresh green apples and toasty/biscuit flavours – it's excellent value at £24.99.
After the talk and tour, we tasted the Barnsole 2016 Dry Bacchanalian made from 100% Bacchus. The aromas are very similar to Sauvignon Blanc – herby and grassy with very high acidity. If you enjoy a bone dry white – then I would certainly recommend this. £12.70.
Personally, I preferred the Barnsole 2017 Off Dry Bacchus which still retained the herby characteristics typical of this grape, but it is softer with a fuller mouthfeel and some soft stone fruit coming through on the palate. £12.70
The final wine we tasted was red – Barnsole Red Reserve (2016) made from Rondo and Regent. Rondo is grown quite widely in England as it ripens early, ideal for a cooler climate and gives wines with a great depth of colour. Regent, of German parentage, is also a disease resistant, early ripening grape and these two together produce a red wine with medium body and acidity with ripe, fresh, red fruit on the palate with well balanced tannins. Served slightly chilled. £9.50
The tour and tasting is excellent value at just £11 per person; to book 07772 300511 www.barnsole.co.uk
Further information can be found at https://kentvvineyards.com or for a general view https://www.theenglishwinecollection.co.uk
#Thewinelady www.discoverthevine.co.uk