An exquisite model dairy in Kent has been lovingly restored and is soon to star on Channel 4
Conservation charity the Landmark Trust is delighted to open Cobham Dairy, a newly restored exquisite 18th-century model dairy in Kent. At a cost of over a million pounds, with £200,000 from heritage insurance specialists Ecclesiastical, and after nearly two years undertaking an exacting restoration, the Grade II* listed Cobham Dairy has been saved for the nation from near-dereliction. Using traditional craft skills, Landmark has sensitively transformed the unique building into self-catering holiday accommodation and its future is now secure. Channel 4 has filmed the highlights and challenges of the restoration project from start to finish for an hour-long TV special, to be broadcast in 2020.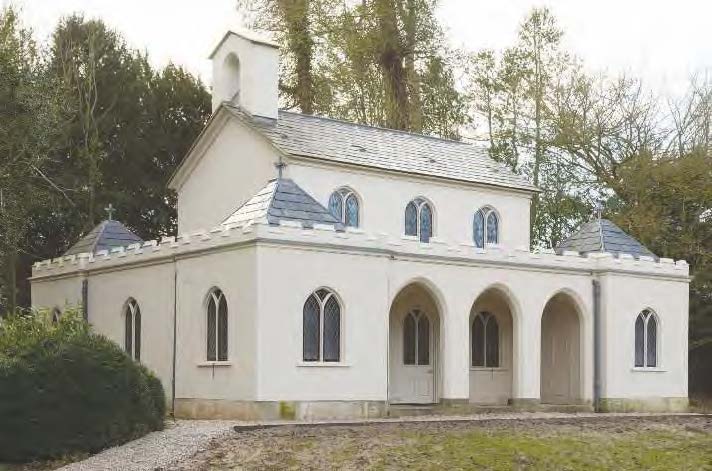 In Landmark's care Cobham Dairy, which sleeps two people and costs from £454 for a four-night break (the equivalent of £56.75 per person per night), will never again fall into disrepair. Less than an hour from central London yet close to the cathedral city of Rochester and the historic Chatham Dockyards, the Dairy is an important piece of both social and architectural history.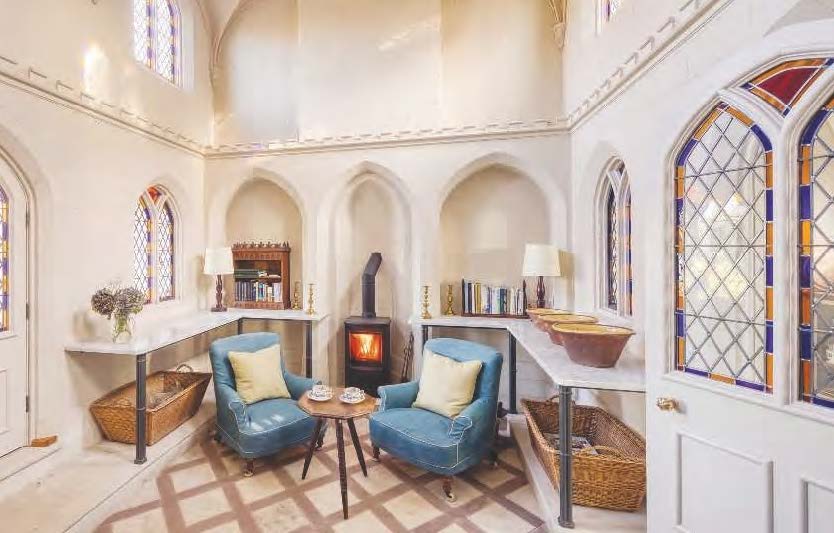 Cobham Dairy was designed for the 4th Early of Darnley in the mid-1790s by James Wyatt, one of the most influential and sought-after architects working in England at the time. The structure was likely inspired by the Earl's marriage to Elizabeth Brownlow in 1791: model dairies were distinctly feminine spaces, with the supervision and making of cream, butter and cheese a recognised genteel pursuit for Georgian ladies. Both highly decorative and entirely functional, Cobham Dairy was constructed just a decade after Marie Antoinette introduced a dairy to Versailles, when picturesque estate buildings were the height of fashion.
With a central double-height chamber surrounded by arcaded 'cloisters,' the Dairy masqueraded as a diminutive Italianate chapel, a Gothick eye-catcher nestled on the edge of pleasure grounds surrounding the Darnley's Cobham Hall. Yet when Landmark took on the special building, it was in a state of advanced decay and close to ruin: exposed brickwork was crumbling, fallen timbers lay scattered throughout and only the tiniest fragments of its precious plasterwork remained.
The complex restoration to save Cobham Dairy involved traditional craft skills of the highest calibre. Together with architectural practice Purcell and Colman Contractors of Canterbury, Landmark's team oversaw a true metamorphosis. A key challenge was replicating the short-lived 18th-century building technique where slate tiles were fixed to a brickwork structure, then decorated in a sanded paint and scored to look like stone.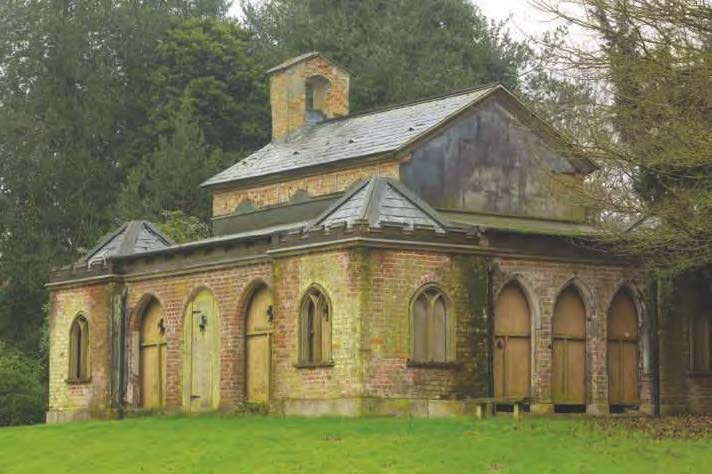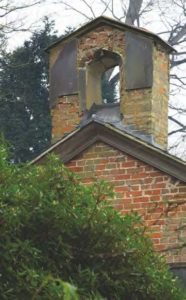 Another crucial aspect was reinstating delicate ribbed and vaulted plasterwork, possibly originally completed by the Italian stuccadero Francisco Bernasconi. Together with his team, including two apprentices, expert Master Plasterer Philip Gaches spent nearly six months carefully recreating the unique plasterwork, including modelling decorative bosses and corbels in situ by hand.
Dr Anna Keay OBE, Landmark's director said: "Cobham Dairy stood for many years as a near-ruin, a miniature masterpiece by a brilliant architect and a window into the world of the 18th century at risk of being lost forever. Only as a Landmark could the structure be saved and we are delighted that we've been able to turn the tide of decay and breathe new life into this precious building."
The ambitious project was only possible thanks to the generous support of heritage insurance specialists Ecclesiastical, lead funders of the project and who matched the first £200,000 Landmark raised from other supporters. Those supporters included the Historic Houses Foundation and several other Trusts and Foundations, gifts in wills plus 1,526 individuals who responded to a public appeal.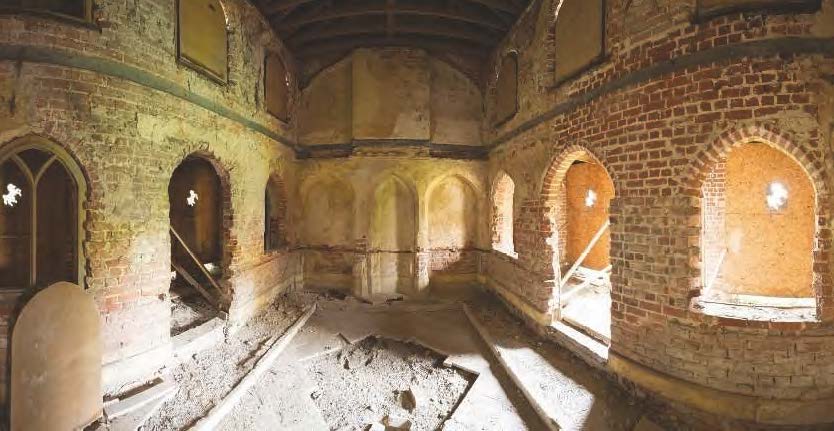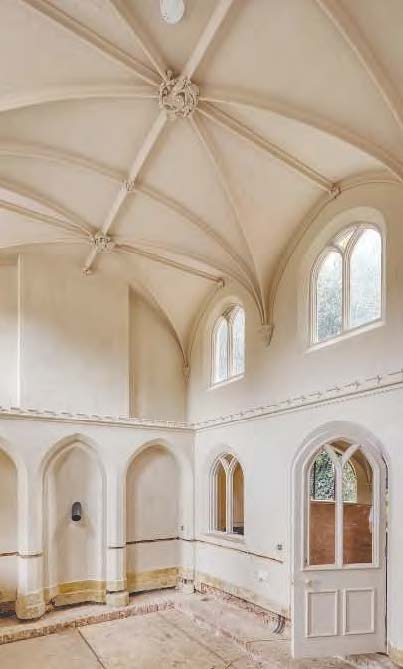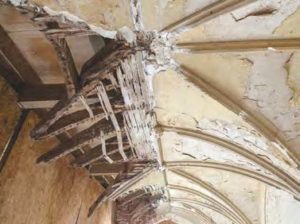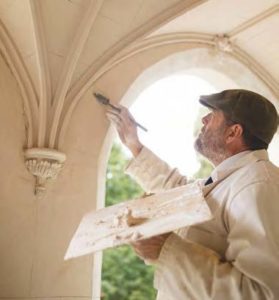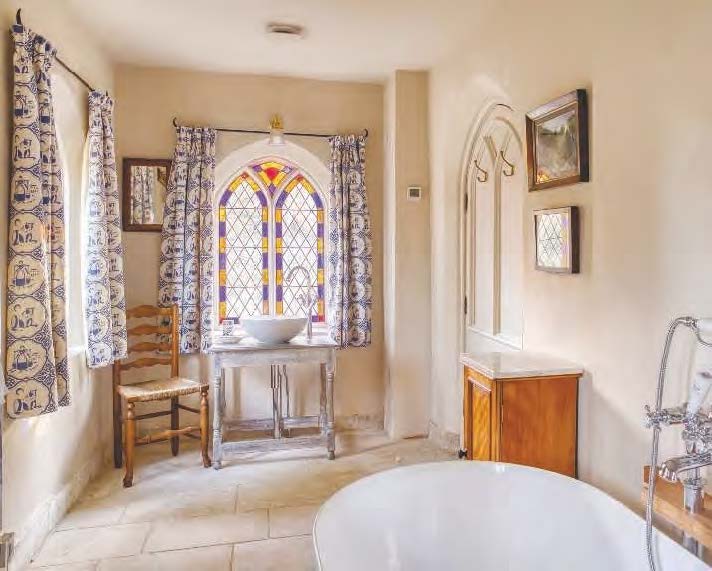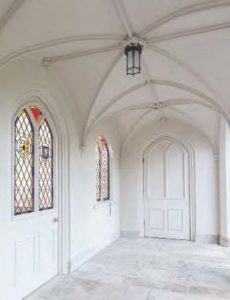 Mark Hews, Group Chief Executive of Ecclesiastical Insurance, added: "As the leading insurer of heritage buildings in the UK, we are passionate about investing in crafts skills and preserving irreplaceable buildings for future generations. We are owned by a charity and exist to make money to give to good causes such as the Landmark Trust. We are delighted to have partnered with them to save this important building and support the specialist craftsmen and women involved in restoring Cobham Dairy."
Landmark has restored and presented Cobham Dairy to evoke its 18th-century use. For the first time in its history, power and water have been brought to the building, while modern comforts such as underfloor heating have also been sympathetically woven into the fabric of the Dairy. New leaded windows, with slips of coloured glass, have been crafted based on historical evidence at a workshop in Deal, Kent. A marble shelf has been reinstated around the central chamber, the marble carefully sourced from the Carrara quarry in Italy. Comfortable furnishings have been introduced, along with hand-crafted oak kitchen units produced in the charity's Cotswolds workshop and eye-catching blue and white linen curtains, also designed, printed and sewn in-house.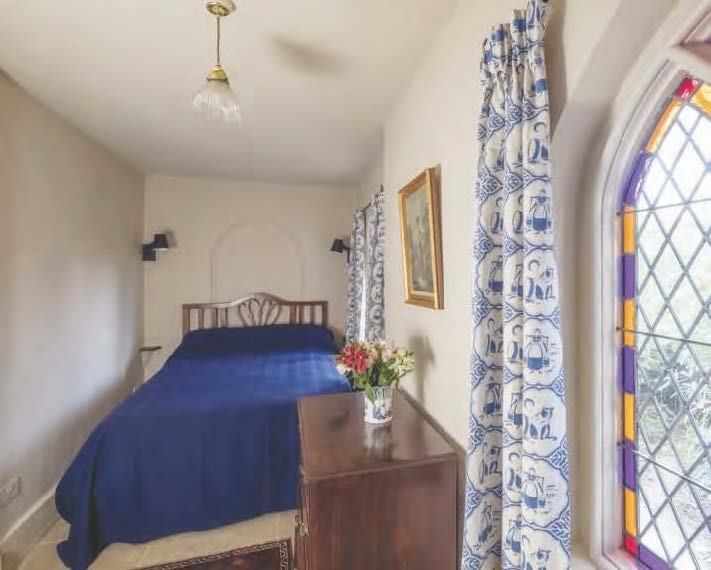 Every step of the challenging project has beencaptured on camera for a special hour-long TV special. Presented by Landmark director Dr Anna Keay OBE, the show follows previous TV programmes showcasing the charity's work, including the two-part £4 million Restoration: Historic House Rescue which aired in January 2019 and the six-part Restoring Britain's Landmarks broadcast in autumn 2015. Cobham Dairy joins the portfolio of over 200 historic buildings to be rescued by the Landmark Trust, all now available to everyone for inspiring self-catering holidays. As with all Landmarks, thanks to the lettings income, the Dairy's ongoing survival in our landscape, culture and society is now secure.