Contemporary Italian cooking to celebrate the seasons
Stagioni, meaning 'seasons' in Italian, will take you on a journey through the culinary year with recipes for every craving and occasion. Chef and food writer Olivia Cavalli brings together traditional recipes and contemporary creations with an enthusiastic aim to put the best produce of each moment centre stage.
---
Braised Borlottie with Salsa Verde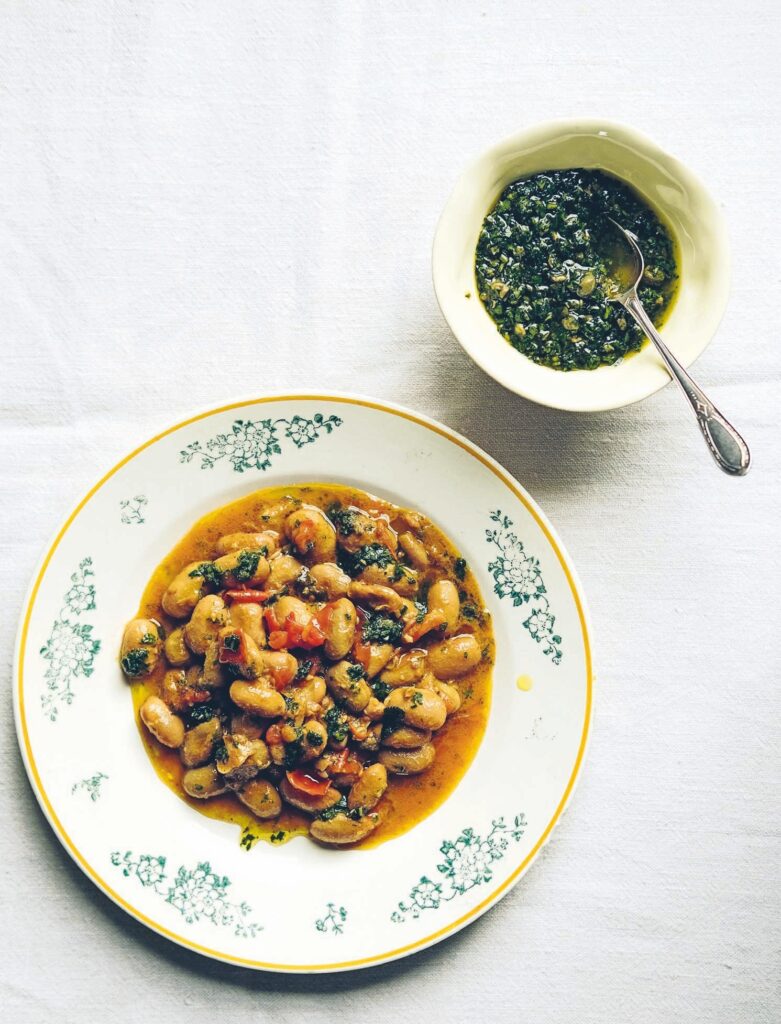 My favourite way to eat these is with dollops of salsa verde on top or stirred through. Like this I'll happily eat a bowl of them on their own or as a side to roast chicken or fish. Otherwise, try piling them onto toast, adding to chunky soups with veggies and/or pasta, mashing them with more oil to top crostini.
Serves 4-6
You will need
2 fat garlic cloves
240ml/8fl oz extra virgin olive oil, plus more for serving
2–3 large tomatoes
Handful of sage leaves, 2 sprigs of rosemary or both
1kg/2lb 4oz fresh borlotti beans in their pods (approx. 500–550g/1¼lb raw podded beans) or approx. 300g/10½oz dried beans (soaked overnight)
Fine salt
Salsa Verde
20g/¾oz parsley
large handful of rocket, basil or mint leaves
3 anchovies in oil
1–2 tsp capers (optional)
about 4 tbsp extra virgin olive oil
1½ tbsp red wine vinegar
Fine salt (optional)
Method
Bash the garlic cloves with the side of a knife and peel off the skin. Keeping them whole, put in a medium pan with the oil and heat on a medium flame for 5–8 minutes until very lightly golden and fragrant. Dice the tomatoes up roughly and add to the pan. Tear the sage leaves roughly and add them too, then stir and cook for a further 5 minutes.
Add the borlotti beans, then pour enough water in to just cover them. Bring to the boil then immediately reduce to a medium simmer and leave to cook, uncovered, for 75–90 minutes, topping up with water whenever needed so the beans are always just covered. The time varies depending on the freshness of the beans (dried tend to need longer) so just keep tasting them. They should be lovely and soft but retaining their shape with a few bursting from their skins, on the edge of mushy.
At the end of cooking time, the water and oil should have thickened and become saucy. Season with around 1 tsp of salt, or to taste, and stir through a glug of extra virgin olive oil before serving with salsa verde.
Salsa Verde
Remove any coarse stalks from the parsley. Place the parsley, rocket or herbs on a chopping board and use a sharp knife to chop very finely. Put the anchovies on top and chop until well-blended, then repeat with the capers, if using. Transfer to a bowl and whisk in the oil and vinegar. Taste, adding a touch of salt or a little more vinegar, if desired. It should be a thick-ish but drizzle-able sauce.
---
Mushroom Frittata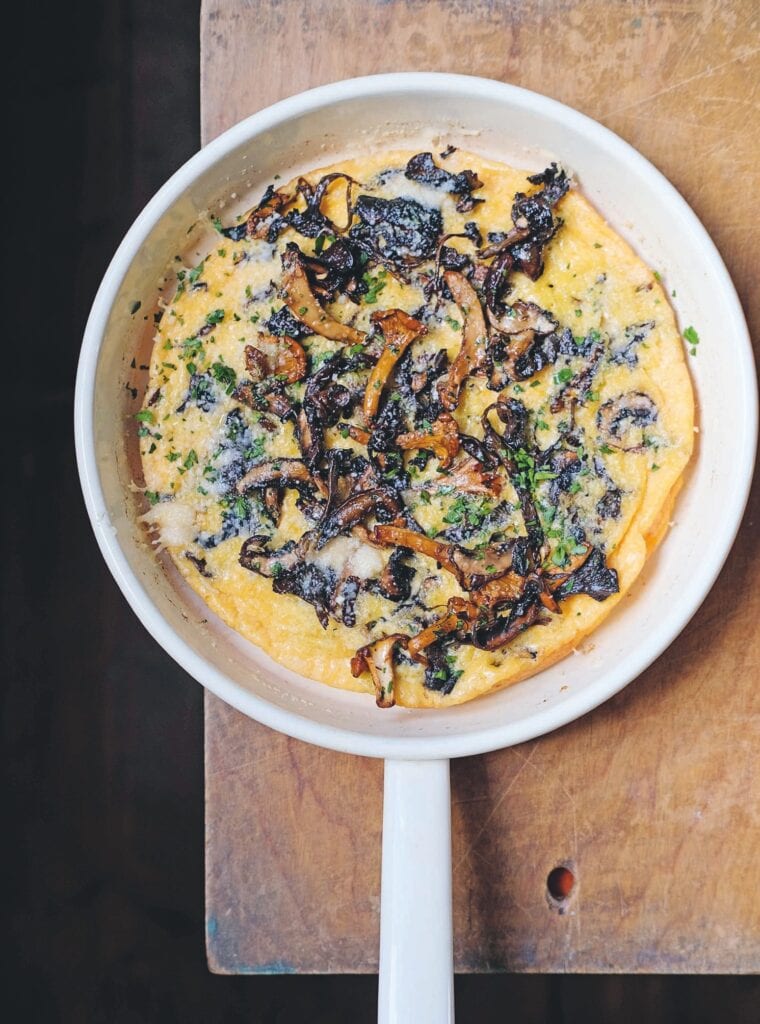 Frying mushrooms in a dry pan might sound odd but it's a reliable way to avoid that slimy texture that often puts people off. Mixing a few varieties of mushrooms will give the best flavour and if you can find fresh porcini and don't mind paying a bit more, you'll thank yourself later.
Serves 4-6
You will need
Approx. 300g/10½oz mixed mushrooms (cleaned, trimmed and cut into 3mm slices)
2 tbsp extra virgin olive oil
1 small garlic clove, grated or minced very finely
1 tbsp finely chopped parsley
6 eggs
Approx. 70g/2½oz Parmesan, finely grated
2 heaped tbsp butter
Fine salt
Method
Use a large frying pan that's suitable for using under the grill and set it over a high heat. Make sure the pan is big enough so that the mushrooms can lie in one layer or spread them across two pans.
Throw the mushrooms in when the pan is hot, add a good pinch of salt and leave to cook for around 3-4 minutes without touching – this helps them to colour and release their juices. When you see them turning golden, reduce the heat to medium and continue cooking for another 3-4 minutes, stirring continuously, until the pan looks quite dry.
Add the oil, garlic and parsley and cook for another minute, stirring continuously until the garlic is fragrant, being careful not to let it burn. Remove from the heat and set aside.
Preheat your grill to medium. Whisk the eggs thoroughly in a bowl and season well with salt. Add the prepared mushrooms and Parmesan and whisk to combine.
Melt the butter in a pan over a medium-low heat. When it begins to foam, tip the eggs in, swirling the pan gently. Turn the heat down to low and cook for around 5 minutes, until the bottom has set. Put the pan under the grill for 2–3 minutes until the top has just set. Remove from the heat, slide onto a plate and serve.
---
Win a copy of Stagioni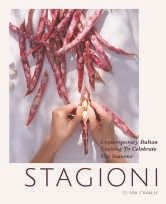 For your chance to win a copy of Stagioni, please email your name, address and telephone number to: dawn@conservationnews.co.uk
Closing date: Friday 24th February
Extracted from: Stagioni: Contemporary Italian Cooking to Celebrate the Seasons by Olivia Cavalli (Pavilion, HarperCollins Publishers). Image credit – by Sophie Davidson