Inspired by their love of craft spirits, lifelong scientists Andy and Norman decided to use their expertise and passion to found Anno in 2011, bringing a proud tradition of gin making back to their home county of Kent for the first time in over 200 years.
Derided in the past as Mothers Ruin, then later favoured by the upper classes (the Queen Mother was a notable fan), gin is currently the hippest tipple of choice.
The analyst Mintel reckons gin sales will be worth £1.31 billion by 2020. To meet this huge demand, specialist gin joints are springing up and every wise publican offers a gin menu. You can buy gin and tonic lip balm, candles, even ice lollies… Distilleries are proliferating, with the number doubling since 2010, according to the Wine and Spirit Trade Association.
The catalyst for this 'ginaissance' was a recent relaxation in the minimum legal size for a still, meaning that smaller producers can now make the spirit that was formerly only the prerogative of big companies.
Add to that some imaginative new recipes, good marketing and an insatiable consumer demand for something new, and you have a product that was bound to succeed.
In Kent, one of the new players is award-winning Anno Distillers based in Marden whose first bottle of Kent Dry Gin was sold in 2013, two years after research scientists
Dr Andy Reason and Dr Norman Lewis took early retirement from their day jobs. Their initial idea was to distil their own whisky – but whisky takes at least three years to mature and they needed something that would give a faster financial return.
They chose gin as their next favourite drink, and the timing could not have been better. Anno's sales have so far grown 45% year on year and they are now looking to push the brand into the far corners of Britain and beyond.
'Ginthusiasts' can invest in this expansion through a crowdfunding campaign which will give them an equity share as well as perks like annual tours and tastings – for more information visit annodistillers.co.uk.
Natural flavourings, called 'botanicals', are key ingredients in the gin revival, inspiring a huge range of products for drinkers to search out and try – hence the gin 'menus' offered in many pubs and bars. Anno has focused on local flavours, using Kentish hops, samphire and elderflower to add to the traditional juniper and citrus notes.
Anno's success might seem almost overnight, but it's not been all plain sailing. The two founders, along with sales and marketing manager Kim Reason, were bursting with enthusiasm and keen to get started in the early days but had to wait 18 months for a licence before they could put their 300-litre copper-pot still to work. That's why they named this beautiful piece of kit 'Patience'…!
"Starting up a new business is always tough, especially for two families with limited budgets for marketing and staffing, but we have been astounded by the local interest and support we have gained over the years, and receiving so many awards and accolades for our products has given us a real pride in what we do," says Kim.
Win a Tour & Tasting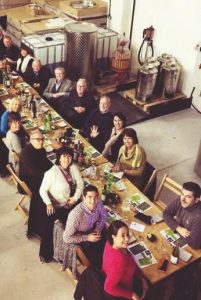 Tantalise your taste buds and discover your inner gin connoisseur as you sample five different gins (including Anno) in a number of ways to really awaken your senses and attune palates to fully appreciate the joys of artisan gin.
This tasting intends to be informative as well as fun, to include everyone from those new to gin to avid gin drinkers.
For your chance to win two tour and tasting tickets worth £50. Just send your name, address and telephone number to dawn@conservationnews.co.uk
Closing date for entries:
Friday 23rd February 2018. Good luck!