They say you can't teach an old dog new tricks, but our designer found otherwise when she visited the refurbished Dog at Wingham for a stunning lunchtime treat.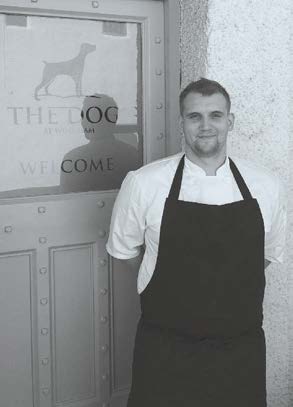 Having come under new ownership in June this year The Dog at Wingham has undergone a complete refurbishment and is fast establishing itself as a firm favourite with both locals and visitors from further afield, so I was keen to find out exactly what was on offer.
The original 1661 building is a mix of quirky and modern and the welcoming atmosphere is complemented by oak beams, cosy fireplaces and stripped floorboards.
Chef, Dan Johns has put together an exciting menu offering plenty of choice for whatever mood you're in. It brims over with local seasonal offerings and is changed on a regular basis to keep it fresh.
I ordered from the a la carte menu and browsing through the list of starters, was immediately tempted by the black pudding. Rich and full-flavoured it had none of the clagginess black pudding is prone to. It was beautifully presented too, with a duck egg and superbly cooked kale, bringing extra tastes, textures and colours to the table. Our other starter, the Chicken Caesar Croquette with a smoked onion mayonnaise was delightful; the perfect combination of crunchy on the outside and oozing with delicate chicken flavour on the inside.
On to mains, starting with the Pork Belly. The pork was clearly a top-notch piece of meat and the crisp kale, lyonnaise potatoes and scorched apple that came with it were delicious. No shortfall in the lusciousness department in our other main: Venison, celeriac, lyonnaise potato and puntarella cabbage – gorgeous meat, perfectly cooked: a heady mélange of classic flavours – heaven on a plate.
Would we like to see the dessert menu? You bet we would! I opted for the very autumnal sounding Caramelised Apple Cake. Perfectly sweetened apple, combined with a tangy blackberry sorbet, this dessert really hit the spot. Our other dessert, Chocolate Cremeux with banana, and peanut and honeycomb ice cream, was exquisitely presented and equally as good.
With a good wine list and a dedicated team of staff – from attentive waiters to passionate chefs and caring management – you'll get looked after at The Dog.
THE DOG AT WINGHAM, Canterbury Road
Wingham Nr Canterbury Kent, CT3 1BB
01227 720339; thedog.co.uk
Originally published in our Winter 2016 issue.