The Garden Furniture Guide
Interior and exterior design are as much about performance as they are aesthetics. When it comes to garden furniture, we're faced with myriad choices. So how do you decide which is 'the one'?
Stone
Stone has such a natural place in the garden. It complements patios and terraces, it suits shingle and chippings, and it's wonderfully cool to lean on when the sun is beating down.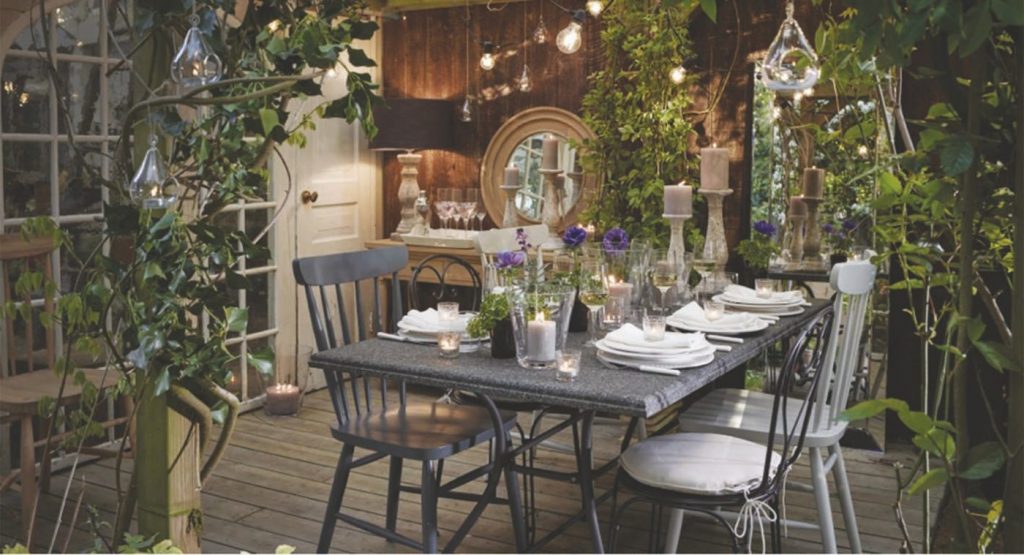 Composite Stone
It feels like stone, it looks like stone, it behaves like stone, but for their Hudson tables Neptune use a glass-reinforced concrete blend. It's far lighter and far stronger than certain natural stones. Glass lends it strong tension, concrete promises strong tiny pits in its surface. These are simply spaces between the mineral crystals. You might also spot ribbons of colour which are the result of the immense heat and pressure from when it was formed beneath the ground.
Living with Stone
Once sealed you can leave it outdoors, uncovered, and it'll fare just fine for many years to come. In fact, the composite stone weathers rather beautifully and only becomes more realistic. Should you want to, you can reseal the stone in a few years' time with your choice of stone sealer product.
Teak
This is probably the most favoured timber for outdoor living. A tropical hardwood, it's a rich honey brown that slowly takes on a silvered patina over time. It can be left untreated because of the naturally-occurring oils present in the wood's fibres that act as a preservative. The oils also encourage insects to stay away. Teak is often referred to as the king of all hardwoods, and will often keep its form so well that it can be passed on for generations.
Acacia
Acacia contains fewer natural oils than teak. You can usually tell the difference between teak and acacia simply by touching it. Acacia is still a tough hardwood (so much so it's often used in boat construction), but it's less heavy and less dense than teak. The grain pattern is often described as being 'flamed' because of its warm tones and striated structure, unlike teak which has a tighter grain.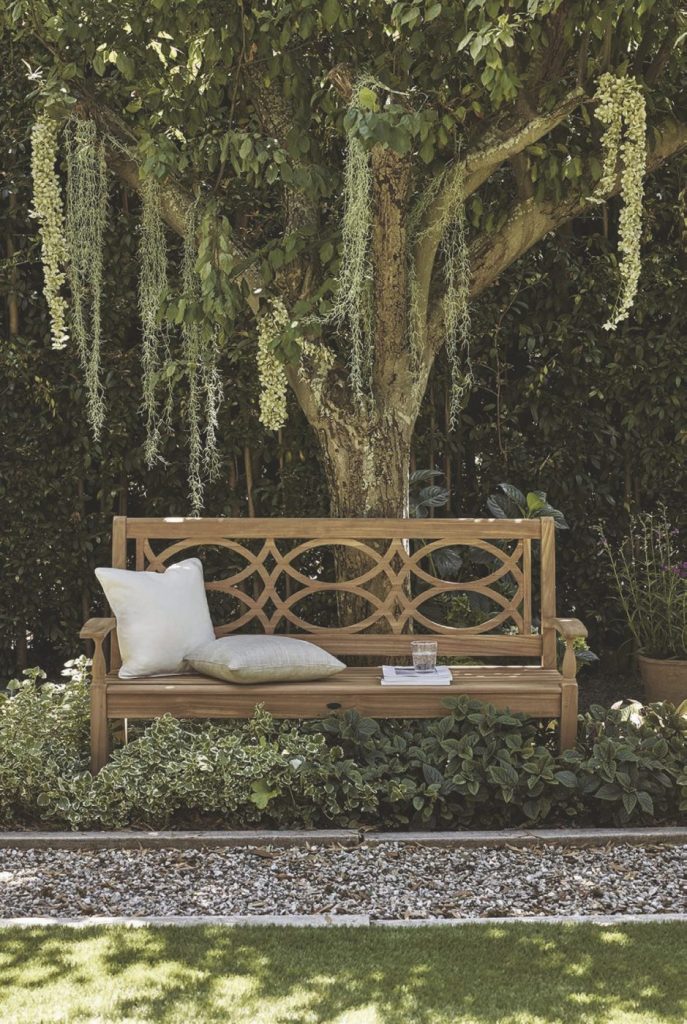 Living with Timber
Because of their innate sense of strength, both teak and acacia are relatively easy to live with.
We've treated our wooden pieces with our timber protection oil, IsoGuard®, to give them an extra layer of protection from the weather and from staining. You might wish to reapply this in a few years' time.
Teak will see a colour change within the first few months. If you want to slow down the silvering of teak, certain teak oils can help to maintain its golden-brown appearance, but will need to be reapplied (the frequency will depend on the brand you use). If you're content to see it silver, teak needs very little maintenance at all.
Acacia is similar, in that it can be left to the elements, or oiled to prevent it taking on a dark grey tone. Because it's generally protected by our tabletops and IsoGuard® oil, it asks for very little help.
Weave
Wicker is synonymous with garden furniture. It's perhaps the material we expect to see the most, especially when it comes to seating.
Whenever you see wicker on our interior designs, we use natural rattan or Lloyd Loom. For our outdoor collections though, we prefer to use a material that we call 'all-weather wicker'. A resin fibre, it's tougher and more durable than natural rattan and won't flake or peel over time. We've developed two finishes – the darkest colour and smoothest texture being on Toulston, Tuscany, Tresco and Harrington, the mid-tone and more rustic texture on Pesaro, Cadiz and Murano.
The only exception is Chatto, where we've used the British craft of Lloyd Loom.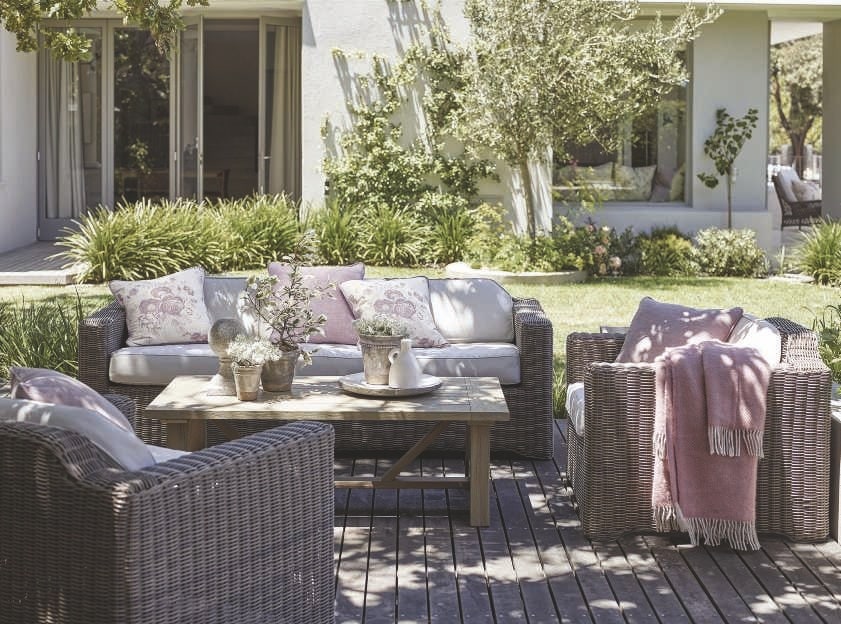 Living with Weave
Because we've chosen a resin wicker over a natural rattan, it makes these collections hardy and reliable. It'll withstand sunshine and showers for years and years to come. The weave is done over the top of powder-coated aluminium frames which are lightweight, strong and won't rust either. Just be sure to bring the cushions in, because they're weather-resistant rather than weatherproof.
Chatto has a more delicate nature in comparison. While you don't need to bring in or cover our other outdoor designs during bad weather, Chatto really does need some protection and shouldn't be left outdoors all year long.
https://www.neptune.com/furniture/garden/ or find your local Neptune store.