The current job list for Kent firm Dolmen Conservation & Joinery ranges from the sublime to the prosaic: while some staff are working up in the roofs of Canterbury Cathedral almost among the angels, others have a more down-to-earth task restoring a rare treadwheel crane which was powered by mere mortals.
The unique machine was built, possibly as early as 1667, on the docks at Harwich to assist in loading and unloading cargo. Two 16ft high wheels set four feet apart on an axle were worked by a man 'walking' inside each one to make them turn and operate a jib, which protruded over the dock from the wooden structure housing the wheels.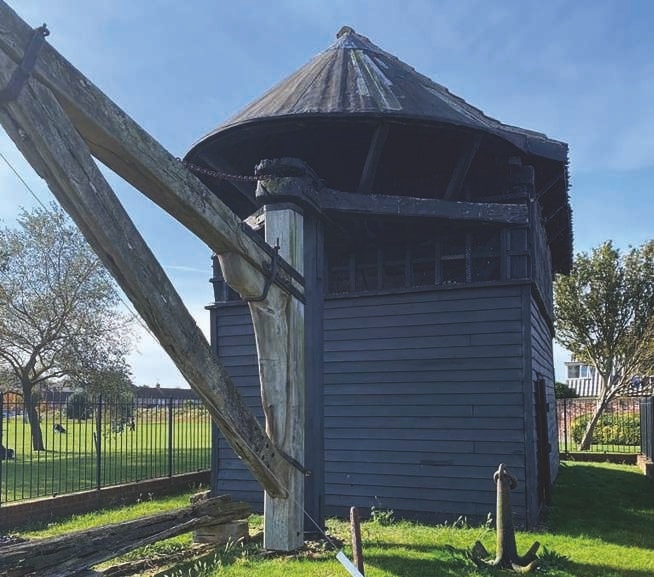 Project manager Joel Hopkinson, from Woodchurch-based Dolmen, says the double-wheel feature is unique in its survival in the UK – there is also one single-wheel example in Guildford. After Harwich Dockyard closed in 1928, the crane was moved slightly later to a nearby public park. But rot has set in, and Joel says the structure has slumped. There is a need to stabilise it so that the wheels can be made to turn again. Restoration of the enormous ground sills is key to this – and they were almost completely rotted.
Dolmen have been contracted to work on underpinning the structure, repairing the frame, and re-roofing. The project is largely financed by Historic England who are working closely with Dolmen, and also with structural engineers Morton Partnership, to eventually provide an interpretation experience for the public. Tendring District Council are part-funding the project and are owners/custodians of the crane.
The shed-like building over the wheels was roofed with pantiles, but a decision has been made to use the unusual but traditional materials of Swedish pine tar and sailcloth to weatherproof the conical roofing over the jib. There is some documentary evidence that this technique was used for this type of crane.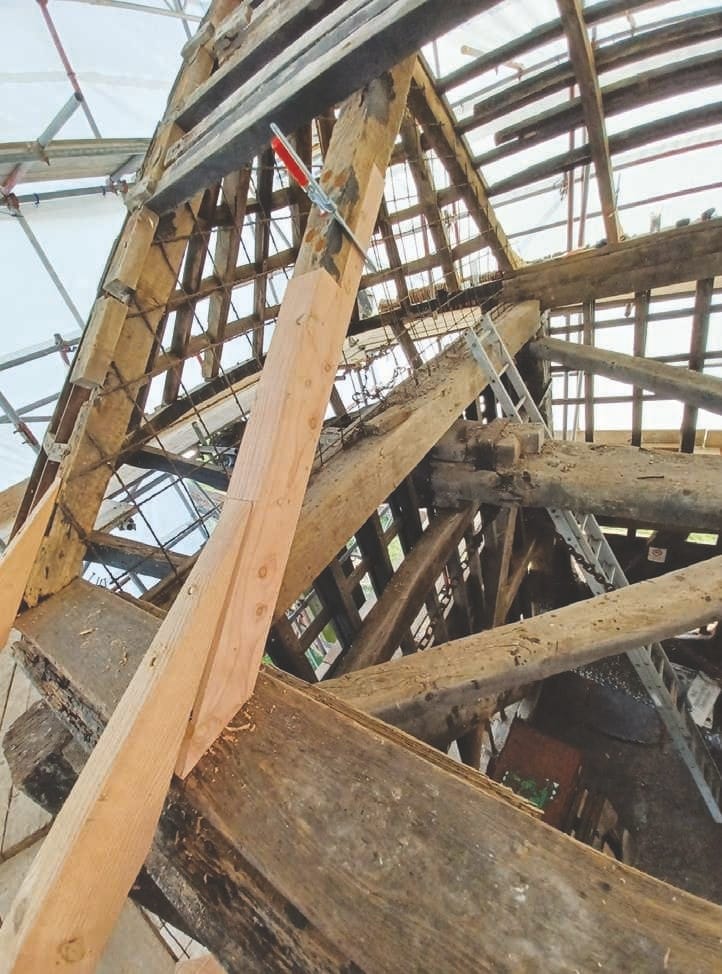 The crane is on the National Heritage list – 'it has the same protection as Stonehenge!', says Joel. But this doesn't daunt Dolmen, who have a long track record of working on historic structures of national importance.
As well numbering Canterbury Cathedral among their clients, they have brought technical knowledge and a meticulous approach to buildings as prestigious as Westminster Hall and Herstmonceux Castle, as well as humbler but notable barns and parish churches. They collaborate closely with English Heritage, the National Trust, the Society for the Protection of Ancient Buildings as well as – in Harwich – Historic England.
The crane is more of an interesting artefact than a building, says Joel. And whilst it has a beauty peculiar to it which some people love, its restoration will offer a window on to our industrial past peopled by ordinary workers – literally on a treadmill.