Wine expert Rowena Hawtin visits Chartham vineyard, one of Kent's newer wine producers.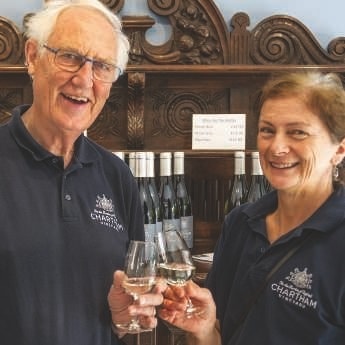 I visited Chartham vineyard which is nestled in the chalk landscape of the Kentish Downs in May this year and it was such a pleasure to meet the owners, Richard Goodenough and his wife Dr Roz Waller.
As one of Kent's newer vineyards – first vines planted in 2013, they were very proud and delighted to win gold at the Independent English Wine Award (IEWA) for their 2016 Blanc de Blancs – a lovely refreshing sparkling wine with good acidity and delicious green apple aromas and lengthy finish.
I also tasted the Pinot Gris which was actually the 2018 vintage as they had sold out of the 2017; the lovely long hours of sunshine we had last year gave this wine a full-body, aromas of pear and apple with flavours of peach and nectarine whilst at the same time, retaining good acidity. Finally, I tasted the Bacchus 2017 with its aromas of elderflowers and herby characteristics, it's a firm favourite with English wine lovers. They also plant Pinot Noir and the sparkling rose is going to be released in July – I can't wait!
Andy, their son, manages the vineyard and the afternoon I was there, he was busy taking a party on a tour of the vineyard and finishing up with a tasting which was relaxed and unhurried as he emphasised the values of their vineyard which are family, community, the fabulous location which is right next to Chartham station and just 3 miles from Canterbury with its three world heritage sites – and of course, the wine!
Richard clearly has a passion for art and on my visit, I was truly privileged to view the art of Liam Thompson whose pictures of Venice had been on display since April 20th and due to finish on May 13th. I know, however, that other artists are lined up for later this year and the theme of art and wine is a significant part of this family-run vineyard. If you would like to know when their next art exhibition is due – why not get in touch?
Their shop is open every Saturday from 10.30am until 5.30pm where you can just drop in or book a tour and tasting for a group.
Visit www.charthamvineyard.co.uk or call 01233 813709 or 07905 911186 or info@charthamvineyard.co.uk
#thewinelady
www.discoverthevine.co.uk