Quick and easy dishes for winter.
Lentil & Aubergine Ragu
This dish with ready-prepared lentils is perfect for a simple and satisfying meal, and contains three of your five-a-day.
Recipe: Waitrose & Partners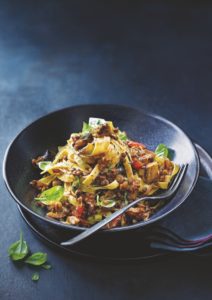 This ragù also makes a delicious base for a cottage pie – just tip into a small pie dish then top with a pack of mashed potato. Bake at 200°C for about 20 minutes or until piping hot.
You will need
2 tbsp olive oil
1 small aubergine, cut into 1cm dice
1 red onion, finely sliced
2 garlic cloves, crushed
2 tomatoes, diced
180g dried tagliatelle
250g pouch Tomatoey French Puy & Green Lentils
Small handful basil leaves
Method
Heat 1 tbsp oil in a large frying pan. Add the aubergine, season and fry for 10 minutes, stirring regularly, until golden. Tip onto a plate and set aside. Add the remaining 1 tbsp oil along with the onion and fry for 5 minutes, then add the garlic and fry for 3 more minutes. Stir in the diced tomatoes and cook for a further 2 minutes.
Meanwhile, cook the tagliatelle according to pack instructions, then drain.
Return the aubergine to the pan, then tip in the lentils. Fill the pouch halfway with water and pour into the pan. Simmer gently until everything is warm, then stir through most of the basil. Serve the ragù over the tagliatelle with the remaining basil leaves scattered on top.
Lemon & Ricotta Hotcakes with Blueberry Syrup
These hotcakes are similar to American-style pancakes – wonderfully thick and fluffy with a lovely, light texture from the ricotta. Serve a stack of these with the cardamom-scented blueberry syrup for an indulgent brunch or fruity dessert. The quantities can be doubled easily if serving more.
You will need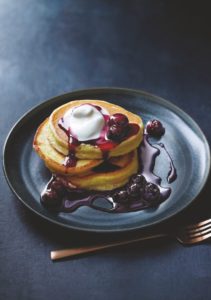 250g ricotta
90g self-raising flour
50g caster sugar
3 large free range eggs, separated
2 lemons, zested
2 tbsp unsalted butter, softened
2 tbsp extra thick half fat cream
Blueberry Syrup
150g blueberries
3 tbsp maple syrup
4 cardamom pods, cracked open
½ tsp vanilla extract
Method
For the syrup, put ½ the blueberries in a small saucepan with the maple syrup, cardamom and vanilla. Bring to the boil, then turn down to simmer gently for 3-4 minutes until the berries have just burst.
Take off the heat, stir in the remaining blueberries and set aside to cool.
For the hotcakes, put the ricotta, flour, sugar, egg yolks, lemon zest and a pinch of salt in a large mixing bowl and beat together with a wooden spoon.
In a separate bowl, using electric beaters, whisk the egg whites to stiff peaks, then fold into the ricotta mixture.
Heat a large frying pan over a medium heat with 1 tbsp butter. Fry three hotcakes at a time (to make 6 in total), using 2 dessertspoonfuls of the mixture per hotcake, and frying for about 3 minutes on each side.
Repeat using the remaining 1 tbsp butter and hotcake mixture.
Serve with the blueberry syrup (discard the cardamom pods) and a dollop of cream.